__________________
"These moments we're left with
May you always remember
These moments are shared by few
There's wind in our hair and there's water in our shoes
Honey, its been a lovely cruise"
Jimmy Buffett - Lovely Cruise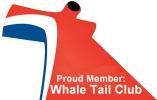 Unofficial (but experienced) Margarita Salt Inspector
6/93 Premier Oceanic (Big Red Boat) (with all 3 kids), 8/02 RCCL Sovereign of the Seas (just 1 kid this time), 8/04 Carnival Inspiration (7 day turned into 9 day, thanks Hurricane Frances!), 8/07 Carnival Glory- the Empty Nest cruise!
(Itinerary changed, thanks Hurricane Dean!), 3/08 Carnival Holiday - Teachers on Spring Break, (Watch out, keep the kids out of our way
), 7/08 Carnival Fantasy (couldn't wait for August!), 8/08 RCCL Mariner of the Seas (enjoying this empty nest stuff!) (Western turned into Eastern, thanks Hurricane Gustav!), 7/09 Carnival Holiday cruise with friends, 8/09 Carnival Legend no changes!!, 8/10 Carnival Dream - Eastern turned Western (thanks, Hurricane Earl!) 3/11 Carnival Elation, Spring Break cruise, 8/11 Carnival Legend - hurricane magnet must be broken!, 12/11 Jewel of the Seas - 1st family Christmas cruise..... much easier to wrap, 3/12 Carnival Elation - PLATINUM is good! 4/13 Carnival Elation - the last official spring break cruise before retirement! 9/13Carnival Elation - enjoying this retirement stuff! 1/14Holland America Noordam - 21 days of Caribbean joy, 12/16 - NCL Sky - New Year's Eve with 18 of our best friends!