Posted December 10th, 2012, 01:09 PM
Sorry for the loooooong delay! We're musicians, and our lives were very much affected by the "war", so we've been working hard to catch up on things.
Anyways, back on the train!!
This time, the Goldstar car was pretty much full, unlike the half empty car we had from Fairbanks. There are a couple of things I would like to mention about the train:
1. They offer a free magazine that describes the places of interest you pass during the train ride. It's great, because that way you know where you are, plus you can read the info about what your seeing if the naration is unclear.
2. Naration is provided by local high school kids who voulentear to do this. Some are better than others, and they switch cars as the trip goes on.
The scenary from Denali to Anchorage was BEAUTIFUL!!!!!! We loved being in the glass domed car for this train ride, I think it's totally worth it. The 8 hours went by in a flash! There's always something to look at outside. Whenever the train goes by something of interest or wildlife, the train slows down so that you can get a good look at it. We even aw a bald eagle purched in it's nest, a female moose, swans and lots of mamma ducks with little ducklings following. Other than that , there were another 2 female moose spotted (but we missed them), a salmon that leaped out of the water (but we missed that...) and a BEAR ON A TREE!!! which everyone but the engeneirs at the front missed...more on that later.
Right after the train left the station, we were asked who wanted to eat lunch right then, and we raised our hands and were escorted down to the dining car. The dining car is so nice, and hey, every table is by a window!
We shared the salmon chowder, which was DELICIOUS!! yummy, yum yum. I had a salmon dish which was amazing, and I don't remember what Lior had, but he loved it. We were really pleasenly surprised by how good the food was, since the breakfast wasn't great. I guess we just lucked out with the breakfast, because everything else onboard was amazing.
We went back upstairs, and the girl providing the naration said that since it was such a sunny and bright day, we would probably get to see Mt. Mckinley!!! Woohoo! Everyone was extatic! The other passengers on the train were so nice and friendly. We had a little group, and we were chatting it up and cracking jokes the whole time. It was great!
At some point, I don't remember who started the rumor, but suddenly we were all staring at this big snowey mountain and cheering "Mt. Mckinley!We saw it! We're part of the 33%!!" There was a whole celebration going on in our Goldstar car, until the guy providing naration (he switched the girl, who was now in a different car) gently informed us that we had not yet gotten to the point of the trip where Mt. Mckinley is visible, and those are some other mountains, nowhere near as big as "The Great One". oops!!!! Now didn't we all feel silly...LOL.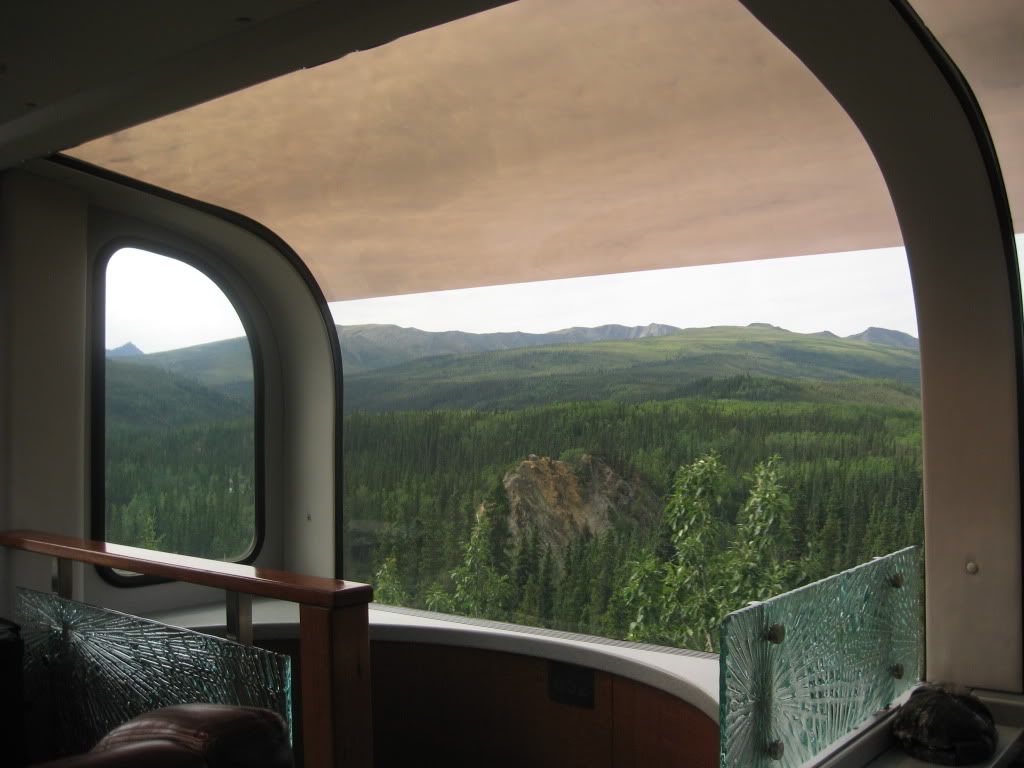 Beautiful!!
We went over a high longish bridge. I thought it would be scary, but it was fine. Thank god!!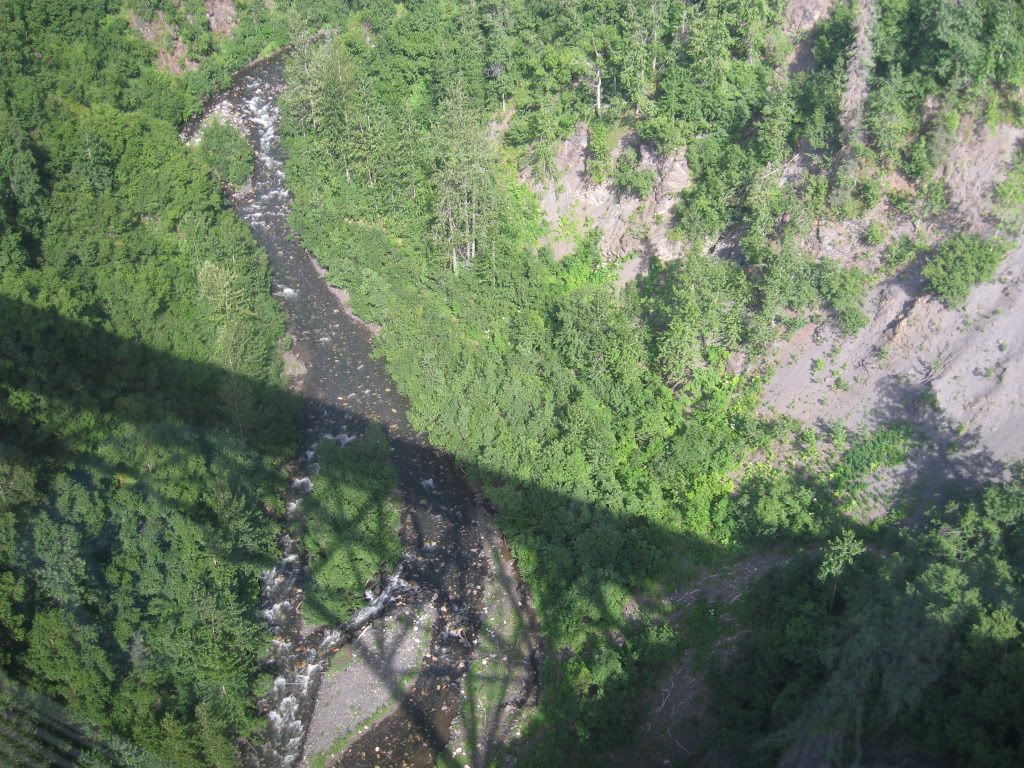 Looking down from the bridge. You can see its shadow.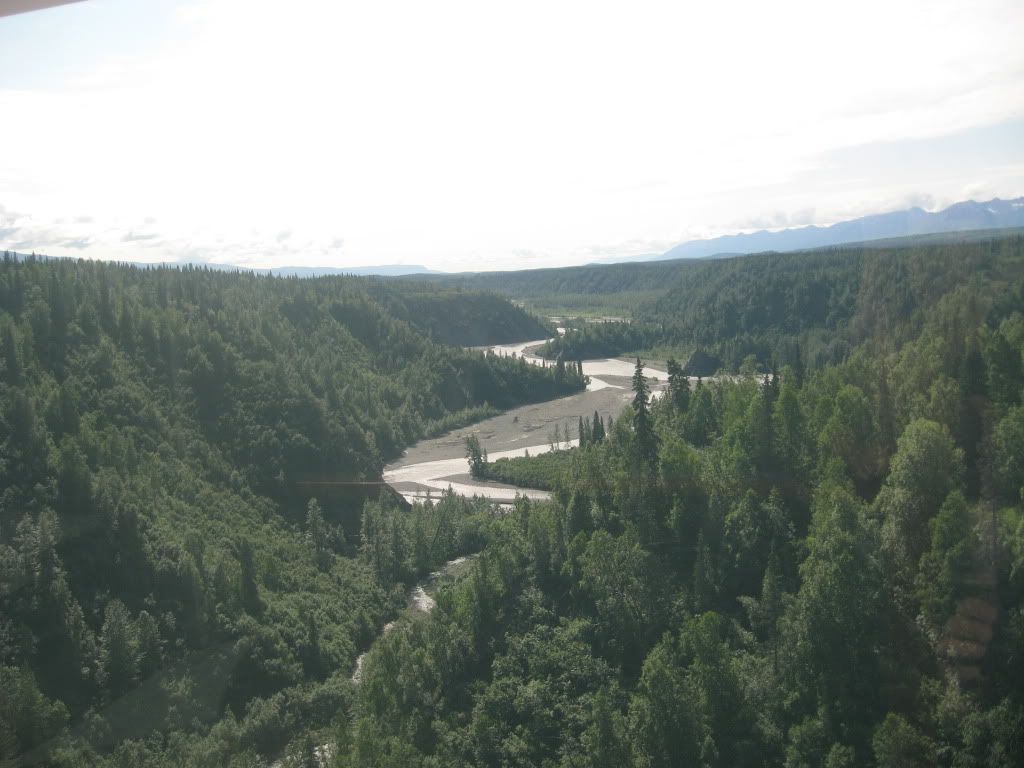 I don't remember when it happened, but there was a "bear in the tree debacle" lol...Whenever the engineers up front see wildlife, the train is slowed down, and they tell the narators where the wildlife is. At this point we had a new girl in our car, and she seemed to be the youngest and least experienced. You could tell she was very nervous and shy. She anounced in her mic "bear in a tree on the right". Obviuosly, everyone in the car was excited and searching for the bear, but with no further info (like "on the right at 3 oclock") there was no way we could see it, and we missed it. No big deal! We were all just in Denali and probably saw bears in there. But people were PISSED!! They were really angry at the poor girl...who's just a voulenteer and trying her hardest! I felt bad for her, and I also wanted to try to lighten the atmosphere in the car, since people were so disappointed, so I said "wow! that bear was cool!" getting my who "click's" attention. They asked "what?? You saw it??" And I said "yeah! it was so cool! But the coolest part about it was it had a salmon in its mouth, and there was a pack of wolves circling the tree on the ground, and an eagle circling from above!! And with Mt. Mckinley in the background!! Man, that was awesome!" People started catching on and laughing, and adding details to my tall tale. One woman spoke of the porcupine the wolves were trying to get away from. By the end of it, everyone was laughing and we had our own little mythology going. It was great!