Posted March 22nd, 2013, 11:28 PM
Last edited by jhnsnfamily; March 22nd, 2013 at
11:31 PM
Day 2/Key West (June 11):
We were excited to wake up today and rush out to the balcony and check out the view! We were docked on the starboard side ... and this is what greeted us:
Looking left:
Looking straight ahead: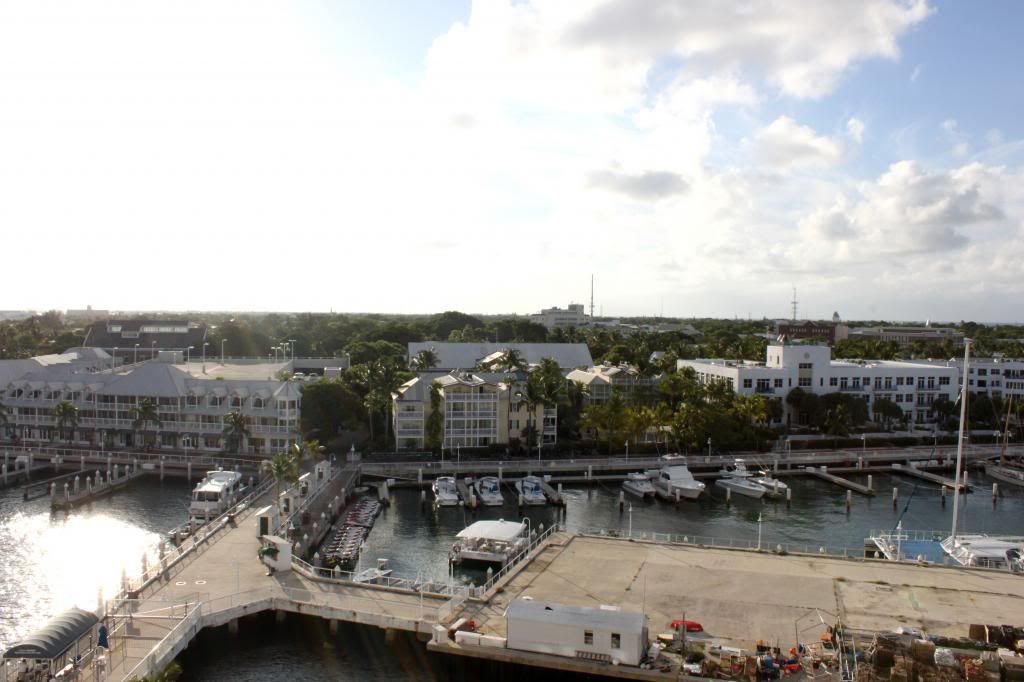 Looking right:
Key West is
beautiful
. I can see why folks migrate there! We met everybody for breakfast at 9 a.m. and we were met with some very, very long lines. It took about 40 minutes to get our food, find tables, and sit down. No big deal for us, since we didn't have any "set" plans. Once we ate, we headed down to Deck 0. All adults will need their photo I.D. as well as their sail-n-sign (sign-n-sail? I get confused!) card. As I said earlier, we decided to walk off the ship and explore on foot. BIG MISTAKE. (or as Pretty Woman says ... 'big mistake. HUGE! I have to go shopping now ...' Love that movie!). It was so hot and humid, I began sweating before we even made it off the pier! We made it down to Duval Street and hit some shops (I tried on some crocs ... SANDLE crocs ... and my sister and I scored a deal on a buy 2 for $40 sun dress special – one size fits all/elastic at the top with straps – in this case, it really did. My sis is tall and skinny, and I'm … well, I'm the opposite.) We stopped at a bar for some adult refreshments, and then started heading to the Southernmost Point. About ¼ of the way there, my family and I were pretty crabby, very sweaty, and
could care less
about the Southernmost Point! We said buh bye to the rest of our clan and headed back to the ship. On the way back, I stopped in a shop to purchase the black Crocs I had tried on earlier. Love 'em! (I'm wearing them and the sun dress I purchased in the pic I posted earlier of the boys' interior cabin.) My husband also *
forced
* the boys to take the obligatory "kids in front of the ship" picture at the pier. At least they smiled ...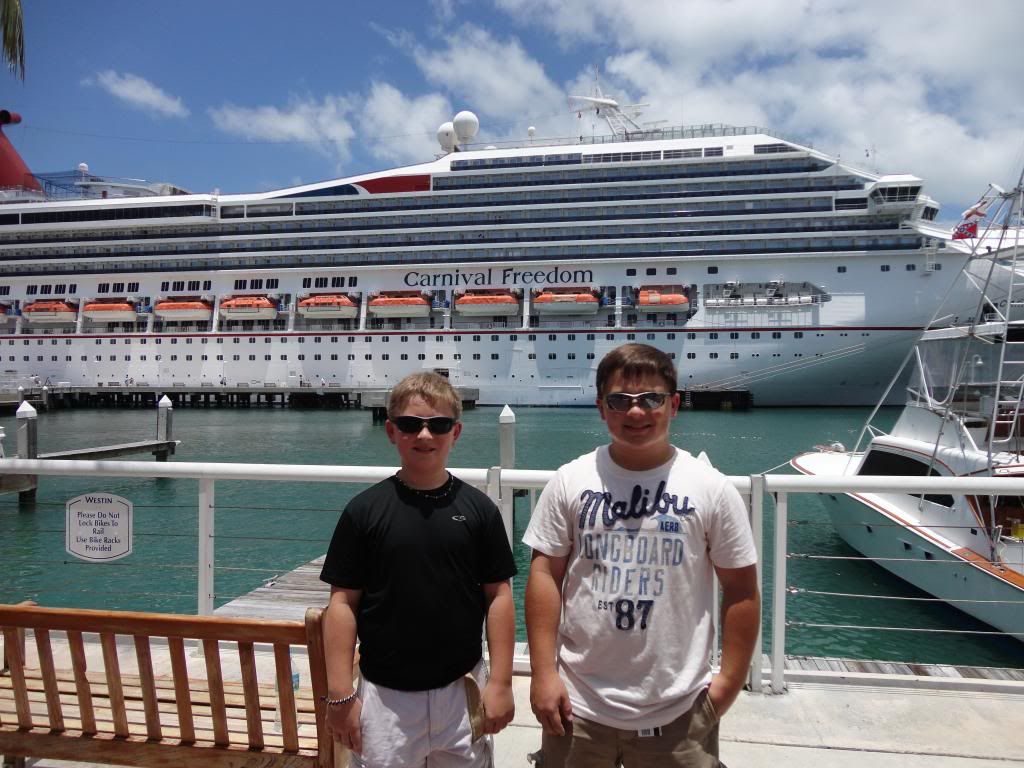 Back on the ship, we changed into our bathing suits, ate lunch (this was the first time we tried the Fish-n-Chips), and hit the Lido deck.
And then I did it. I did the slide. Yep, I hurled this 42 year old behind down the slide! I had to. It was calling my name … My husband and I got a little nervous standing in line for it … as we saw a few adults get "stuck" and have to "scoot" their way down … funny to watch, but not so funny to do! Then we saw several bigger kids go down, and lay down like you are supposed to, and they went pretty fast … so I sent my husband first (cuz I'm not stupid!) as the guinea pig … he made it to the bottom, so I went for it. And yep, if you lay flat, cross your feet, cross your arms on your chest and go, you go FAST! Splash! It was fun! You definitely should do it! At least once … c'monnnnnnnnnnnnnnn … do it!
My sis's pics from the Southernmost Point … yep, still haven't lost any sleep over not doing that!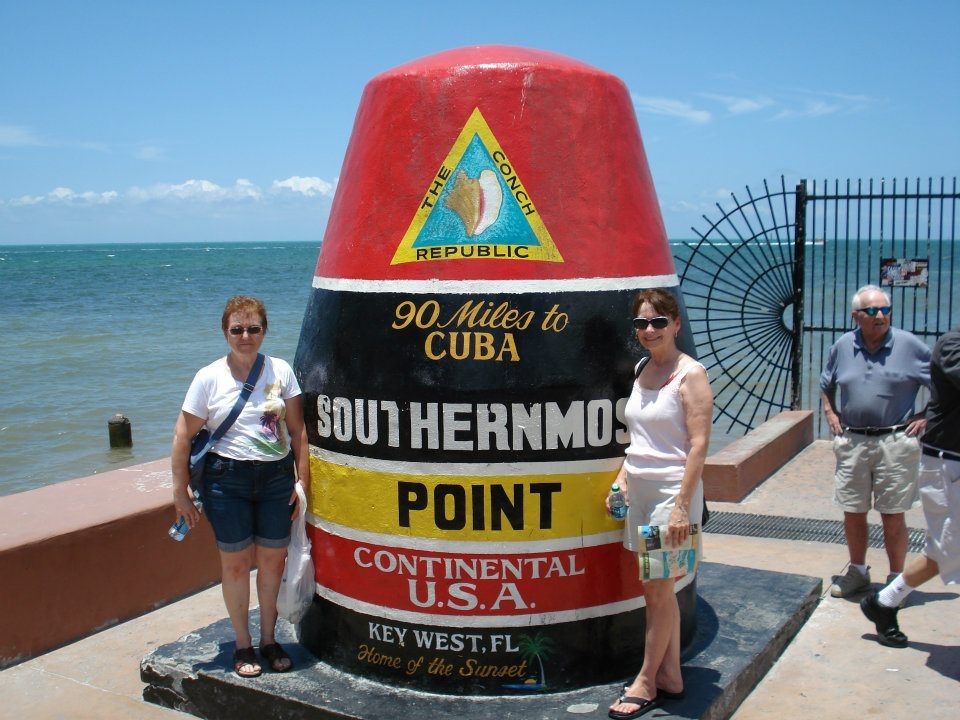 Expand Signature
Collapse Signature
Michelle
Carnival Sensation (Honeymoon-May 1995)
Carnival Fascination (1997) before kids
Caribbean Princess (April 2007) -- Kids' first cruise ages 6 1/2 and oldest turned 9 on the ship!
Carnival Freedom (June 10, 2012) -- Kids' second cruise! Ages 11 1/2 and 14 (CLICK
HERE
FOR REVIEW! LOTS OF PICS!)