Posted November 29th, 2014, 11:33 PM
JEWEL of the Seas Southern Caribbean 11/22-11/29 2015 REVIEW
Disclosure: Our views, opinions and facts. Appreciated things can change and some ships differ from others.
JOTS NOVEMBER 2014 SOUTHERN Caribbean
Excellent ship, fantastic cruise. Staff were amazing!! Loved the Itinerary
This is not a day - day review, this is a fully loaded into 1 big collation of info, photos, docs kind of review. Scans of all docs will be added, time permitting.
And from seeing all the types of questions that get asked on CC, I will try and make sure that as much as I have at hand is all included.
Payback for all the great information we have received this past year.
Ken, Carol, Bob, Patti, Karen, Linda, to name but a few.
A little bit about us.
This was the DW,s 40th so an extra special occasion, MIL and FIL joined us for this cruise from the UK.
Yes I ordered the Birthday package and Cake, oh go on then! Champagne with flowers and strawberries.
Cake $16.95 RC code 00532V (Vanilla)
Birthday Cabin Decorations $31.00 RC code 000203
Champagne & Strawberries $42.95 RC code 000525
Dozen Red Roses $65.00 RC code 002006
Well it is her 40th
And she does tell me I am not romantic enough.. Seriously!
A few other gifts were also waiting in the cabin for my ladies
Lucky the flights only cost me $33.00, this is covered a little later.
TIP: Be careful when booking as they do have the options for the Quinceañeras Happy 15 Decorations, obviously if that is what you need they have different booking codes. I recall a thread where this had accidentally happened to someone.
Also for the flowers make sure you order specific to region of your cruise as this does differ and order numbers vary.
Here is the direct link
http://www.royalcaribbean.com/giftca...?catCode=CELEB
You can also contact 1-800-722-5443 who deal with stateroom decorations and celebrations.
We have done quite a few thanksgiving cruises and have always enjoyed them and with this ship and this great itinerary it was another one to cross of the list.
All 5 of us are D+ so we will be frequenting CL and DL (Hollywood Odyssey) quite a lot
No dedicated DL on Jewel.
DD 13 for this cruise so this was her 1st time moving on up into the teens program.
DD is really into her snorkeling now and with us soon to get our PADI certificates the more time she gets in snorkeling, the better prepared she and I will be for when we take the plunge and go a little deeper into the ocean.
We chose this cruise more for the itinerary, however Jewel is one of our favorite ships, so combined it was an easy cruise to choose.
DW 37th cruise, tried to make her 40th her 40th
DD 20th cruise, wants to be Pinnacle before she reaches 20! Told her to start saving
My 16th cruise, in my own right LOL, not married into.
MIL & FIL 49th
(122 cruises between the 5 of us) no idea how many sea days or ports, but many!
DW and DD do get to cruise more each year without me, they are worth it
So here we go!
Ship: JEWEL of the Seas.
Sail date: NOVEMBER 22 2015 (7 nights)
Cabin: 1044 Junior Suite
Port side (mid-ship) convenient to CL and Elevators.
Room Size: 282sq ft
Balcony Size: 74sq ft
Cost: $2937.84 taxes and gratuities all included, we booked this before BOGOHO#1
And the prices never came down, actually went up to $3429.84
We also had a nice sum of OBC from the casino which we accumulated from our previous Navigator sailing this year, Thanks to Alfio & Christian
So we were happy with what we had paid at the time.
SHIP FACTS:
Courtesy of Royal Caribbean
CRUISE INSURANCE:
We used Travelguard Insurance $235.00 for the 3 of us. Have used for past 12 years with no issues.
Cabin comments: this was a connecting stateroom with D1 cabin 1046, more on the cabin further down.
ITINERARY:
11/22 San Juan (Puerto Rico)
11/23 Tortola (BVI) have been before was changed by RC to St Thomas
11/24 Basseterre (St Kitts) have been before
11/25 Philipsburg (St Maarten) have been before
11/26 Fort De France (Martinique) New for all of us
11/27 Bridgetown (Barbados) New for some of us
11/28 At Sea
11/29 San Juan (Puerto Rico)
A Port Intensive itinerary, I know we will need another cruise to recover from this one, any excuse will do.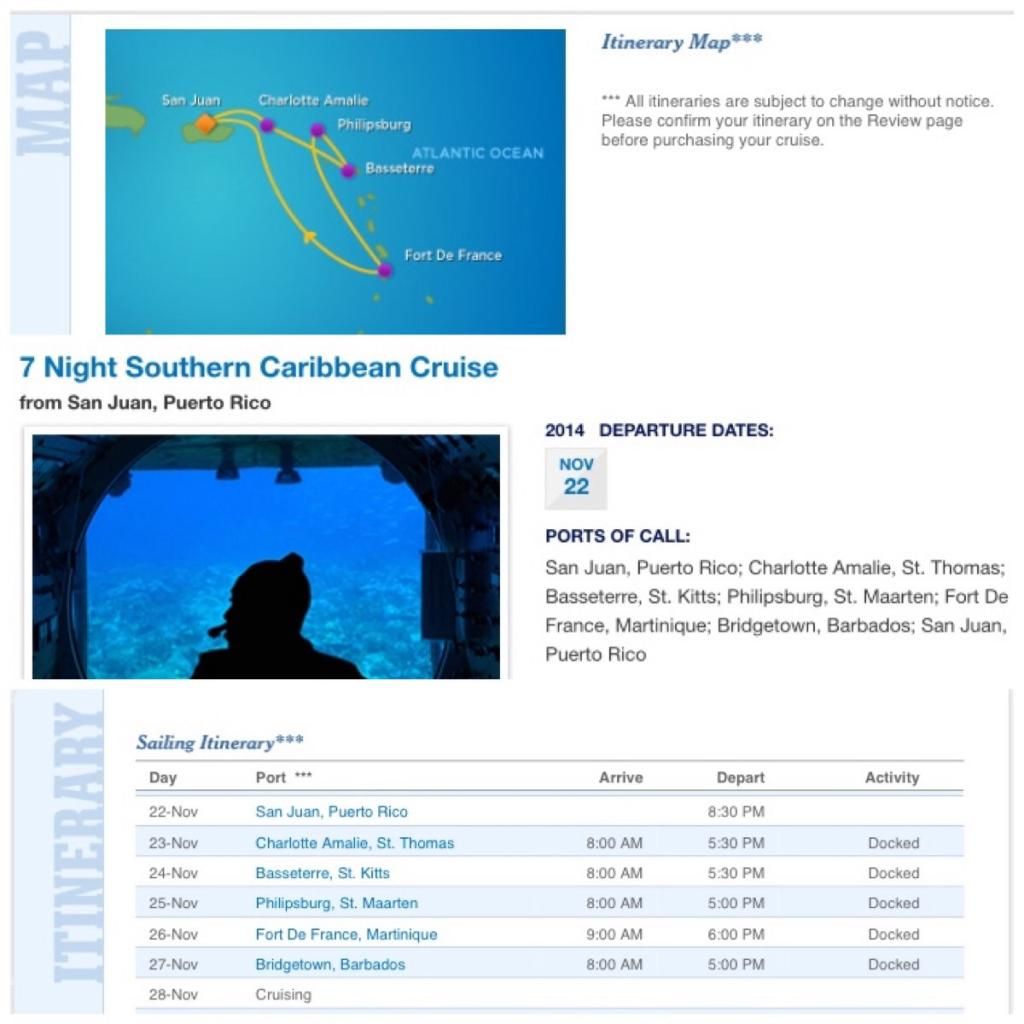 FLIGHT:
Departed from DFW on the Friday 21st 16:40PM - ARR SJU 23:10PM
Comments:
Easy direct flight, no issues, we used American Airlines.
We are 5 minutes from DFW so easy peezy for us.
Upgrades on this flight not automatic, I could not use my upgrades, we could not even use cash/miles combined to upgrade either. Oh well no peanuts for us.
Delayed by 40 minutes, waiting on head Cabin attendant to arrive, he gets on then does the hurry up and stow your suitcases trick, like it is everyone else's fault we are late to take off. (Typically this is a 4hr 30min flight)
Grabbed some of the snacks on board and relaxed.
Arrive in San Juan at
Used miles for the 3 of us, $33.00 total fees. Booked way back as soon as flight availability opened up 331 days before departure.
We typically have to fly for all our cruises unless we are sailing out of Galveston, then we drive it. So with flights to take into consideration for most of the cruises we book well in advance, use miles and then miles/cash for upgrades.
This way we save a big bunch on travel expenses and have more $$$ for the cruise.
(actually more money for the Casino)
HOTEL IN SAN JUAN:
Best Western Condado Palm Inn & Suites, arrived just after 00:30am !!
We both got upgraded to the suites on floor 11 in the towers, where the rooms are huge. No additional cost $$$ nice start to the week
55 Avenue Condado
San Juan, 00907-1708, PR
Cost: $240.67 per night inc all taxes and Full Breakfast (2 Queen Beds)
http://condadopalm-px.trvlclick.com/...campaign=Brand
Comments:
Breakfast Made Easy
Free Breakfast
Complimentary full breakfast
choice of breads, cereal, fruit, hot eggs, hot breakfast meats, juices and much needed coffee.
The MIL and FIL managed to get some black tea, so they were happy.
We got to hotel just after midnight so as long as we had a bed all were happy.
Rooms and hotel actually were very nice, we had researched well in advance and this was a reasonable option. Reviews online swayed it for DW.
We could of splashed out at a fancy hotel, what was the point, we would be there 10hrs tops.
Beach was within small walking distance
No Shuttle provided from hotel, as like most other hotels, it is taxi's with regulated prices.
Expand Signature
Collapse Signature
Graham ♥️♣️♦️♠️🎰🎲🃏


(2002 Splendour JS) (2003 Rhapsody GS) (2004 Grandeur JS)
(2005 Monarch GS) (2006 Sovereign RS) (2006 Brilliance JS)
(2007 Splendour GS) (2007 Jewel JS) (2008 Freedom GS)
(NCL 2008 Norwegian Dream)
(2009 Serenade GS) (2012 Mariner GS) (2013 Majesty JS)
(2014 Navigator JS) (2014 Jewel JS) (2015 Jewel RS)
(2016 Allure OS) (2016 Liberty GS) (2017 Freedom GS)
(2017 Navigator JS) (2017 Vision RS) (2018 Adventure RS)

Upcoming Cruises
Enchantment 2018 (RS)
MSC Seaside 2019 (Yacht Club RS)
Enchantment 2019 (OS)
Celebrity EDGE 2020
MSC Seaside 2020 (YC)
MSC Seaview 2020 (YC)