Posted April 23rd, 2015, 12:16 PM
Last edited by Skier52; April 23rd, 2015 at
12:25 PM
I've got a cabin request also, we are sailing out on the llirica cabin 10095 if you could dig up a pic that would be great!!


Couldn't find much info on this ship, found a deck plan but not sure if this is a good spot or a noisey one. As i've found some noise complaints in my searching.

Thanks
My answer is assuming you are on the ship before August as from 31 Aug to 9 Nov she is being stretched and refitted and I can't find a deck plan for after then.
As you have a balcony suite on deck 10 you are bound to have overhead noise , unless you were in one of the front cabins which are below the spa. your cabin is below the open air caferteria and I would expect there to be early morning overhead noise as the crew move tables and chairs when getting ready for the early risers having breakfast al fresco, along with footfall from early bird guests.
I recently had this type of cabin on deck 12 on both Opera and Sinfonia and even there on deck 12 we had overhead noise from crew setting up deck chairs. i'm afraid the overhead noise comes with the territory of a balcony suite on this class of ship.
The other point is it is across the corridor from the central "white space" which houses the exhausts en route up to the funnel. I have no exprience as to whether this generates noise, but at least it isn't a crew stairwell which can be the source of noise as crew move about the ship.
I've included the position of your cabin from the outside of the ship plus some photos I took myself of the same type of cabin ( 248 sq ft with a 52 sq ft balcony) that I had on OPERA and SINFONIA recently. I hope they give you an idea of what they look like.

CABIN ON OPERA
THE CABIN ON SINFONIA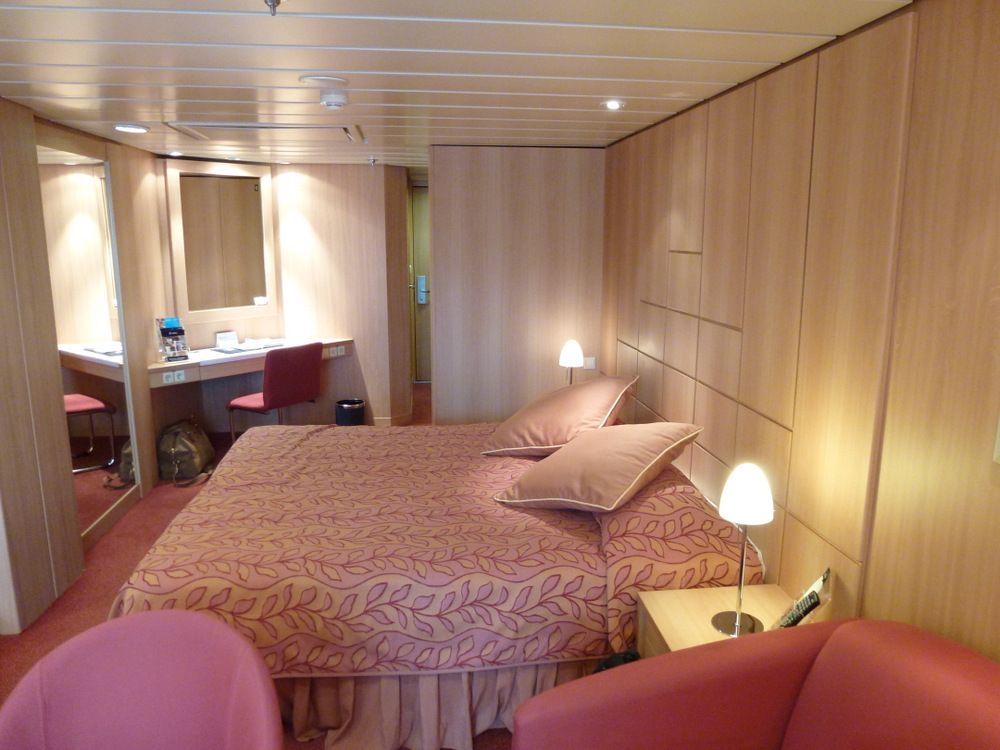 THE BALCONY ON OPERA
tHE WALKIN WARDROBE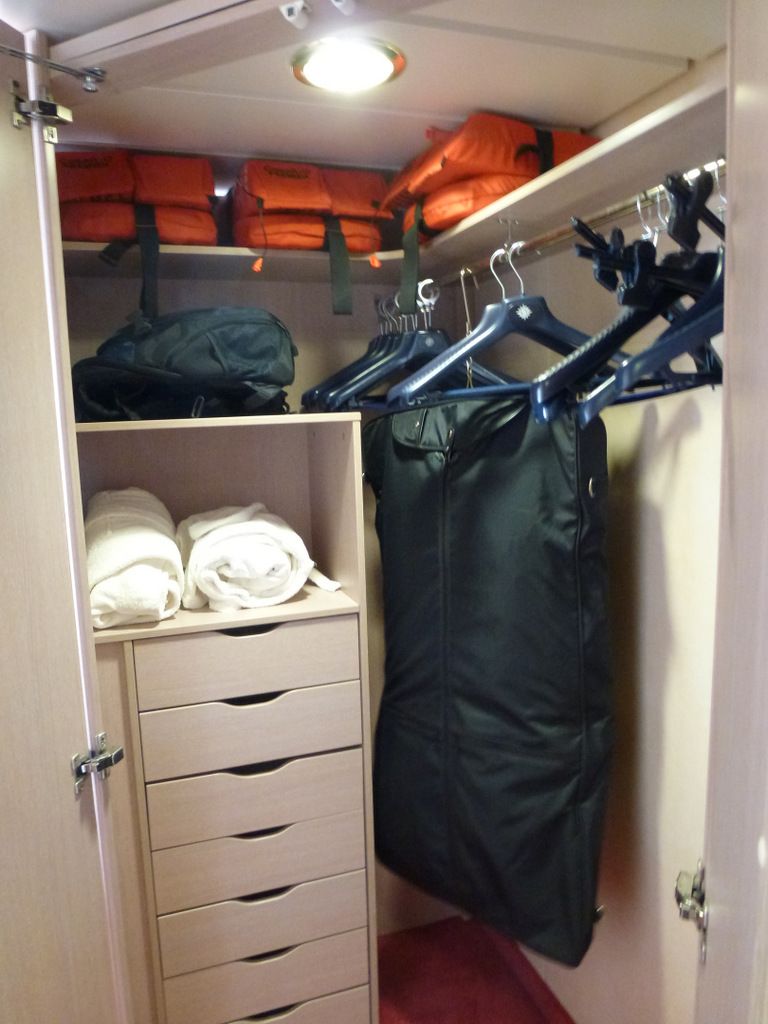 Expand Signature
Collapse Signature
275 nights at sea (147 with MSC)
pete at cruisingmates dot co dot uk
1961 HMTS Dunera UK to CYPRUS 23 nights
1962 Cyprus to Isreal and Egypt 5 nights
1991 Carnival Jubilee L.A. / Mexico (Total Eclipse Cruise) 7 nights
1998 Carnival Fascination Caribbean (Total Eclipse Cruise) 7 nights
1999 Airtours Sundream W. Med 7 nights
2000:Airtours Sundream Baltic 15 nights
2005
MSC
Opera E. Med 7 nights
2007
MSC
Lirica W. Med 7 nights
2008
MSC
Orchestra W. Med 7 nights
2009
MSC
Orchestra Caribbean 7 nights
2009 RCI Serenade OTS (JS) Alaska 7 nights
2009
MSC
Musica E. Med 7 nights
2010:RCI Explorer OTS (GS) Caribbean 9 nights
2010
MSC
Splendida W. Med 7 nights
2011 NCL Norwegian Dawn (Penthouse Suite) W. Caribbean 5 nights Back to Back
2011 NCL Norwegian Dawn (Penthouse Suite) S. Caribbean 9 nights Back to Back
2011 P&O Azura Norway 7 nights
2011 RCI Grandeur OTS (GS) W. Med 7 nights
2012
MSC
Splendida W. Med 7 nights
2012 RCI Splendour OTS (GS) Repo Brazil to Spain 13 nights
2012 RCI Splendour OTS (GS) E. Med 7 nights
2012
MSC
Divina E. Med 7 nights (YC)
2013
MSC
Opera UK to Lisbon and back 10 nights
2013
MSC
Sinfonia W. Med 7 nights (Yippee!! BLACK CARD after this;;-- GOT IT NOW!!!!!!)
2014
MSC
Opera UK to Souh Africa Grand voyage 21 nights
2014
MSC
Sinfonia E. Med. 11 nights
2016
MSC
Orchestra Caribbean 14 nights B2B with
2016
MSC
Orchestra Trans Atlantic 14 nights
2016
MSC
Splendida Repo UK to Italy 7 nights
2017
MSC
Meraviglia Western Med (YC) 7 nights
BOOKED
2018
MSC
Seaview Western Med 7 nights
2018
MSC
Magnifica Repo 9 nights