Posted August 26th, 2017, 01:28 AM
I was wondering if you can bring your own shade to Half Moon Cay?
We have a small popup beach shade like the picture attached.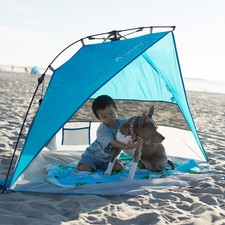 It's small enough to bring it with us and would be good for my 2 small kids to have some shade. Why pay for a clamshell or sunshade if we have one and can bring it with us...
Any info would be great! Thanks!
Expand Signature
Collapse Signature
Sept. '17 - Carnival Pride Eastern (Grand Turk, Half Moon Cay, Nassau)
Oct. '16 - Carnival Pride Canadian (Saint John, Halifax)
Sept. '08 - Carnival Liberty Western (Grand Cayman, Cozumel, Belize, Isla Roatan)
Dec. '06 - Carnival Triumph Eastern (San Juan, St. Thomas, St. Maarten)
July '05 - Carnival Imagination Western (Grand Cayman, Ocho Rios)