Posted July 16th, 2015, 06:55 PM
Last edited by Skier52; July 16th, 2015 at
06:58 PM
MSC USA informed me that the features of the different Experiences differ from region to region,,,,I was hoping for the MY CHOICE DINING option on our January 2016 sailing.
They obviously do!!
Here are the fantastica perks as given in the USA; UK; Australia
USA
they get CASH as well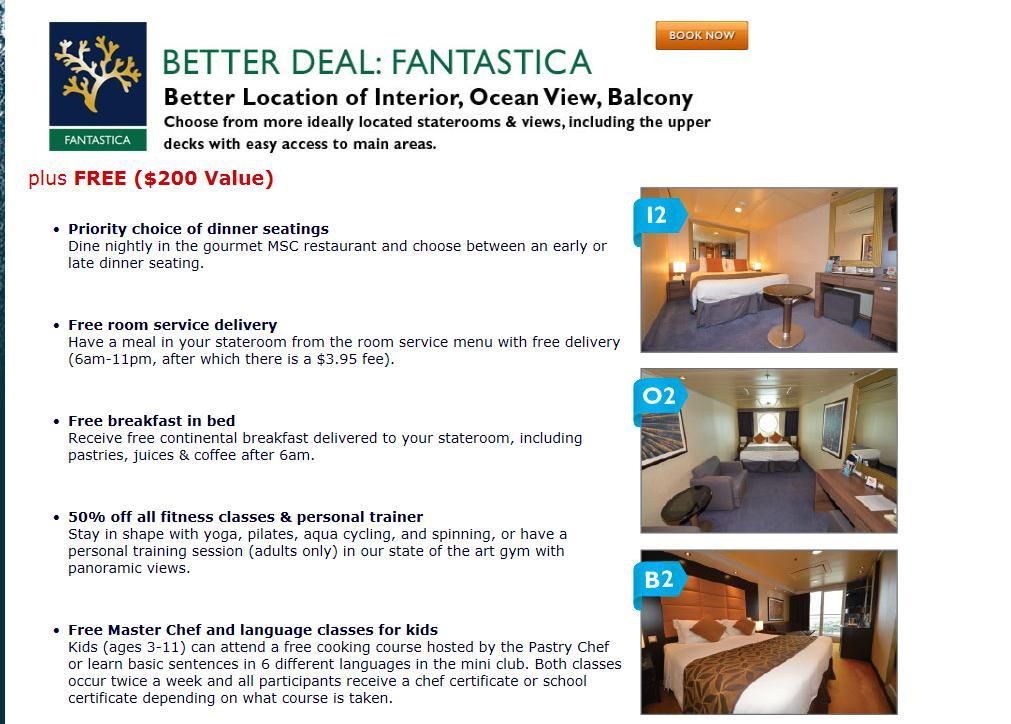 UK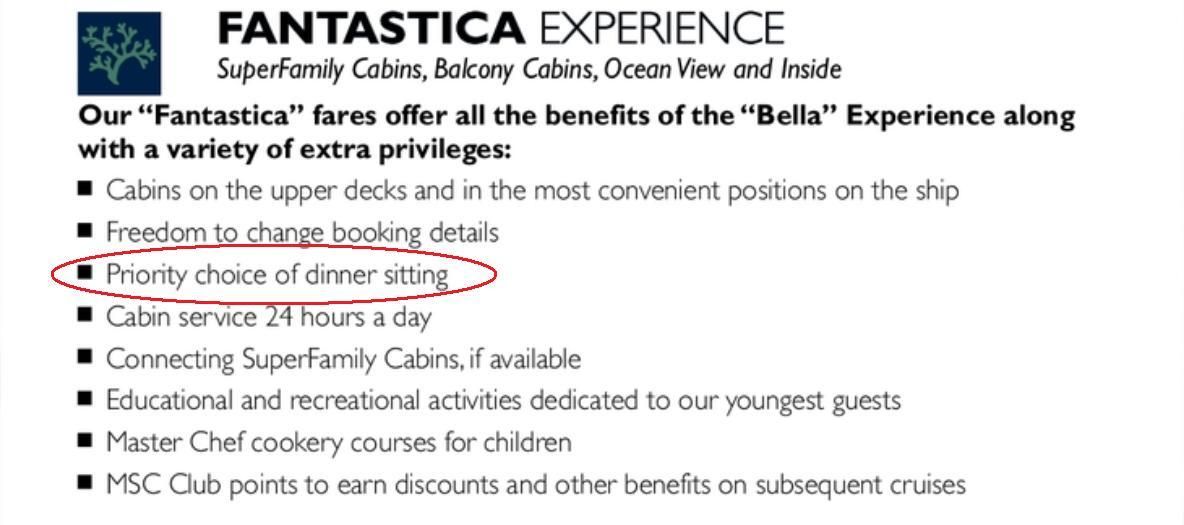 AUSTRALIA
They get the small print which gives the effective start date for priority dining:- 20th April 2016
What does an Aussie get if he books a European cruise departing before 20/04/16, many of them do ?
Pete
Expand Signature
Collapse Signature
268 nights at sea
pete at cruisingmates dot co dot uk
1961 HMTS Dunera UK to CYPRUS 23 nights
1962 Cyprus to Isreal and Egypt 5 nights
1991 Carnival Jubilee L.A. / Mexico (Total Eclipse Cruise) 7 nights
1998 Carnival Fascination Caribbean (Total Eclipse Cruise) 7 nights
1999 Airtours Sundream W. Med 7 nights
2000:Airtours Sundream Baltic 15 nights
2005
MSC
Opera E. Med 7 nights
2007
MSC
Lirica W. Med 7 nights
2008
MSC
Orchestra W. Med 7 nights
2009
MSC
Orchestra Caribbean 7 nights
2009 RCI Serenade OTS (JS) Alaska 7 nights
2009
MSC
Musica E. Med 7 nights
2010:RCI Explorer OTS (GS) Caribbean 9 nights
2010
MSC
Splendida W. Med 7 nights
2011 NCL Norwegian Dawn (Penthouse Suite) W. Caribbean 5 nights Back to Back
2011 NCL Norwegian Dawn (Penthouse Suite) S. Caribbean 9 nights Back to Back
2011 P&O Azura Norway 7 nights
2011 RCI Grandeur OTS (GS) W. Med 7 nights
2012
MSC
Splendida W. Med 7 nights
2012 RCI Splendour OTS (GS) Repo Brazil to Spain 13 nights
2012 RCI Splendour OTS (GS) E. Med 7 nights
2012
MSC
Divina E. Med 7 nights (YC)
2013
MSC
Opera UK to Lisbon and back 10 nights
2013
MSC
Sinfonia W. Med 7 nights (Yippee!! BLACK CARD after this;;-- GOT IT NOW!!!!!!)
2014
MSC
Opera UK to Souh Africa Grand voyage 21 nights
2014
MSC
Sinfonia E. Med. 11 nights
2016
MSC
Orchestra Caribbean 14 nights B2B with
2016
MSC
Orchestra Trans Atlantic 14 nights
2016
MSC
Splendida Repo UK to Italy 7 nights
BOOKED
2017
MSC
Meraviglia Western Med (YC) 7 nights
2018
MSC
Seaview Western Med 7 nights
2018
MSC
Magnifica Repo 9 nights