Posted July 29th, 2009, 11:19 AM
Before jumping into my review, I'll warn you - I tend to be wordy in my reviews, so keep that in mind as you go!
First, some basic background. This was my second cruise and a first for the rest of my family
H/Jon, DD/Mandy(14) and DS/Tim(9). My prior cruise was on Royal Caribbean's Adventure of the Seas - a moms' getaway cruise with two other women. I'll probably compare and contrast this cruise with that one as I go along, but I'll try and keep it a balanced review. Keep in mind, also, this was our FAMILY cruise, so I have a feeling I'll be concentrating more on kids activities, clubs, reactions, etc. and not so much on shows and such this time around.
We left out of Philadelphia for Tampa, on Southwest, a day early - on Saturday, July 4. No winter weather to deal with, but the relaxation factor of having all that time to spare cannot be understated. It's so nice that SW has not given in yet and started charging luggage fees. Our family packed quite a load. With four able-bodied people and everything on wheels, though, it really wasn't too unwieldy, except once in the hotel shuttle.
Our pint-sized porter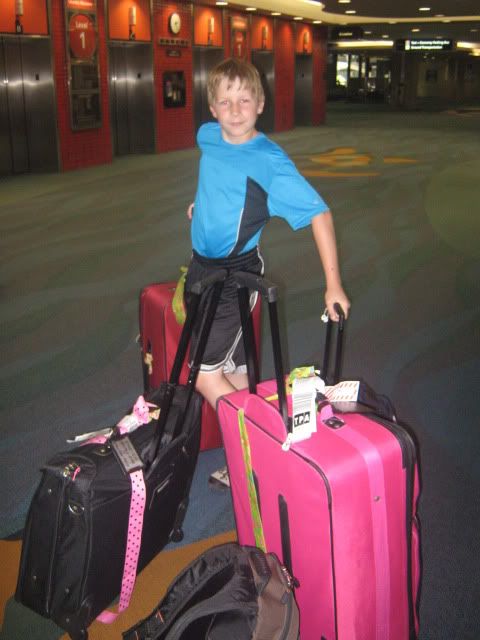 Our whole Carnival cruise, on the whole, was a wonderful one. I would do it again in a heartbeat! Now on with my review.
We had section A boarding passes on SW, but ended up in the middle of the plane to get the seating we wanted. I would have preferred to have two seats on either side, but with three on each, the kids and Jon took one side and I took the aisle seat on the other. Not quite three hours to Tampa, and we were touching down. Never thought I would say this, as a mom, but thank goodness for the kids' DS games. Quiet kids! Their books only lasted so long. We took our time exiting from the plane and collecting our gear, then heaed to the TGI Fridays in the airport for lunch. (I recommend the Santa Fe chicken salad - yum!)
at TGI Fridays
We had gotten the port package at the Holiday Inn Express, Rocky Point, so we called or the shuttle as soon as we were done with lunch. As for the hotel, we ended up with a wonderful view from our room, overlooking the pool and Tampa Bay, but aside from that, it was your standard hotel room.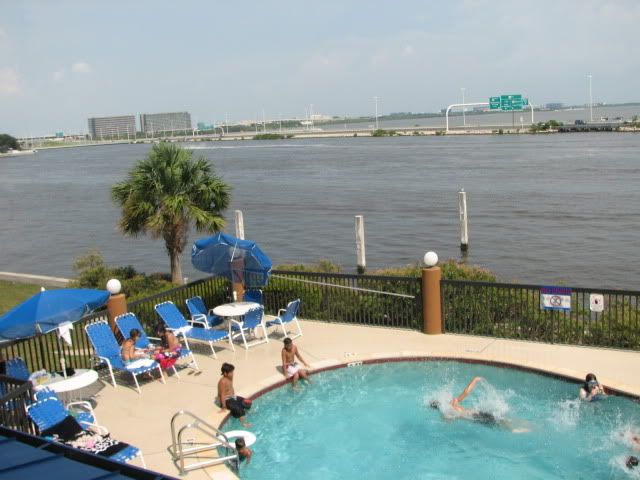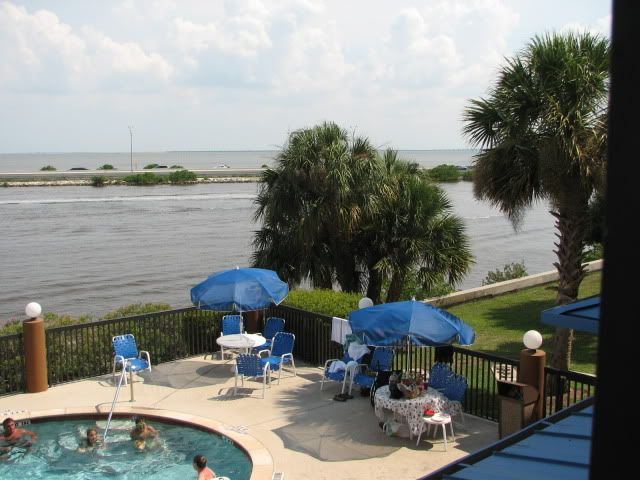 If I remember correctly, the hotel port package - free shuttle within a five mile radius, plus pickup at the airport on arrival, transport to the port on sailaway, and transport to the airport from the port upon return - added about $40 to the regular hotel rate.