Posted February 27th, 2010, 02:08 AM
Last edited by DrmnOfMaui; February 27th, 2010 at
02:12 AM
Six days prior to the February 9th, 2010 sailing of the Paul Gauguin my husband surprised me by saying he had found the perfect vacation for us. As he described the 11-night itinerary visiting the Cook and Society Islands I sat there dreaming of the brilliant, turquoise waters and warm, soft air. When he said, "Why don't we go?" I laughed and asked him, "When are we leaving?" 6 days to prepare to leave the kids, two 4-month-old puppies, throw a Super Bowl party for 40 and also pack? Was he crazy? Yep... but we did it! Within 48 hours we had scheduled my mother to watch the kids and puppies, a village of wonderful girlfriends to take over my kid driving schedule for 12 days, and a tentative itinerary for travel. A few phone calls had the trip booked, hosting the Super Bowl party went off without a hitch (even though our Chargers weren't there), and before I knew it we were standing at the Air Tahiti Nui counter in LAX along with a dozen other excited PG guests heading to Papeete, Tahiti!!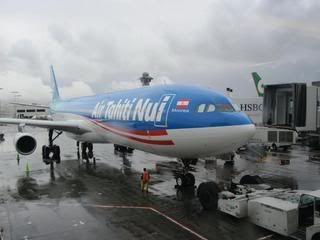 ATN was surprisingly nice (except for the darn hard seat!). After my last few flights on domestic airlines I was pleased to actually have a meal (my last offering on Continental was a Pig in a Blanket sort of yucky thing), and even more pleased that my shrimp entree was tasty! The movies inflight were decent, a number of offerings on a video screen that is in the seatback in front of you. I felt my middle age just a bit when the lady in front of me pushed her seat back (I could nearly rest my chin on her head) and the screen felt just a bit too close! The flight was chilly, but all seats had blankets and pillows. A couple of hours before landing they offered another light meal and refreshments.
We landed on time in Papeete and took approximately 50 minutes to deplane, pass immigration and collect luggage. As we had not booked our air through PG we did not have the included transfers that the other guests used. The airport had plenty of cabs though and they readily accepted U$D. I believe the fare was about $36 from the airport to the port (7 miles).
Next thing we knew the taxi stopped at the foot of the gangplank and we were greeted by Jaques Le Tallec, the ship's hotel director, as our luggage was unloaded form the taxi and whisked away. Someone offered us a cool towel and a sandwich as we filled out the health questionnaire and within 5 minutes we were in the Grand Salon receiving our cabin keys and sipping champagne! A lovely young lady escorted us to our stateroom where sandwiches, fruit and refreshments were waiting. As she was leaving our luggage arrived!! Brian and I looked at each other in disbelief, then pinched ourselves as we realized we had found a new way to cruise.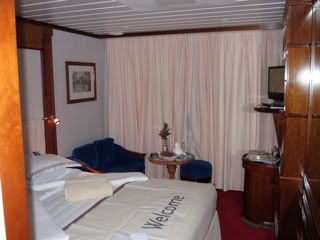 As we were emptying the last of our suitcases into the more than ample storage spaces (two closets with lots of hangers and shelves, 4 decent sized drawers and underbed storage for luggage) we felt the ship pull away from the pier. We decided to take a quick look around even though it was late (12:45 or so). We wandered up to the pool deck and found a few other passengers with the same idea. The bar at La Palette was still open and the bar tender happily topped off our champagne glasses. With our glasses full and a bit of fatigue beginning to set in we headed out to the pool deck to watch the lights of Papeete fade off into the distance.
More to come...
Expand Signature
Collapse Signature