Posted June 29th, 2010, 02:41 PM
We recently returned from a four nights short cruise on the
RCI Adventure of the Seas
(left June 3rd from Barcelona, stopping in Toulon, France and then overnight in Ibiza, Spain before returning to Barcelona on June 7th 2010).
As many large ships dock now in La Seyne-sur-Mer
(and not Toulon, Provence as typically indicated on the itinerary), I thought appropriate to post some photos of the area and some ideas on how to get out to Toulon, Cassis, Cannes, Avignon, Aix etc.
First off, you may also find useful this document from Voyager of the Seas (offering some options of "Transportation from Toulon" - actually to Toulon from Seyne-sur-Mer):
http://travel.webshots.com/photo/207...06566457QLaaRY
Note that RCI offers a shuttle transfer to Toulon at about 12.00 USD/pax.
With that aside, I'll return to our own journey on
Friday, June 4th 2010 (on the AOS).
We were scheduled to be in Toulon, Provence (aka Seyne-sur-Mer) from 7am to 5pm on June 4th 2010... allowed to get off the ship close to 7:30am that morning (so we missed an early train connection, getting to plan B for the day: went to Cannes by train and then did Toulon on our own... had to skip the visit to Cassis by train as we couldn't get off the ship at 7am).
Left the AOS ship behind us (see below a picture of the AOS docked in La Seyne-sur-Mer for quick reference) and
headed to the main (and only) street (on the right hand side, towards Downtown if you have the ship behind you).
Adventure of the Seas docked in La Seyne-sur-Mer (June 4, 2010)
Before getting to the street, you may see this sign (AOS ship being in the background in the picture below):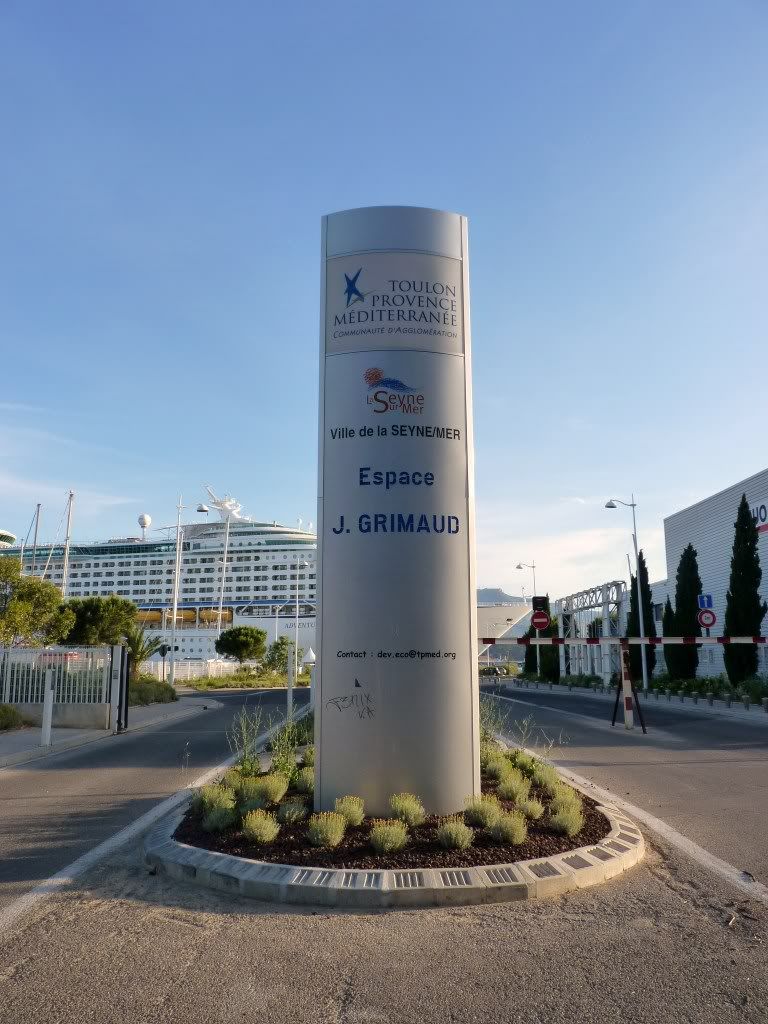 Adventure of the Seas docked in La Seyne-sur-Mer (June 4, 2010)
Less than 1 km/mile away, walking on the main street, we found the Bus stop (end of the line);
took local Bus # 8 to Toulon
(dropped us off very close to Toulon Train Station... we reached it within 5 minutes walking distance up the street).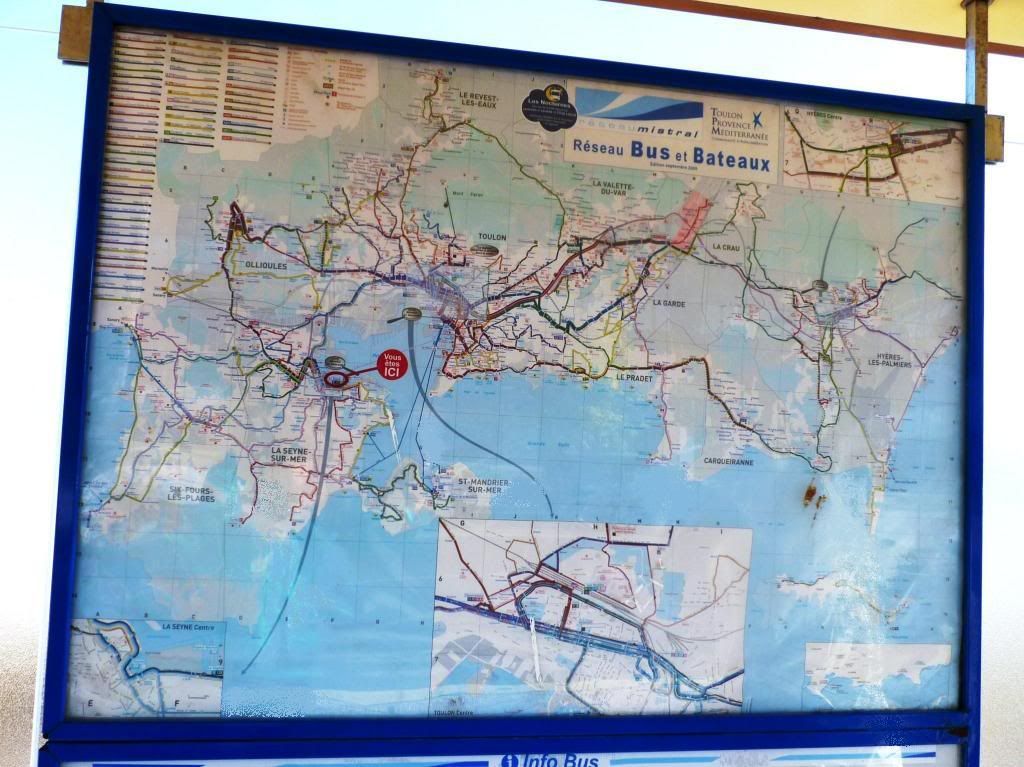 The bus stop in La Seyne-sur-Mer and the local map
(see where you are and
Nr. 8
indicating the bus number)