Posted November 3rd, 2010, 02:36 PM
Last edited by Radio; November 3rd, 2010 at
02:39 PM
Hello everyone. . . I am happy to bring you another of my "LIVE" Cruise Reports.
Tomorrow morning, I will be driving down to Cruise Maryland at the Port of Baltimore for my "LIVE" from the Enchantment of the Seas trip reports.
The forecast for tomorrow is calling for showers in the morning, and rain all day. . . Oh well. . . A rainy day on a Cruise Ship is better than a sunny day at work.
At least we will be heading down to the Caribbean for a 9 night cruise that should bring us warmer weather.
It appears that Tropical Depression Tomas may have an affect on Enchantment of the Seas. Tomas is currently SSE of Jamaica, and will be heading NE over the Turks and Caicos that may cause an altered Itinerary.
We are scheduled to be in San Juan, PR by 2PM on Sunday.
TD Tomas was a Tropical storm Yesterday. . .who knows what it may be tomorrow.
Many of you have sailed with me several times, but there are always new Cruise Critic members who have never experienced one of my "LIVE" Reports. I will try to bring you daily comments about the Public Areas, Dining, Activities, and Ports. I will also be posting many photos daily of all of the above named items (pending a valid wireless connection) There are many WiFi Hot spots located around Enchantment of the Seas, and my plan is to post many photos several times per day.(as long as the signal bandwidth will cooperate)
We will be at sea all day Friday and Saturday, and it will get warmer every day as we head south. I am really looking forward to our stops in Saint Thomas, USVI and Labadee.
This will also be the first time I have been to Samana, DR. I was in La Romana DR several years ago on Millennium- but Samana, Dominican Republic is a Tender Port.
Sit back, relax and be ready to enjoy this 9 Night Cruise on Enchantment of the Seas. This should be a relaxing and fun Cruise !
Thanks for tuning in. . .  
Radio
Image Courtesy of ©2010 Maryland Port Administration










Wed 2PM Forecast - 11/3/10   
Image Courtesy of NOAA










Our planned Itinerary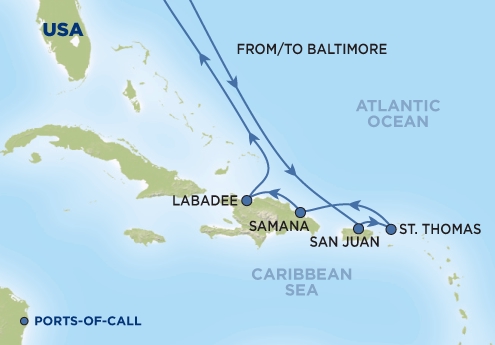 .
Expand Signature
Collapse Signature