Posted December 8th, 2010, 11:10 AM
So we made our plans for a trip to Louisiana to visit the crazy relatives. Such times are always filled with mixed emotions and as the time for us to leave grew closer, I came up with a birlliant idea: as long as we were that close to a port, why not jump on a cruise ship! With a few mouse clicks, I was able to find a great "pack and go" rate on a balcony cabin on The Triumph. Best of all, her sail date fit perfectly into our schedule.
Needless to say, the anticipation of our little 4 day sea adventure helped me smile through the family drama. And after 5 days of playing nice, we set off for the Port of New Orleans, which was an hour away.
The cruise terminal is shiny and new. To get there, you must work your way through the narrow streets along the Mississippi, but the lady who lives in the GPS got us there in no time. In fact, we arrived at the parking garage at 10:45 and were through security and checked in by 11:00. (BTW....Parking is steep @ $17 a day. I guess they have to pay for that fancy new parking deck.) And we only had about a 20 minute wait before we were able to board.
I snapped this photo before I was reminded that photography is not allowed inside the terminal. OOPS!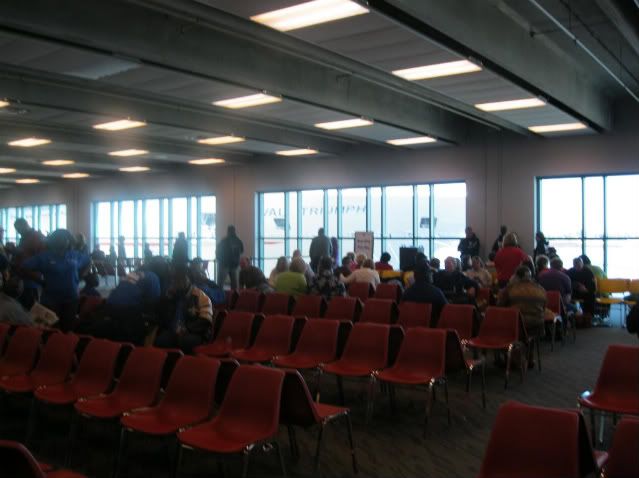 Expand Signature
Collapse Signature
"Twenty years from now you will be more disappointed by the things that you didn't do than by the ones you did do. So throw off the bowlines. Sail away from the safe harbor. Catch the trade winds in your sails. Explore. Dream. Discover." Thank you, Mr. Twain; I think I will!
Read my review of
The Legend
at
http://boards.cruisecritic.com/showt...ght=mama+lapin
Read my review of
The Triumph
at
http://boards.cruisecritic.com/showthread.php?t=1319664
Read my review of
The Fascination
at
http://boards.cruisecritic.com/showthread.php?t=1351702
Previous Cruises:
Carnival Legend - 9-12-2010
Carnival Triumph - 12-2-2010
Carnival Fascination - 1-27-2011
Carnival Fascination - 4-30-11
Carnival Triumph - 9-17-2011
Carnival Dream - 3-24-2012
Carnival Fascination - 8-19-2012
Carnival Legend - 9-30-2012
Carnival Legend - 1-27-2013
Carnival Fantasy - 7-22-2013
Carnival Dream - 10-5-2013