Posted January 9th, 2011, 11:01 PM
A 14 night Holiday with Team K
I have written many reviews and I have Blogged Live From Explorer OTS a few times. I try to cover info about the ship, crew, food, entertainment, ports of call and other random happenings.
Im posting in Titled sections so you can pass by topics that might not interest you, as this will be a day-by-day review, and it was a 14 night cruise with lots happenin'.
Our Back Story:
We're an active family of 4, our daughter is 22 and our son is 18. We have been cruising since they are 9 and 13, this was our 10th cruise. The cruise for us starts with the booking. From there investigating the ports and planning excursions begins. We booked this Holiday cruise on January 2, 2010, so we had 11.5 months of building excitement. Packing went well. We're lucky to be 40 miles south from Cape Liberty, Bayonne, NJ. The super stretch white limo pulled into the driveway at 10am. We pulled out of the driveway around 10:20 & were on our way! Laughing and taking pictures along the way, about 20 minutes on the NJ turnpike and we started to hear and feel a terrible rumble. The driver pulled to the side of the road and got out to look, along with DH and DS. A rear tire lost 4 out of 6 lug nuts, yes- we almost lost a tire. An hour later a van showed up & Cinderella's coach turned into a pumpkin, errr van! We were back on our way.
Arriving at Cape Liberty:
We arrived at Cape Liberty at 12:30, it was not terribly crowded and our driver pulled into a bay. A porter immediately took our luggage (& tip) and we walked right into check in. There was a very short line through the metal detector, nothing to talk about. There were the normal Priority check in line and regular check in, Priority was long- then we heard and saw friends from our 6/2010 cruise on a different priority line they had motioned him onto which was shorter, so we joined that line. DS's card is NEVER printed, we don't know why. It is a phenomenon. As we stopped for the quintessential "boarding picture", the photographer's camera didn't work, we decided we didn't need to wait and boarded the waiting bus, and off to the ship.
Onto Explorer:
We went directly to our cabins and DD and I dropped off the gowns that we were carrying. Then DH and I went to check our MDR table, always a table for 4, we have never had a problem with that request. This time we were seated with 2 couples and I knew it probably wouldn't work for us, considering what would my 22 and 18 year olds have in common with them, really. We asked to change and were accommodated with an "ok" table. [This will change, 2 more times] We then stopped off at Weekend Warrior and saw Julie, a wonderful and warm and friendly bar tender we met on our 2010 summer cruise. Our DS found his friend [a girl he has kept in touch with from our 2007 Ex holiday cruise, who lives 30 minutes away from us] and they were off trolling the ship. DH and I went up to scope out Dizzys and the bar tender for Sail Away. Muster was postponed until the next day. We quickly grabbed lunch in Windjammer, and DH asked for a tray of cookies to take up to our sail away soiree at Dizzys Lounge (Deck 14). I was hoping our roll call group would all meet up in the same area, but it seemed that many didn't recognized each other, I'm guessing. I met a few folks I had been talking to for months on face book, one came over and introduced me to some others that were sitting towards the back of the bar.
The friends we ran into on priority check in were there too & we decided to try to get a MDR table together. With this, off to the MDR the other guy went, and he came back with a new table number. The pictures from Sail Away say we drank a lot and had a very fun time.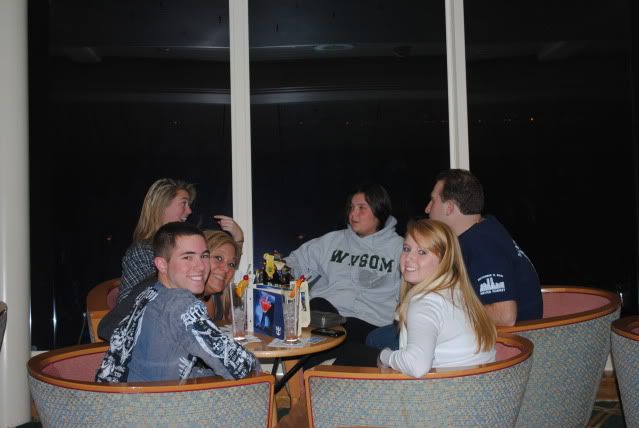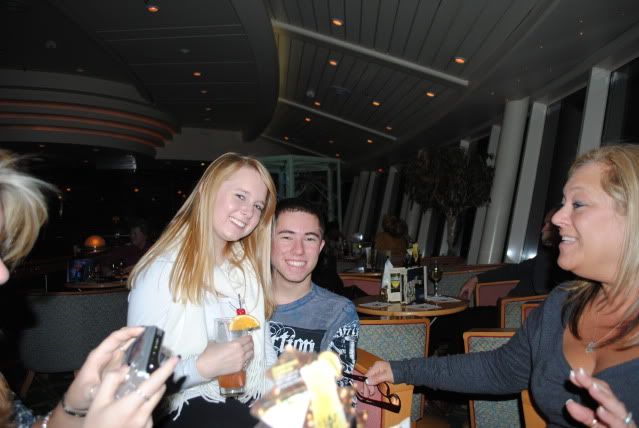 We all arrived at the MDR and had dinner with our great friends, but the table was not so great at all. We enjoyed dinner that night, but the next day had to request a change of table for the 6 of us to a better location. We were happily accommodated and had a wonderful table with amazing wait staff for the rest of the cruise. This is my friend who made it happen.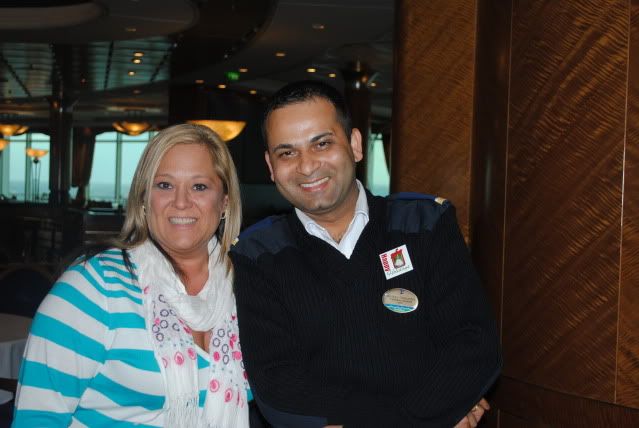 Dinner- Vidalia Onion Tart
Truffled wild Mushroom Linguini alfredo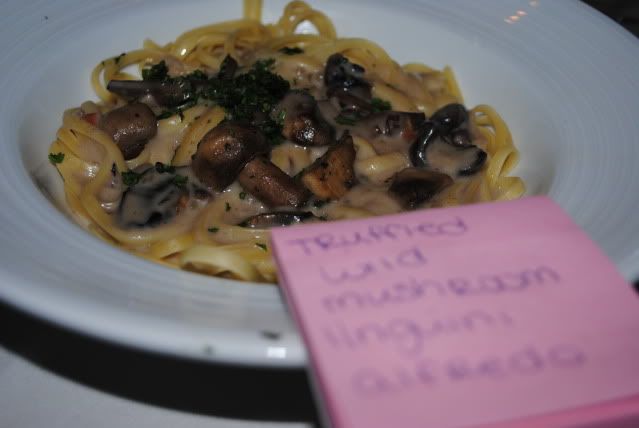 There was a Sail Away Parade on the Promenade @ 5:30. Explorer now hosts a "Peter Max fine Gallery", Deck 3 outside Studio B and the photograph area. Evening entertainment included: Steve Zackim and Roman Dembitskyy @ Schooner, String quartet at Aquarium evenng trivia and dance music by Viva Band @ Maharajas Lounge. At 4:10 listed in the compass is a Club 18-20 Meet for Sail Away at Weekend Warrior get together- we don't know anyone in that age bracket that attended though.