Posted April 22nd, 2011, 05:12 PM
Hi Everyone!
Just getting back from the April 16th (5 night) sailing of the
Radiance
of the
Seas
. I love to post a diary type
review
of our cruises and include
pictures
......so here goes!!!
We are Max's Mom and Dad (aka Jane and John).....early 60 ish couple. We've been cruising with RCI for almost 26 years now.....started on our Honeymoon (Song of America!). We like to try and get 4 cruises in a year. We chose the 5 night
Radiance
cruise because it fell during my Spring Break.....I'm a teacher. We haven't cruised since December and we were going stir crazy after a long, cold winter. We watched the prices on this one and when they had a price drop about a month out....we booked an E1 on the hump. The prices went down even more a couple of weeks later, so we upgraded to D1 midship.
Our fun began early on Friday morning, April 15th, as we tried our best to miss our 6 AM flight from Raleigh-Durham to Tampa. Got held up in a huge security line. They were calling our names to get on the flight and we were trying to get our shoes back on and run to the gate. We made it with absolutely NO time to spare. They shut the door and off we went.
We got to Tampa around 11:00 AM, called the hotel shuttle and got right over to the Intercontinental and were able to check in immediately. Very nice hotel, mostly used for business travelers. There is a Shula's restaurant in the hotel, so we had lunch there. Another roll call buddy was also staying there so after lunch we went up to the rooftop pool and met them. We enjoyed seeing Sheryl and her daughter Emily throughout the cruise.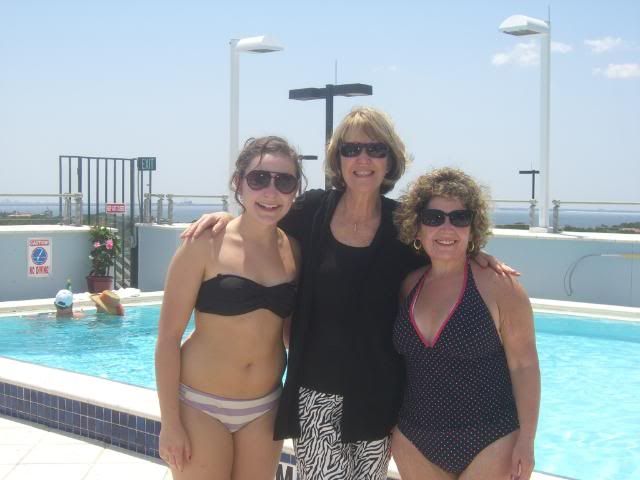 Later that evening, some former cruise buddies, who live in Tampa picked us up and we went out for a barbecue dinner. Very yummy! After dinner, they took us on a tour of Tampa, and we really enjoyed that. Tampa is a beautiful city. It's so much fun to keep up with former cruise and CC buddies. You just never know when your paths will cross again.
This
review
will be a work in progress.....I'll keep making subsequent posts until I finish. Hang in there with me.
Expand Signature
Collapse Signature
Jane

*******************************************