Posted June 26th, 2011, 11:07 AM
Hello from the
Eurodam
! We are on our last day at sea and we disembark tomorrow. I thought since we had some minutes left on our plan that I would start my
review
today!
It might be a bit disjointed, but bear with me, and feel free to ask any questions along the way. I'm going to split it up, and post some

pics

. Also, we will be flying home all day tomorrow (Monday) so don't be anxious if I'm not back on right away!

We were on the Baltic Cruise from June 15-June 27.

Wednesday June 15, 2011-London Hotel
We slept not so good. I think we were concerned about making sure we got up in time to catch our shuttle back to the airport. I had arranged for the shuttle back home via the Internet. Our pick up time was between 6-6:30. We made it downstairs at 5:55 and our shuttle driver was already there. Excellent! He was very polite and we had a nice chat while picking up the other passengers and getting to the airport. We arrived back at the baggage claim around 730 or so. We beat the plane that we supposedly were coming in on. For the ship transport you have to give

Holland

America

flight details on a plane that arrives on the morning the ship leaves. Otherwise they won't have you on their list and they won't pick you up. Since we beat all the people coming off the planes (it was very busy there today! Perhaps because it was a weekday. So it was most likely taking people longer to go through customs). So we sat for about 45 minutes and waited for our turn to board the bus. The HA lady was very nice and made sure she didn't leave without us! We boarded the bus and made our way towards Dover. The bus ride took about 2 hours, the traffic wasn't too bad.


The bus ride to Dover took about an hour and a half. The bus was nice and most people took a nap on the way there. We arrived in Dover around 10:30am. We learned when we arrived that we would not be able to get onboard the ship until 1 or 1:30 because of the "code red" and the extreme cleaning of the ship because of the outbreaks of the noro virus from the cruise before us. That actually worked in our favor as we really wanted to go up to the visitors center at the White Cliffs of Dover. There was a free shuttle bus that they offered us to go both into the city proper and/or to the Dover castle. We went up to the castle. We asked and the lady said to go up and around and take the next right to get to the visitors center. No problem. There was a sign that said there was no sidewalk, again, no problem. We started off. We were able to get a geocache (google "geocaching" for more info...basically a "scavenger hunt" everywhere in the world). that I didn't think we were near, so that was a bonus.

At one point my husband said "we need to cross the road and walk on the other side because of the bushes on this side and that curve coming up". We were doing the right thing and walking "into" traffic. We hadn't seen a car in about 10 minutes even, and I thought he was being a bit silly, but I humored him. So DH crossed the street and I started to follow him…right at that moment a car came screaming around the corner….right at me. I squealed like a little girl, and for a moment I didn't know if I should go back or go forward….Finally I leaped forward and the car whooshed past me. Seriously. I almost got run over. It was so scary! My heart was beating really fast and DH was not happy at all. Not mad at me, just his reaction to me almost being hit!

After that we continued on our walk up the road, being extra cautious now, but of course we didn't see too many more cars!

Finally we made it to the top. We had a great view of the Dover Castle and the

Eurodam

! Took some

pics

and continued to the visitors center for the White Cliffs. It was beautiful up there! Took some

pics

and hung out, then decided it was time to head back down. DH decided he was NOT going to go back down the road where I almost died, so we took the footpath back down to the ferry. We wouldn't be catching the shuttle back to the ship, but I figure that was a good tradeoff for not dying!

It was about 2.5 miles back to the ship, but the day was lovely, the sun was out and I was living and breathing! By the time we got back to the ship it was 1:30 and people were boarding! We got our boarding card (yellow) and waited in the staging area for about 20 minutes or so. When we were called we went through security and were on board! It was a bit different than in the past because we didn't board IN the ship, the gangplank went onto the Promenade deck, THEN we went into the ship.

We made our way to the 8th floor and entered our room. We are in the last room on the port side, aft. Our little balcony is fine, and I was glad that we were on the left so when we left I could take some

pics

of the white cliffs without the ferries and other "noise" in the frame.

We ate a quick lunch in the Lido. Overall people seemed to be behaving themselves! Lol. Since it was a code red we were served rather than self-serve, but that worked out fine. I love salad and that's what I got. DH got a ruben sandwich. We ate and headed back down to unpack.

I did go down to the front desk to sign up for the private ship tour. I had read all about it on Cruise Critic and decided that it was something I wanted to do. DH didn't have any desire to do it, but told me to go for it. The lady at the front desk clearly was confused as she kept telling me to just go upstairs and go on the tour, finally I got it through to her by saying that I wanted to go on the "expensive paid tour". She then understood. She didn't know what day it was going to be on, but she charged it to the room. Later tonight she called and said that they didn't know if they would even have the tour because of the "code red", but that I would be informed later in the cruise if it would happen. I sure hope it does! I'm looking forward to it!

Oh and did everyone know that you don't have to wear your lifejacket to the lifeboat drill anymore? What a surprise! And they didn't take roll call either! Hummmm. They say it's mandatory, but don't take roll call. That was a first for us!

We left a bit late, I think because of late arrivals and something about the ferry. I had wanted to get

pics

of the cliffs before we went to dinner, but just as it was 5:30 (early dining) the ship starting moving. So I went with DH to the dining room, saw where we were seated, told him what I wanted and rushed out to the promonade to take my

photos

. I even got some of the Dover Harbor guide going down the rope ladder back onto his ship once we got out of the harbor area.

Our dinner table is lovely. We are at the back of the dining room right by a window. We have a great view of the back of the ship. Of course for the first night it was mostly a few of water and ferries criss crossing their way back and forth to France. Dinner was good. We always like the food. Maybe we are too "pedestrian", but we aren't food critics and always enjoy the food, We like the three "courses" of food and eating slowly and talking with our table mates. We are at a table for 6, and are with 2 other couples from the States. I thought that this cruise might have a more "international" feel to it as we left out of England, but so far I don't see it.

We are not the type to want to hang out in the bars and listen to the music, so I can't give any thoughts about those. We went to bed early as we had had a long 4 days prior to getting on the ship and were tired from the long day of walking.

more later!!
Below is the "road of death" that goes up to the White Cliffs Visitor Center. NO sidewalks...they do warn you, but that didn't help when I almost got run over!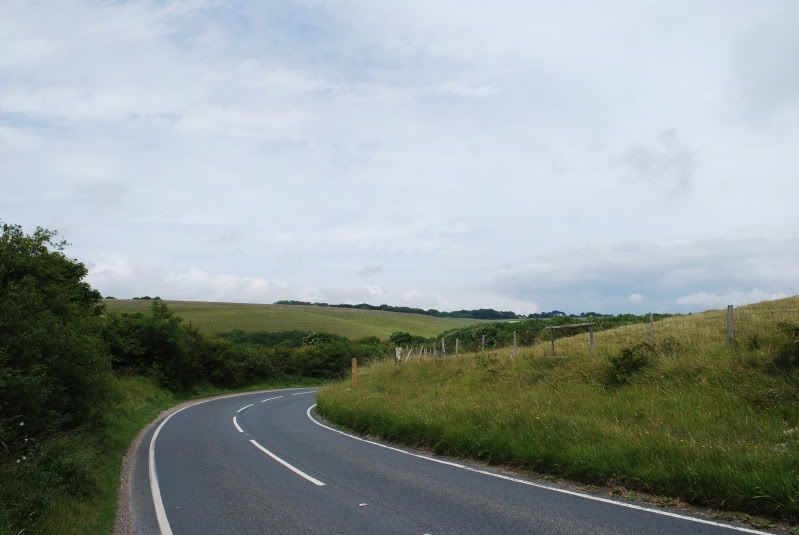 The beautiful White Cliffs of Dover and the Castle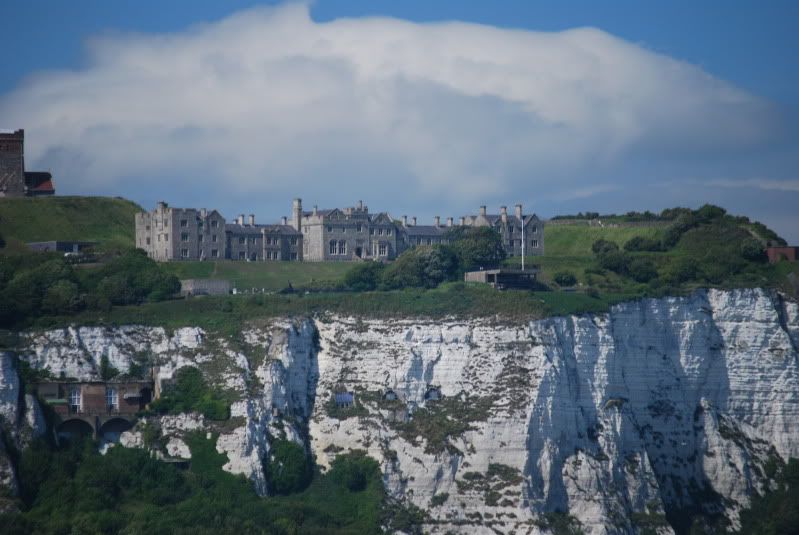 Room 8160 and my DH on the
Eurodam
And me and DH on our verandah ready to start our vacation!
Expand Signature
Collapse Signature