Posted August 2nd, 2012, 03:15 PM
Last edited by Radio; August 2nd, 2012 at
03:29 PM
Hello everyone. . . It is once again, that I will be sailing the Beautiful Enchantment of the Seas. . . Welcome
I have sailed the Enchantment of the Seas from Baltimore several times, and I am especially looking forward to sailing to Bermuda once again.
Bermuda is my favorite port, and it will be much nicer this trip as I will be sailing with my mom and dad, my 2 daughters, son in laws and my grandson.
This will be his first cruise . . . I am so excited for him (3 yrs old(almost). I really can't wait to see the look on his face as he sails down the Chesapeake Bay
on Enchantment of the Seas.
Mrs. Radio won't be sailing this time, but she will follow along on my "LIVE" post as she loves to see the beautiful Bermuda sights as well
as many of my friends. The forecast for Sailaway will be hot, humid and sunny (A typical August day in Baltimore). The forecast is calling for partly cloudy,
and warm temps (85F), for Sunday, Monday, and Tuesday in Bermuda.
I was in Bermuda on Enchantment of the Seas just a couple of months ago (May 2012) where we enjoyed beautiful weather and fabulous scenery.
I was able to enjoy many of the beaches in Bermuda, as well as the Gibbs Hill Lighthouse and Maritime Museum (at the Royal Naval Dockyard)
That "LIVE" Post can be viewed
HERE
.
My initial plan for this trip is to spend some time at Snorkel Park (with the baby) and try to see some of the eastern portion of Bermuda.
It has been several years since I went to St Georges, Fort St Catherine, and Tobacco Bay Beach.
On Monday night I plan to go to Destination Dockyard (right near the ship in Kings Wharf)
Many of you may have not followed along on one of my "LIVE" posts, and I hope you will enjoy it.
I should be posting many photos of the Ship, Cabins, and Public Areas throughout the week . . . along with some commentary
about my journey and life on the ship. I will of course be posting many pics from beautiful Bermuda as I return nightly to the ship.
I am hoping that my wireless connection will cooperate as I will need good bandwidth to post many pics per day (usually 12-18 photos)
My plan is to arrive at the Passenger Terminal (Cruise Maryland), by 11AM.
I would expect that boarding should begin by around 11:30AM.
I am sure I will be trying some Honey Stung chicken, but I can often be found at Starbucks on Deck 6, or the Radio "Press Room" up in the
Viking Crown Lounge.
I am glad you will be joining me this week for this delightful cruise.
Sit back . . . have a coffee and enjoy the next 6 nights onboard Enchantment of the Seas. . .
MY "LIVE" post will begin tomorrow . . .
Thanks for tuning in . . .
Radio
Enchantment of the Seas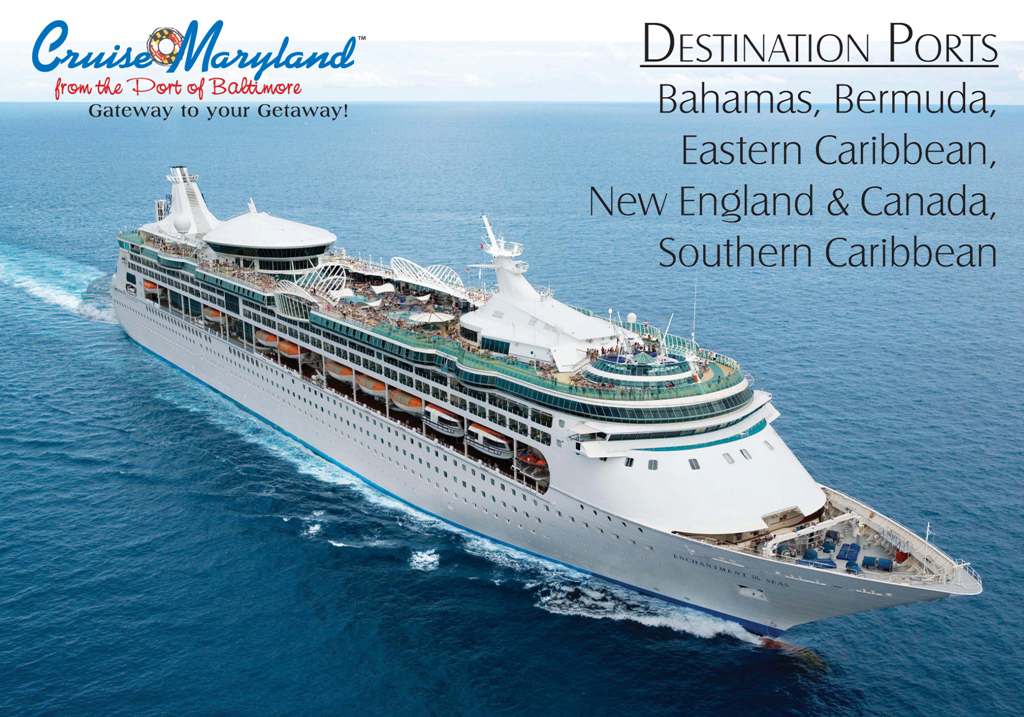 © 2009 Royal Caribbean Cruises Ltd.
Enchantment of the Seas docked in Kings Wharf, Bermuda. (May 2012)

Our Itinerary for the next 6 nights
© 2009 Royal Caribbean Cruises Ltd.
Expand Signature
Collapse Signature