Posted October 15th, 2012, 09:14 PM
Greetings everyone! My husband and I just returned from the October 7th sailing of the Allure of the Seas (Western Caribbean), and I'm very excited to be able to share our vacation with you. We had a wonderful time on the Allure, I miss the ship already. She's so large that it's kind of difficult to grasp the enormity of the ship until you sail her yourself. And even then, sometimes her size is hard to comprehend. It's a beautiful ship and very easy to navigate. We would love to sail the Allure again.
For those of you who are familiar with my reviews, you'll recall that this will be more of a trip report than an actual formal review. I hope this provides you with some helpful information as you prepare to sail the Allure, or even if you're considering sailing her. Even if the Allure is not on your radar, may this serve as a "virtual vacation," as so many of the other fantastic reviews here on CC do for me. Feel free to comment, ask questions, etc. Everyone is always so helpful here that I enjoy being able to pay it forward.
It should take me a couple days to get through everything, and I have tons of photos, menus, and Cruise Compasses. As far as cameras go, I used a Canon Powershot ELPH 100 HS. So follow along with me, and enjoy!
About us: My name is Chrystal, and my husband's name is Wesley. We're a couple that loves to travel and share information from our experiences, so Cruise Critic is a great place to us! Here's a photo of us on the Serenade of the Seas in 2010: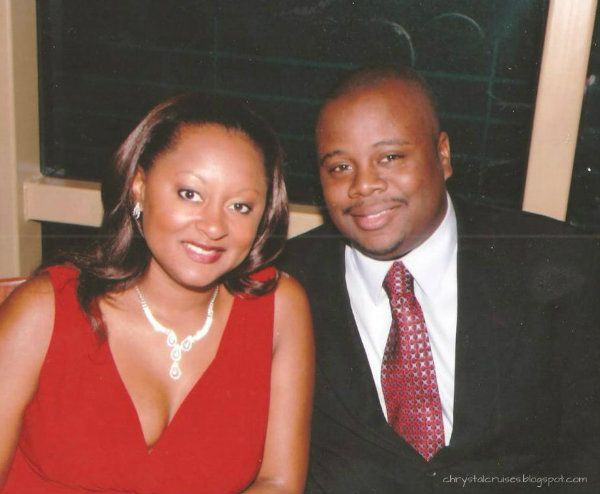 We live in South Jersey, and met in high school 13 years ago. We dated through college, and got married in 2006. We honeymooned on an NCL cruise to Bermuda. Impressed with Bermuda, but a little underwhelmed with the ship. I think the ship we sailed was very old and sold to another line sometime after we sailed her. We tried an all-inclusive a couple years later and enjoyed that, but we decided to give cruising a try one more time since we were interested in seeing the Southern Caribbean. Since we sailed the Adventure of the Seas in 2009, we've been hooked on Royal Caribbean. We sailed the Southern Caribbean two more times after that, and set our sights on the Allure after we sailed the Serenade last year. You can see my other reviews by clicking the links in my signature.
Cruising for our wedding anniversary has become a tradition. However, on this sailing, we had an even greater reason to celebrate....we're having a baby!
We found out in May. So this cruise served as our 6th anniversary/baby-moon cruise. Here's a recent photo of us, with my Mom who is ecstatic about her first grandchild
:
Expand Signature
Collapse Signature
~Chrystal
Email Me
Friend Me on FB
(Please message me your screen name on CC)
Previous Cruises:
NCL Norwegian Crown-NYC to Bermuda (2006)
RCI Adventure S. Caribbean-Barbados Route (2009)
Complete Photo Reviews:
RCI Serenade S. Caribbean-Barbados Route (2010)
l
Carnival Glory from Norfolk-Bahamas (2011)
l
RCI Serenade S. Caribbean
-Aruba Route (2011)
l
RCI Liberty to Cozumel (2012)
l
Fort Lauderdale Pre-and-Post-Cruise
l
RCI Allure W. Caribbean-Babymoon (2012)
l
RCI Liberty to Cozumel-Baby's First Cruise (2014)
Up Next:
Royal Caribbean Allure of the Seas, November 2016
Excellence Playa Mujeres, Mexico, March 2017 (Girls' Trip)
Royal Caribbean Independence of the Seas, March 2017
Rome and Tuscany Land Tour, August 2017
Royal Caribbean Anthem of the Seas, August 2017
Excellence Playa Mujeres, Mexico, October 2017 (Couples' Trip)
Royal Caribbean Harmony of the Seas, January 2018
Travel Blog
"Twenty years from now you will be more disappointed by the things that you didn't do than by the ones you did do. So throw off the bowlines. Sail away from the safe harbor. Catch the trade winds in your sails. Explore. Dream. Discover."
~Mark Twain