Posted November 1st, 2012, 10:25 AM
Last edited by Radio; November 1st, 2012 at
10:35 AM
Hello everyone. . . .
I will be leaving my house in a short while to hop on the AutoTrain to head down to Central Florida. . .
I will be spending 2 nights (Pre Cruise) in the Space Coast area before Sunday when I will be reporting
"LIVE" from Freedom of the Seas.
It was a little "touch and go" to know for sure if I was driving or using the rails again (as I often do)
A terrible hurricane (Sandy) fouled up a lot of the rail between Lorton, VA and Sanford, FL. . .and AutoTrain was cancelled on October 30 and October 31.
Some area were flooded. . .some had large trees over the tracks. . .
I even heard that structures were forced on the rails and all of these things had to be repaired for the AutoTrain to roll.
The Northeast Corridor of the US was damaged more (much more) than points south of Maryland. . .
I should be arriving to Lorton by noon, and I will be boarding by around 3PM. The AutoTrain will leave
the Passenger Terminal at 4PM to head on her 995 mile journey to Central Florida.(Sanford)
It has been a few years since I sailed Freedom of the Seas (Aug 2009). That "LIVE" post can be
viewed
HERE.
I am looking forward to
all of the enhancements that have been recently installed as part of the Royal Advantage Upgrades.
Those of you who have followed my "LIVE" reports with RCI, NCL, HAL, and CCL already know that I will provide daily comments and trip reports from my sailing.
I will also try to post "LIVE" pics daily (as long as I am able to maintain a valid wireless connection)
I usually try to get around 20 pics per day to the boards. I will try to give those who are not onboard a taste of "Ship life" over the next few days.
Hopefully the weather will be good. . .the forecast is calling sunny skies (76f) for Sailaway on Sunday Nov 4th.
I am really looking forward to staying on the Space Coast for 2 night prior to boarding Freedom of the Seas.
The rough weather we have been having in Maryland has put me at an increased level of "Cruise Mode"
I will try to make some "LIVE" from Amtrak's AutoTrain posts while relaxing tonight and tomorrow (hopefully my internet connection will cooperate)
So sit back, and relax . . . have a cup of Coffee ( there is a pretty good chance that I will be enjoying one)
Thanks for tuning in. . . .
Radio
Freedom of the Seas
Image Courtesy of Royal Caribbean Cruises LTD
AutoTrain
©2012 National Railroad Passenger Corporation
Our Itinerary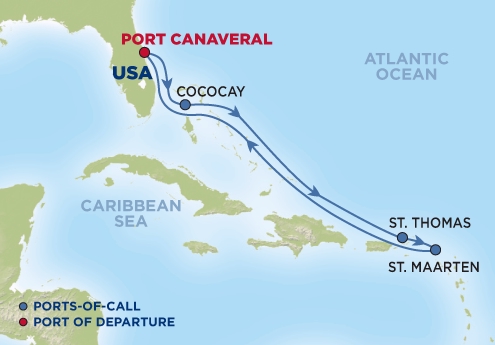 Image Courtesy of Royal Caribbean Cruises LTD
.
Expand Signature
Collapse Signature