Posted December 4th, 2012, 12:06 PM
BACKGROUND
Well, we are back to reality after a great 14 days between Miami, 10 days on the
Breeze
, and in Miami Beach before we came home.
This
review
will include many pictures of the ship & ports, but unfortunately not very much food porn (I forgot to take the camera to dinner most times).
We had planned the cruise in early January 2012 and spent the next 300 plus days counting down until we could go.
During that time, we met many people on CC and also the other-site-that-shall-remain-nameless (OSTSRN) and enjoyed getting to know them through cyber-space.
In addition to cruising on a brand new ship, this would be our first
B2B
, first time in Miami, first time with John Heald as the cruise director (or so we thought) and the first time we were active in meeting new people.
Just DW (Kimberly) and myself (Randy) went this time. This was our 3rd/4th cruises.
PRE-CRUISE
When we started looking for flights, we really wanted the cheapest non-stop flight we could get. We booked on American Airlines out of Columbus (which was two hours from our house). Between the hotel & parking and flight cost, it was cheaper and quicker than flying out of Cleveland, which was only an hour from our house.
We had only planned one excursion (SeaTrek Helmut Dive in Aruba) and I did contact the Steak House for the first night of the eight day, and to reserve the Chef's Table. A group of us also scheduled Cucina for one night also.
We left on the afternoon of November 19th to drive to Columbus. We checked into our hotel and had dinner with some friends that we used to camp with. Didn't get much sleep that night and we were both up around 3AM! Our flight was to leave at 6:20AM, so we headed over to the airport around 4:00AM.
For anyone flying out of Port Columbus Airport they don't open the check-in counters until well after 4:30AM. We also parked in the Blue Long Term parking, which picked us up at the car and dropped us off at the departing terminal.
We checked our bags, got through security, and grabbed some coffee to wait for our flight. We boarded about 15 minutes before we were supposed to and they were wanting to get us out of there because another flight was delayed due to mechanical issues and would be ready once we left.
The flight to Miami was uneventful, and once we got our luggage I called Homewood Suites Blue Lagoon and their shuttle came and picked us up. One thing I was concerned with was not having a room until the afternoon because we were so early (after 10:00AM). No problem, they got us checked in (geez I didn't take pictures of that room either)!
Homewood Suites is not near the port at all, but is across from the airport. DW is addicted to watching planes takeoff and land so she was really happy that our room had a really good view of the airport!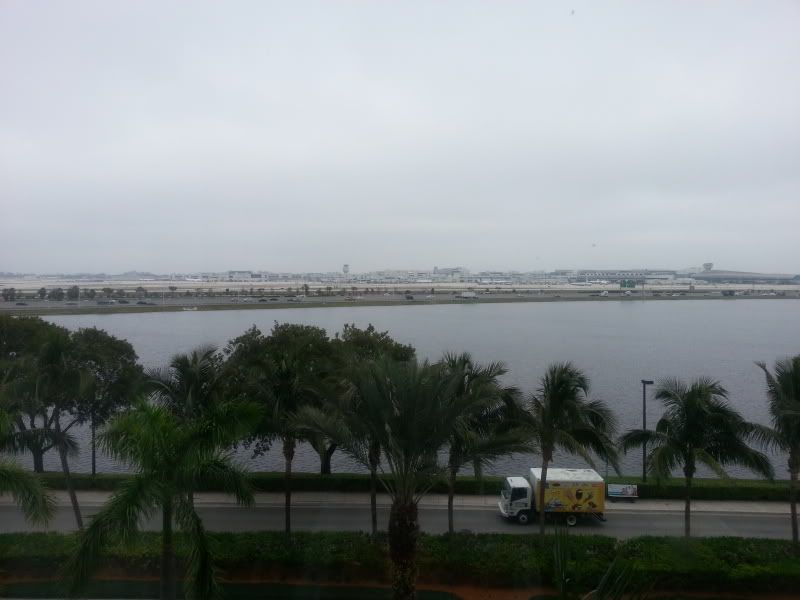 The others from our group weren't set to arrive until later in the day so we walked around the hotel then walked outside of the hotel. Homewood Suites also has a dinner Monday through Thursday, so we took advantage of that on Tuesday & Wednesday nights. Pretty good food along with beer on tap (Miller Lite) and wine.
We walked to the Publix market (about 1 mile away from the hotel) and bought water for the cruise and some snack stuff.
Once the others had arrived, we had a meet-and-greet during dinner. Pkrchkr (Karen) brought some great wine and shared that with us. After we went back to our room, we watched some more planes coming and going, then hit the hay for the night.
Expand Signature
Collapse Signature
Randy & Kimberly
COMING UP:
CRUISE HISTORY:
Apr 2018
- Carnival Conquest
Apr 2017
- Carnival Vista
Apr 2016
- Royal Caribbean Freedom of the Seas - Western Caribbean - First Royal Cruise!
Apr 2015
- Carnival Sunshine - Western Caribbean
Apr 2014
- Carnival Valor - Southern Caribbean
Apr 2013
-
Carnival Liberty - Aft-Wrap Cruise (photo review)
Nov 2012
-
Carnival Breeze - B2B Cruise! (photo review)
Dec 2011
-
Carnival Dream - Cruising with the Kids (photo review)
Jan 2011
-
Carnival Fantasy - Anniversary Cruise (photo review)