Posted June 7th, 2005, 08:06 AM
Hello all… on board the
Valor
this week. So far, it's been cloudy, but no rain!
Embarkation – great, room – great, food – great, shows, great, casino – really great!!!
Any specific questions? I'll try to help out, but won't be online every day.
Oh yeah, remember to log off your Internet session or you'll use all your minutes up at once.
(At least the Internet Manager credited my account and reset my usage!)
-Mike
Expand Signature
Collapse Signature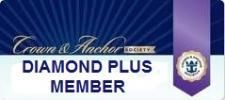 2017-03 RCL - Oasis, 2016-05 RCL - Freedom, 2015-06 RCL - Freedom (40th Wedding Anniversary), 2014-12 RCL - Oasis (Royal Poker Tournament), 2014-09 RCL - Oasis (Transatlantic), 2013-09 RCL - Freedom, 2013-04 RCL - Liberty (Transatlantic), 2012-08 RCL - Allure (Hurricane Isaac), 2012-05 RCL - Freedom, 2011-09 RCL - Oasis, 2011-04 RCL - Allure, 2010-09 RCL - Freedom, 2010-05 RCL - Freedom, 2009-09 RCL - Adventure, 2009-01 RCL - Navigator, 2008-09 RCL - Freedom, 2008-05 RCL - Majesty, 2007-09 RCL - Mariner, 2007-06 RCL - Majesty, 2007-01 RCL - Sovereign, 2006-09 RCL - Majesty, 2006-06 RCL - Mariner, 2005-06 Carnival - Valor (30th Wedding Anniversary), 2004-09 Carnival - Glory (Hurricane Frances), 2002-09 RCL - Adventure, 2001-05 Princess - Grand Princess, 2000-09 Celebrity - Century, 1999-01 Carnival - Fantasy, 1998-08 Norwegian - Seaward, 1997-10 Carnival - Fantasy