Posted September 14th, 2013, 01:08 PM
Last edited by sue117; September 14th, 2013 at
01:10 PM
HOWDY from Hot hot hot Texas!
This time Next week I will be waking up in Seattle and getting ready to board the
Westerdam
for the LAST Alaska cruise of the season on this ship! I am traveling with my husband and also my father.
As you can see in my signature, my husband and I have been to Alaska many times, but we have never been on this ship. We have been on the first cruise of the Alaska season and we have also been on the last cruise of the Alaska season before.
So?, you think to yourself, what does Sue117 have to say that we haven't heard before? Or Why should you care about this thread?
Well I can't promise that you WILL care about the thread in the least, BUT this thread is different for me because this will be my dad's FIRST cruise ever! AND it's the last state he needs to visit out the 50! So he is an Alaska virgin AND a cruise virgin! On top of that he is _kinda_ a travel/food snob. Whereas me and my husband are not!
So I will give all of my thoughts about the cruise and ship, but also share the adventure through my father's eyes, which should be interesting! My dad is in his mid-70s, he is tall. I mean TALL. 6'7'. We went to the Broadmoor (5 star restaurant in Col Springs) once and he was wearing jeans and he was PISSED they wouldn't let him in! lol He asked if we could eat EVERY meal in the Pinnacle and I told him no. lol
I booked the cruise for us and him and I felt bad when a week ago he asked if I could send him the little map of where we would be and he told me, after seeing it, " I didn't know we were going to Glacier Bay". lol
We have a helicopter trip with glacier walkabout planned for Juneau and a private excursion in Ketchikan. In Sitka we will play it by ear, but my goal is the 2nd oldest geocache in the state (yes, I will probably talk about geocaching again in this thread).
The BEST part (besides being on vacation from my very stressful job at the moment) is that I booked us TWO aft wrap around cabins on the same floor! So me and hubby will be on one corner and my dad will be on the other corner! I figured with his size and potential "Snobbery" and it being his first cruise we would splurge and get the big rooms.
My dad is NOT an early bird, he likes to stay up late and sleep in, so it will be interesting to see how he does on the early days in port. I'm not sure we will care too much about the Neptune Lounge "snacks" and whatnot.
My husband and I fly out next Fri and will spend the night in a hotel in Seattle Fri night. My dad is driving from Virginia to WA and he left 2 days ago. Last night he was in Sioux City, IA, so he will get there way before us. Luckily we have a ride to and from the airport with him though!
I walked him through the website and filling out his pre-cruise info and packing his passport, and making sure he went out to buy a raincoat and directing him to dress in layers. I think it will be kinda fun to see a virgin cruiser and his reactions.
I am interested to see if my husband and I get "singled out" and told that we don't belong in the suite line like we did last Nov when we went to Hawaii. ha.
Anyway, stay tuned for the thoughts and
pictures
from me and to see the adventures of my dad on his "bucket list" trip.
I tried to find a picture of me and my dad so you could see how tall he is, but in most of the
pictures
we are sitting. So here is a picture of my dad and his grandkids (my niece and nephews). He's taller than the fridge here! lol (he was showing them the "antique" rotary phone...they were amazed at how it worked...that there were no buttons to push to call! ha!)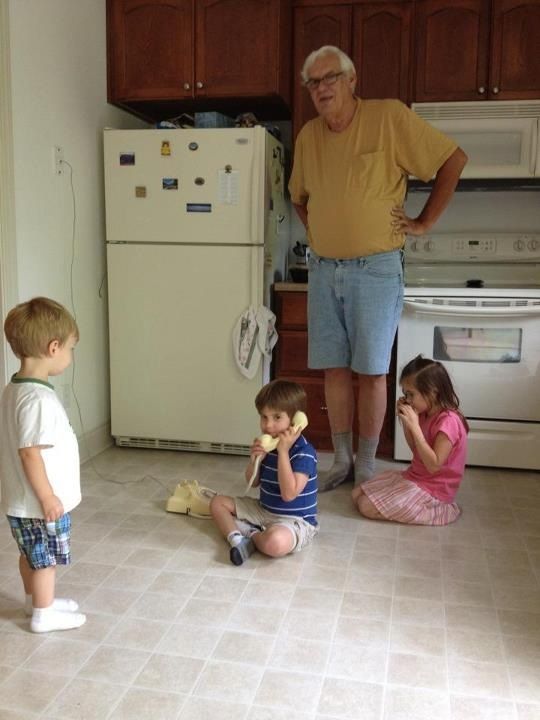 Anyway, so I might post a thing or two before we go, but I wanted to "warn" everyone that I would be doing a thread. ha.
I tend to ramble so I apologize in advance. If there is anything that you want me to check out, please let me know and I will see what I can do. If you want a picture taken of anything, please let me know.
Tally Ho.
Expand Signature
Collapse Signature