Posted March 2nd, 2014, 07:53 PM
I have been back a month, and it seems I have been back a year...the snow, the cold, the flu and begging Catmando to upload my
pictures
( I really need to learn how to do this...) and finally I am ready.
My boss and I have always talked about going to see the Mayan Ruins, in fact several years ago, we were booked out of Mobile, and then
Carnival
pulled out of Mobile, and we changed our cruise to the Bahamas, and it was stormy, and the waves were 18-20 feet high, and well, I loved it, but the boss said she would never ever get on another ship again. BUT we saw this cruise, had never been to NOLA, still wanted to see the ruins, you get the picture.... So we planned another cruise.
We were a group of six, counting pennies to do this cruise. Me, and the DH (Catmando) the boss, Shari, a friend of ours from work, Barbara, and a couple the DH and I have known for years, Theresa and Harley. They said I could mention their names in my
review
, and show
pictures
, so ---this was "our gang".
We left Atlanta on a COLD night, and took the Megabus to NOLA. I thought this was a good inexpensive way to get somewhere. Two hours out of town, the bus pulled over and we waited for the police to arrest someone who was drunk and disorderly on the bus. I dont think the Alabama cops wanted him, they put him back on the bus, and off again, down the road in the dark. The bus stopped in Montgomery, Mobile and a very nice truck stop in Evergreen Alabama, and after Mobile, I kind of nodded off, and woke up to the rising sun, while we were crossing over Lake Poncetrain, I should be wide awake, I should be wide awake, but I couldn't wake up so I closed my eyes and woke up when the bus stopped.
I was informed when we got off the bus, that there was no way they would ever do that bus again during the night, they had missed all the scenery, and it was way too cramped, and well.....we did have tickets on the bus to get home
We arrived at 7:30 a.m., on time, even though we had that unexpected stop. and since our hotel was only 3 blocks away, and we hoped they would let us leave our luggage off, we headed over to the Staybridge Suites. This hotel is across Canal street and once you cross over from the French Quarter, you are in the business district. Great hotel, great location, and great service. We had asked for early check in, and we got into our rooms when we got there.
Theresa and Harley were staying at the Lafayette Hotel, a few blocks from us, so they called to see if they could check in, and they were told NO, so they put their luggage in Shari and Barb's room and we all headed over to Mother's for breakfast.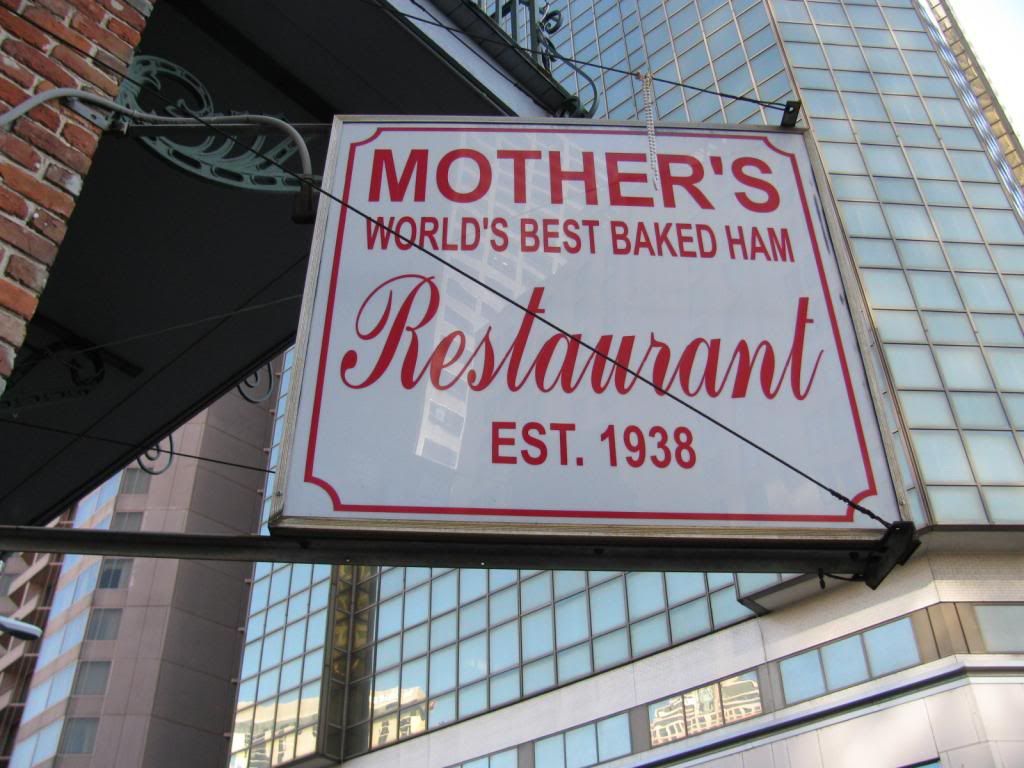 Expand Signature
Collapse Signature
Past Cruises
Cunard-Queen Mary 1961 NY to Cherbourg
Cunard-Queen Elizabeth 1963 Cherbourg to NY
MWA- Heritage 8/05, 8/06
Carnival- Sensation-10/08
Carnival- Legend 01/10, 9/12, 9/16
Carnival- Fascination 12/10,11/11,10/13,11/14, 9/15
Carnival-Elation 1/14, 1/16, 11/17
I will try one thing today,
that I have never done before,
and when I have finished something new,
I'll go try one thing more.
aem
"Hurray for ships!.....Let us keep them alive as a token of love,to make the last romantics happy. Let us use them to cure the depressed. Let us prescribe sea journeys..." Tiziano Terzani
America-It doesn't matter what ship our ancestors came here on, we're all in the same boat now.