Posted May 6th, 2014, 04:19 PM
Forget not crispy...It was completely RAW
I keep seeing this comment throughout the forums - mainly from American posters - and I just want to clarify what qualifies as raw vs cooked.
This is my perspective:
RAW
Note how it is nearly translucent.
COOKED BY NZ STANDARDS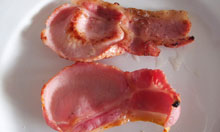 Its a similar colour but not translucent. The meat is cooked and safe to eat.
WHAT SEEMS TO BE THE AMERICAN CONCEPT OF COOKED
This stuff is stiff and really browned. Its rare to encounter bacon like this in NZ. Its mostly confined to American burger chains such as Wendys.
Do you think this cultural difference in cooking bacon is the source of all the appalled comments about how MSC serves raw bacon?
Expand Signature
Collapse Signature
My travel blog - a work in progress
BOOKED
Sapphire Princess
- 21 night South East Asia Cruise (19 Dec 2017-9 Jan 2018)
COMPLETED
MSC Preziosa
- Eastern Med (5-12 July 2014) -> 15th anniversary cruise without our children ... in the Yacht Club!
Read my review thread here.
Disney Magic
- Western Carribean (14-21 December 2014) -> a holiday for our boys
Queen Mary 2
- 7 night Transatlantic East - New York to Southampton (6-13 July 2016) -> voyage to England with the kids
Celebrity Eclipse
- 14 night Scandinavia & Russia (17-31 July 2016)
Pacific Pearl -
4 night NZ coastal - Auckland to Bay of Islands & return (3-7th Feb 2017)