Posted October 10th, 2014, 07:24 AM
Last edited by Radio; October 10th, 2014 at
07:25 AM
Hello everyone. . .I am happy again to be posting
"LIVE"
. This time, it will be onboard the beautiful Norwegian Breakaway. I leave tomorrow for my pre-cruise hotel. On Sunday morning (Oct 12), I will be heading in to Manhattan to board this wonderful ship that I have heard so much about. She is very young as her Maiden voyage was April 2013 (christened May 2013)
It has been awhile since I have posted "LIVE" (April 2014), so I will be ready to be sailing once again. I last sailed with Norwegian several times in 2009 (Wow 6 years ago . . . It seems like yesterday) In 2009 Norwegian Gem was the flagship of the fleet, and I know there have been many changes since then.
I am excited about these changes, and I am looking forward to exploring this magnificent ship and all she has to offer. The dining has changed. . . The cabins have changed as well as the activities on board. She is a massive vessel (4500 passengers) and I have read many, many reviews ("too big . . . just right . . . too many passengers . . . great food"). You will now have a chance to see Norwegian Breakaway through my eyes. (I never offer reviews (not much, anyway) but will offer a day to day report as I see it. It will include the public rooms, cabins, dining entertainment and pool areas. Yeah . . . and there may be a little discussion about the coffee.
There will be daily images posted of different areas of the ship (pending reliable wireless connection) . . . at least the areas that I make it to, as well as our ports of call. This sailing will be 7 nights and will visit Port Canaveral, Great Stirrup Cay, and Nassau. I am uncertain about how the weather will be during the next 7 nights, but it can rain straight through and I will be happy. It has been a tough summer, and I just need to be on a ship again.
Sit back, have a fresh coffee and join me for a delightful and relaxing cruise on Norwegian Breakaway. I am keeping my fingers crossed that Breakaway Casino will be very "Radio friendly"
Radio
Norwegian Breakaway in New York City
© Norwegian Cruise Line
Norwegian Breakaway waterpark at sea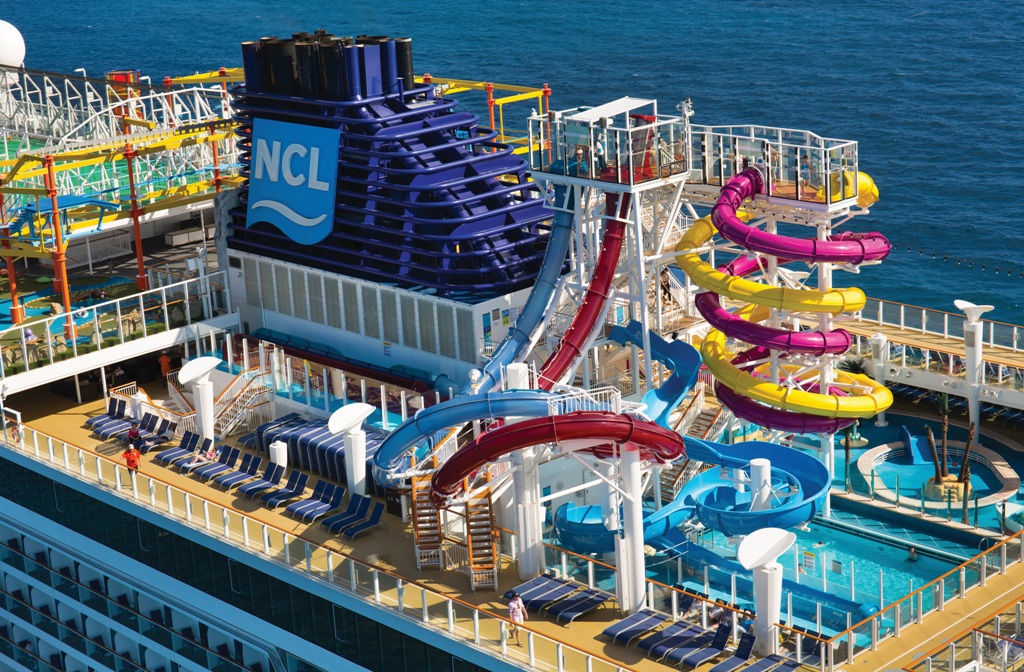 © Norwegian Cruise Line
Our Itinerary
© Norwegian Cruise Line
.
Expand Signature
Collapse Signature