Posted February 17th, 2015, 03:49 PM
This year we sailed the SUNSHINE to
COZUMEL, ROATAN, BELIZE, and COSTA MAYA
. I give this cruise a 4 out of 5 stars. We had a great time, no one was ever bored, loved the comedy shows, and managed to avoid the infamous dinner crowds.
This is my 6th or 7th detailed cruise review on Cruise Critic, and the one that almost wasn't. I'll admit, I am getting a little lazy and after a few reviews, they are start sounding the same in my head. Regardless, I enjoy reading others' reviews on here, so I will do my part and share some of my experience…
We are a family of 4 with a 12 year old daughter and 14 year old son. This cruise was our 8th with Carnival. We have also taken 2 cruises on Royal Caribbean and 1 on Norwegian. We cruise primarily for the ports of call, and then go for the cruise line which offers the best value and fun activities and entertainment. So, typically we cruise Carnival. We cruise every January and love the escape from the cold snowy mountains of Virginia. I am truly a frugal value shopper and spend significant time researching to get the best deal. Later in the review I will provide some of my money saving deals from this trip. I will also scan in the
Funtimes
and
Circle C schedule
(12-14 year olds). And of course, I will provide details and photos of our shore excursions, including underwater snorkeling photos and a visit to an orphanage.
Pre-cruise we booked the
Radisson by the Port
, which included free parking for the week and free shuttle for 2. There was an additional cost for shuttling my children. The hotel was fine and the pool was very nice. I called and signed up for the first shuttle bus weeks prior to the cruise, only to find out at check-in that they did not have a record of this. A little birdy on our shuttle said "they always lose" this information. It didn't matter anyway, and my name was jotted down for the first shuttle at check-in. We were scheduled for 10:30, but they were running early, so we actually left the hotel at 10:15 – WOO HOOO – excited to this vacation started.
Against my better frugal judgment, I had purchased the
Faster to the Fun
pass for $50. We were checked in at the port ay 10:40 and were onboard at 11:25. Honestly, this was no faster than our typically boarding. In fact, we were on the shuttle with another couple from Virginia who did not purchase Faster to the Fun. They checked in at another line and went the other direction. We saw them on the ship less than 10 minutes after we boarded! We rushed to the Red Frog Pub in hopes of being the first there and receive free drinks. Buzz. There were at least 3 other groups that beat us. So, we headed to our cabin to drop off our carry-ons and see if our luggage was there. Nope. No luggage. We headed to the back of the Lido to eat lunch in a quiet area at the pasta bar. My daughter and I had packed our tennis shoes in our luggage (thinking FTTF would be fast) and needed them to do the ropes course. We really wanted to try the ropes course before sailing. We checked the cabin a few times before sail away, and no luggage. We didn't get the luggage until we returned from the muster drill. So far, FTTF had not provided any benefit.
The Sunshine is decorated unlike a traditional Carnival ship. It is much more toned down. The sports court, Serenity, comedy club, and waterworks are awesome! If these amenities are super important to you, then it will be easier to overlook the less pleasurable aspects of the ship. Personally, I really liked the ship. I had researched enough beforehand to learn how to avoid the crowds and wait time for dinner and shows.
Time for some eye candy photos...
Waterworks: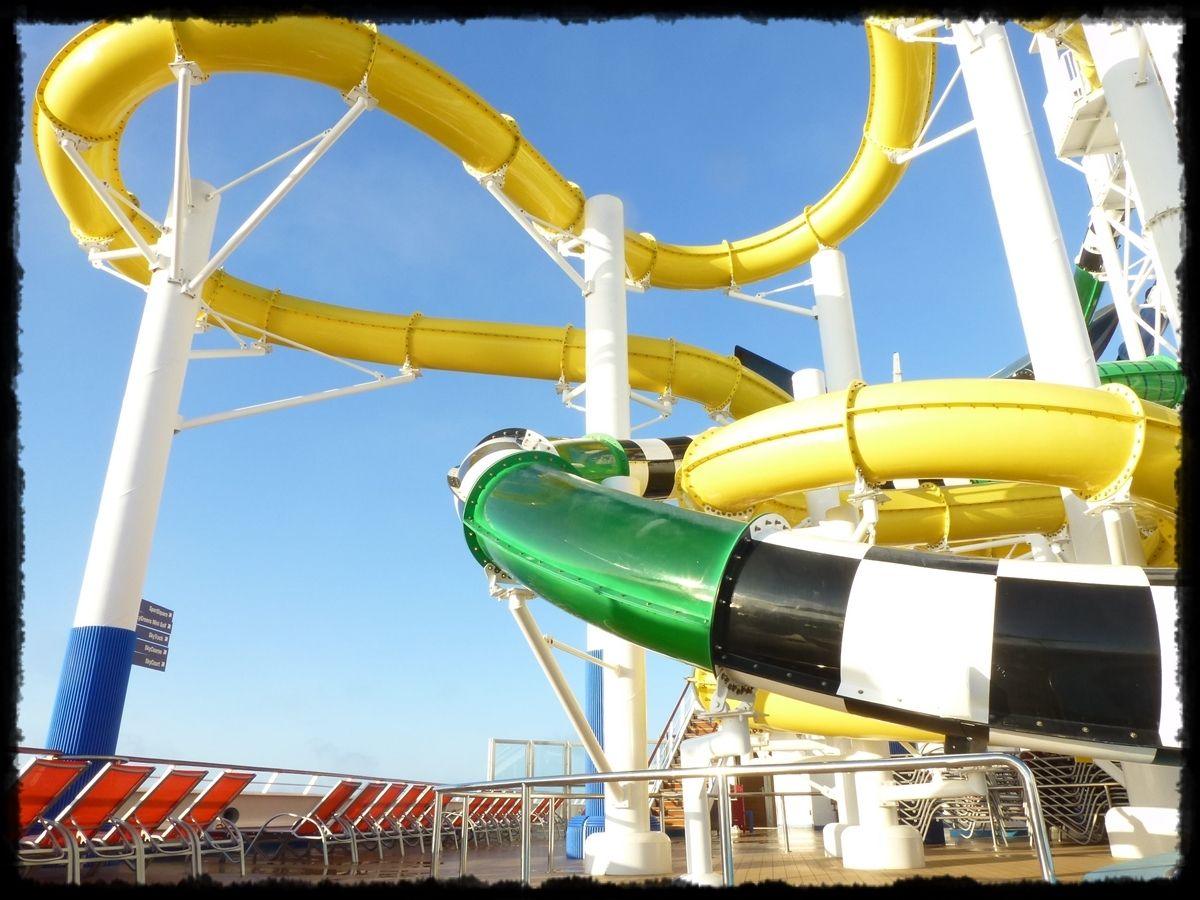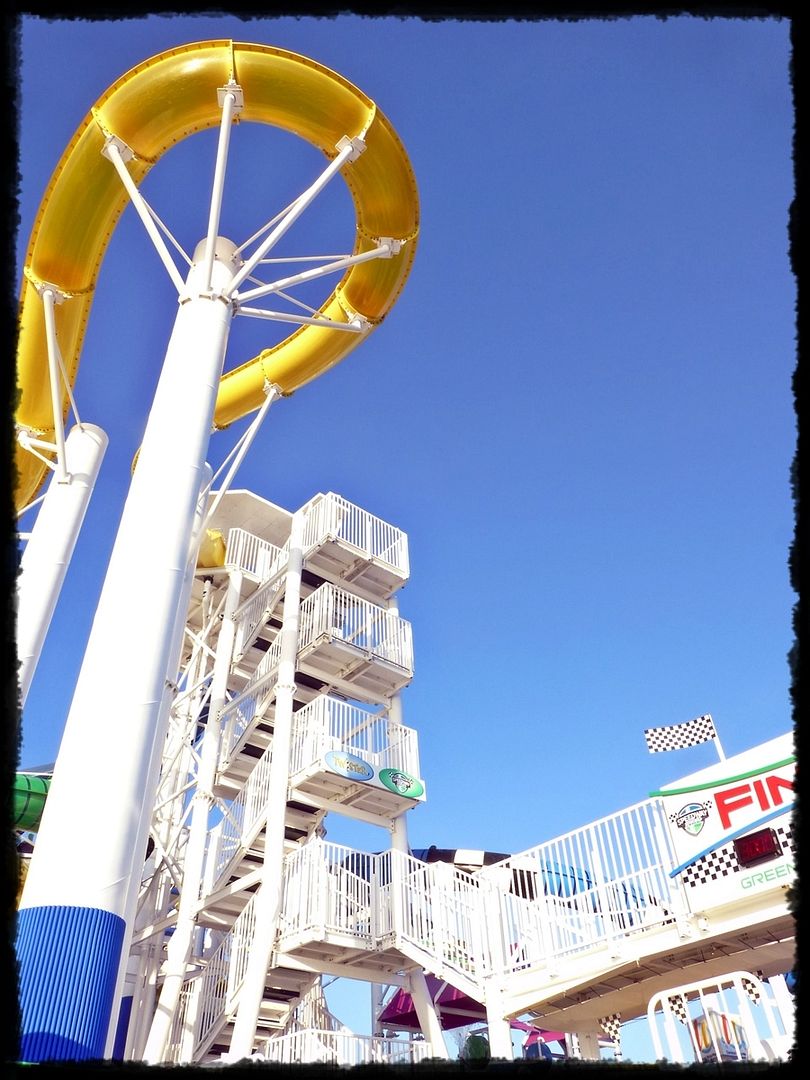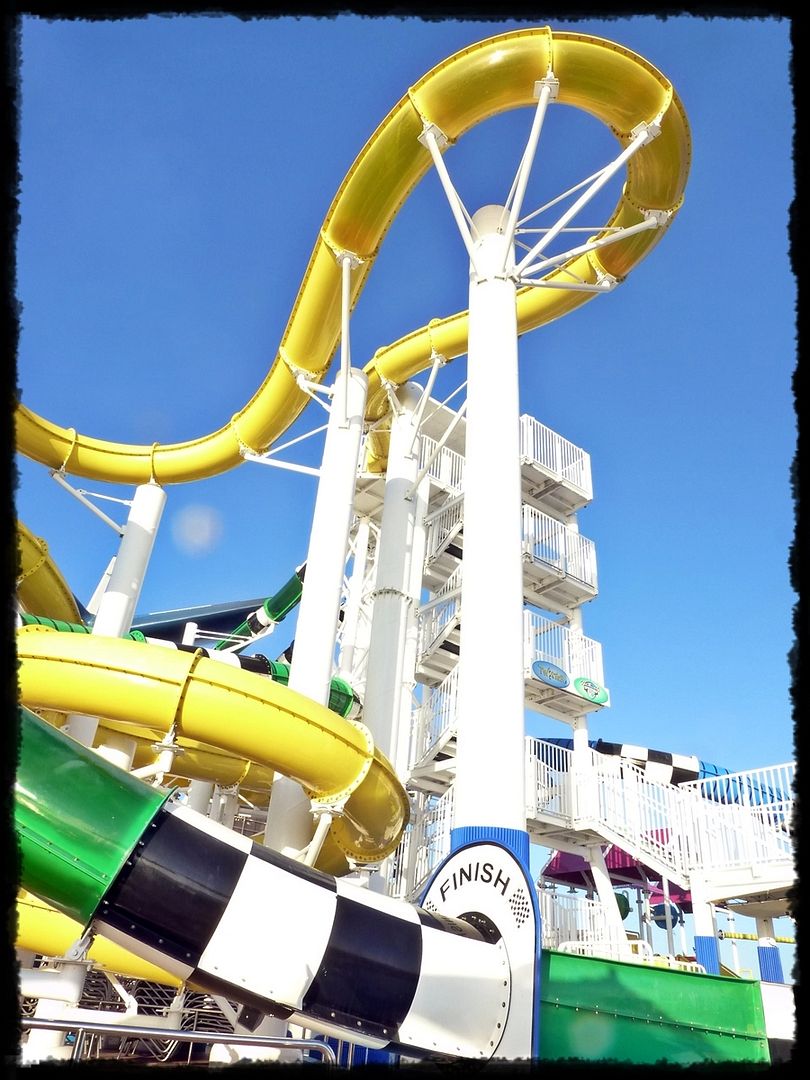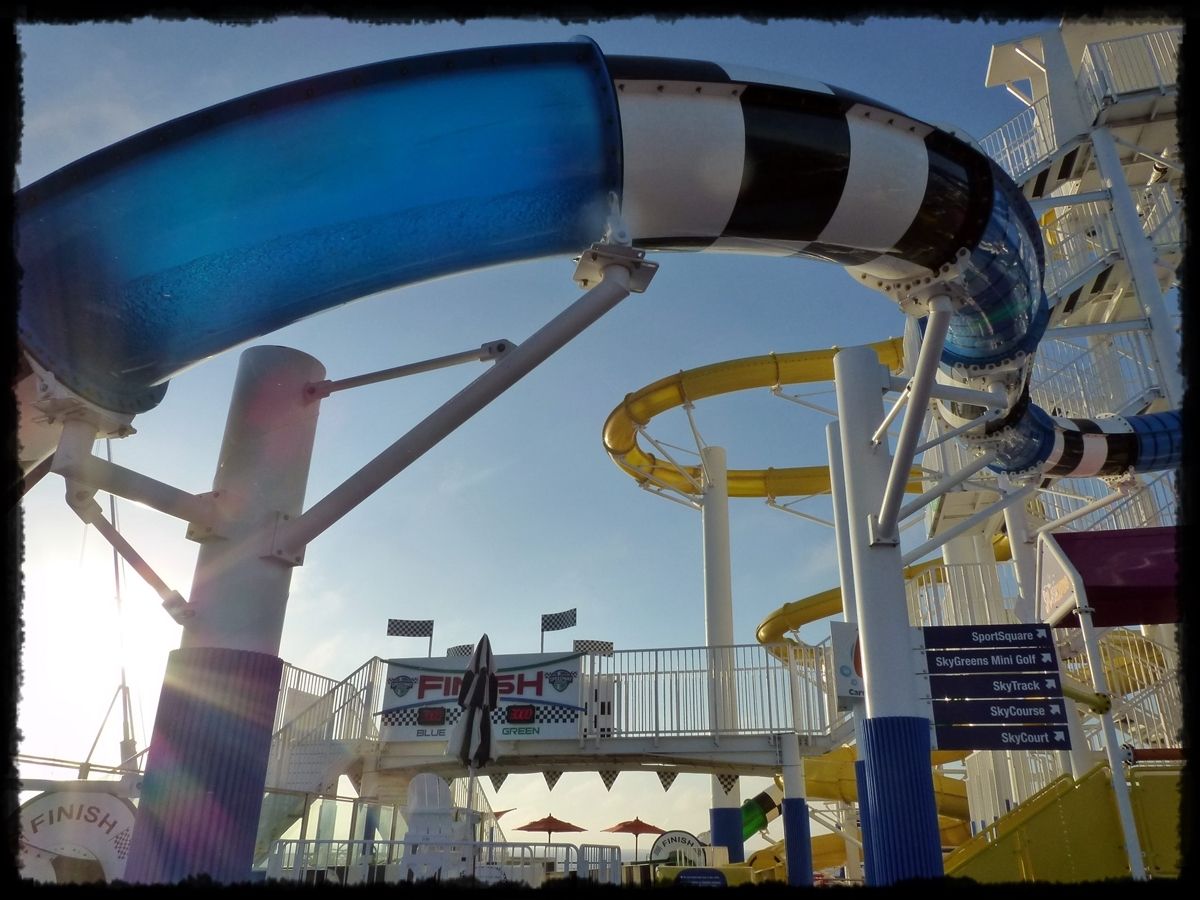 Expand Signature
Collapse Signature
I cruise for the ports. The ship is an added bonus!
***Puerto Limon, Costa Rica ***Labadee, Haiti*** Samana, Dominican Republic*** Cozumel, Mexico*** Nassau, Bahamas*** Grand Cayman*** Belize***St. John, USVI*** St. Martin*** Freeport, Bahamas*** San Juan, Puerto Rico*** Roatan, Honduras***St. Thomas, USVI***Colon, Panama*** Bermuda***Grand Turk*** La Romana *** Aruba *** Curacao *** Costa Maya *** Half Moon Cay ***Ocho Rios and Great Stirrup Cay
Cruise Picture Reviews:
Norwegian Getaway to Great Stirrup Cay, Grand Cayman, Ocho Rios, and Cozumel
http://boards.cruisecritic.com/showthread.php?t=2331862
Carnival Sunshine to Cozumel, Belize, Roatan, and Costa Maya:
http://boards.cruisecritic.com/showthread.php?t=2169332
Carnival Fascination to Half Moon Cay and Nassau:
http://boards.cruisecritic.com/showthread.php?t=2066091
Norwegian Jewel to Cozumel, Belize, Roatan, and Costa Maya:
http://boards.cruisecritic.com/showthread.php?t=1976718
Carnival Freedom to Grand Turk, La Romana, Curacao, and Aruba (2nd favorite cruise):
http://boards.cruisecritic.com/showthread.php?t=1781515
Royal Caribbean Explorer of the Seas to Bermuda (3rd favorite cruise):
http://boards.cruisecritic.com/showthread.php?t=1728780
Carnival Freedom to Panama, Costa Rica, & Cozumel (favorite cruise):
http://boards.cruisecritic.com/showthread.php?t=1347741
Carnival Dream to Nassau, St. Martin, and St. Thomas:
http://boards.cruisecritic.com/showthread.php?t=1584851
Carnival Sensation to Nassau & Freeport (Tripwow):
http://boards.cruisecritic.com/showthread.php?t=1262795