Posted July 23rd, 2016, 08:11 PM
Greetings everyone!
I'm a little late with writing this review of my B2B cruise on the Conquest on 7/2/16 and 7/7/16, but I've been a little busy since getting back. My husband fell going down the ship's forward stairs on the second leg and ended up needing surgery when we got home. So, my time has been spent playing nurse while working from home at the same time. More on his injury later in the review.
But, despite this one set-back, we had an amazing time on this 9 day cruise! Our background: I'm 39 and work in Finance, and my husband is 48 and works in IT. We have a 19-year-old son from my first marriage that does not share my love of traveling, so he stayed home and enjoyed having the house to himself.
This was our 2nd (and technically 3rd) cruise. We went on our first one last year on the Dream and I have been addicted ever since. Actually, I was quite addicted before we even set foot on the Dream. And being able to read about cruises 24/7 on this board just feeds into my addiction. In a good way.
The itinerary for this trip was as follows:
7/1 Fly to Fort Lauderdale from Manchester, NH
7/2 Embark on the Conquest!
7/3 Nassau (Nassau Native Quest excursion through Carnival)
7/4 Half Moon Cay (rented a cabana)
7/5 Grand Turk (rented a poolside cabana)
7/6 Sea Day
7/7 Back in Fort Lauderdale and staying on the ship!
7/8 Nassau again for the Carnival Live w/ Trace Adkins concert (had VIP tickets)
7/9 Freeport (Freeport Kayak & Nature Experience excursion through Carnival)
7/10 Sea Day
7/11 Debarkation day (
) with a flight home at 4:05
Since this was only the second ship that I have ever been on, I spent some time comparing the Conquest to the Dream. So don't be surprised if I make many references to the Dream during this review, as this will also serve as a comparison of the Conquest to the Dream. I'll give you a little hint: I don't have a favorite. There were things that I liked about each ship.
We were scheduled to fly out the day before the cruise (I would never recommend doing it any other way), and that day happened to be on a Friday. I usually take the day before flying out off, but my current boss is a workaholic that tends to give me grief about taking a lot of days off at one, so I elected to not take Thursday off.
In hindsight, I regret doing that now, because it made packing quite hectic. I find packing stressful to begin with. I'm always paranoid that I'm going to forget something, despite always preparing a list. But having to rush to pack makes things much worse for me. In the end, I ended up only forgetting one thing: the cords for my cameras. Which proved to be a pretty horrible thing to forget (more on that later).
Saturday morning finally came and we were off for our mid-morning flight. We didn't have a nonstop flight, but it was direct, so we didn't have to change planes when stopping in Baltimore.
Here is a picture of my husband and I, ready to take off for our long awaited vacation!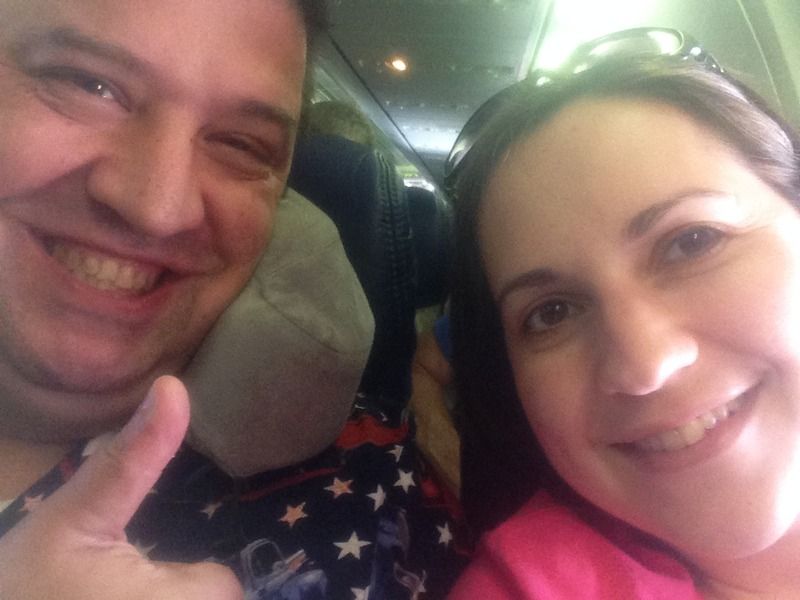 I normally hate pictures of myself, but I have noticed that I always look the happiest when I'm on a cruise, or on my way to a cruise. Hmm, I wonder why?
After an uneventful flight, we called for our complimentary shuttle to Springhill Suites in Dania Beach. I had originally booked the Rodeway Inn, but after reading online that the restaurant that is attached to it got shut down 3 times in a 30 day period for failing a health inspection due to roaches, I decided to change to a different hotel. Springhill Suites proved to be a nice hotel for a very decent price (just over $100 for the one night). Here's a picture of our room: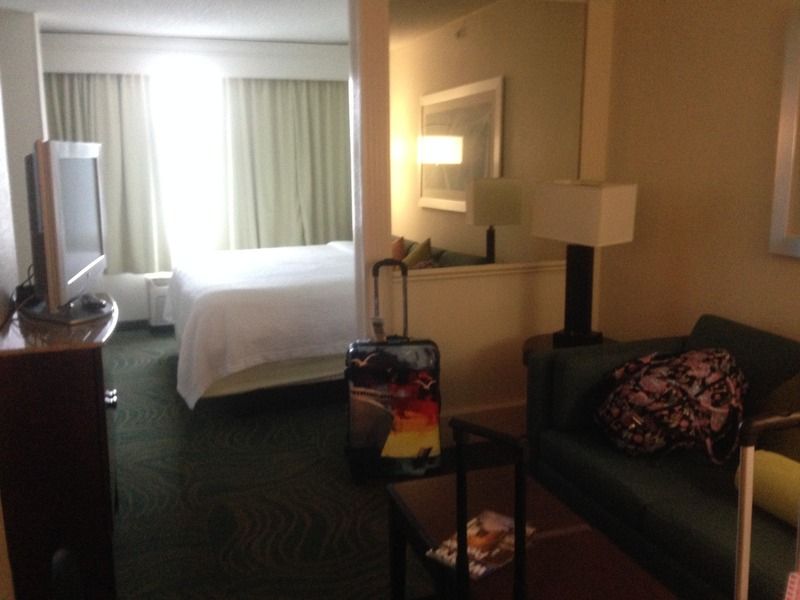 Note my luggage in the picture. See the print? I did tell you that I was addicted to cruising, right?
Expand Signature
Collapse Signature
~~~ Cruising Christine ~~~ Links to cruise reviews below


My past cruises:

#1:
Carnival Dream
/ 10-25-2015 / 7 days / New Orleans, Montego Bay, Grand Cayman, Cozumel ***Halloween Cruise*** Read my review
here
#2:
Carnival Conquest
/ 7-2-2016 / 5 days / Ft Lauderdale, Nassau, Half Moon Cay, Grand Turk ***4th of July Cruise***
#3:
Carnival Conquest
/ 7-7-2016 / 4 days / Ft Lauderdale, Nassau, Freeport ***Carnival LIVE w/ Trace Adkins*** Read my B2B review
here
#4:
Carnival Fascination
/ 11-6-16 / 7 days / San Juan, St Thomas, Barbados, St Lucia, St Kitts, St Maarten ***40th Birthday Cruise*** Read my review
here
#5:
Carnival Legend
/ 4-30-17 / 8 days / Vancouver, Tracy Arm, Juneau, Skagway, Glacier Bay, Ketchikan, Seattle ***Cinco de Mayo in The Last Frontier*** Read my review
here
#6:
Carnival Magic
/ 10-28-17 / 7 days / Port Canaveral, Cozumel, Belize, Roatan, Costa Maya ***2nd Halloween Cruise***
#7:
Carnival Horizon
/ 4-22-18 / 7 days / Barcelona, Messina, Naples, Rome, Livorno, Marseilles ***Husband's Early 50th Birthday Cruise***
My future cruises:
#8:
Carnival Imagination
/ 9-2-18 / 4 days / Long Beach, Catalina Island, Ensenada ***Labor Day Cruise***
#9:
Carnival Conquest
/ 2-24-19 / 6 days / Ft Lauderdale, Nassau, Half Moon Cay, Grand Turk, Amber Cove ***10th Anniversary Cruise***
#10:
Carnival Conquest
/ 3-2-19 / 8 days / Ft Lauderdale, Princess Cays, Grand Turk, Curacao, Aruba ***2nd B2B on Conquest***
#11:
Carnival Vista
/ 11-30-19 / 7 days / Galveston, Cozumel, Grand Cayman, Montego Bay ***After-Thanksgiving Cruise***
#12:
TBD
***Platinum Cruise***