Posted May 27th, 2017, 08:36 PM
Greetings!
It's been a few weeks since my husband and I got back from the first Carnival cruise to Alaska of the season, and I'm very excited to start this review! I was hoping to start it earlier, however, I actually came home from this cruise sick with dual sinus/ear infections, so I spent my first post-cruise weekend home in bed recovering. Then last weekend my husband and I were out of town volunteering at a local robotics event for kids. With this weekend being the long Memorial Day weekend, I'm hoping to get a good chunk of this review written. Even if there's no one around to read it. ;-)
A little background: as you already know from the title of this review, as well as my signature, my name is Christine. I just turned 40 last November, and I'm finally starting to get over the horror of turning the big 4-0. My cruising partner for life is my lovely husband Mark, who is turning 49 in less than two months. Not sure how he's going to handle turning the big 5-0 next year, but hopefully there won't be any kind of mid-life crisis in our future. I think he's handling it good so far. Probably better than I handled turning 40!
I'm not sure why, but I neglected to take any good selfies of the two of us on this trip. So, I will share a picture of the two of us that I purchased from our cruise last November.
This cruise was to be the first Alaska cruise of the season. I booked this specific cruise because it was the only one that Carnival had scheduled that would go to both Tracy Arm Fjord and Glacier Bay. And looking at next year's schedule, I think that was a wise decision because I don't see any cruises in 2018 that go to both. Now, when I book cruises I don't search just Carnival cruises specifically. I cruise because of the ports, but it just happens that Carnival always seems to have the best itineraries for the price at the time that I want to sail. For Alaska, it was definitely no different. Carnival had great prices for Alaska cruises when I booked.
This was also to be the only 8-day itinerary to Alaska that Carnival was offering. The 4/30/17 sail date was an early one, but I didn't mind because the timing of it worked out perfectly for me for work. I also liked that it was so early in the season because I wanted to experience cold and white mountains while in Alaska. Call me crazy, but I don't think of green mountains and warm weather when I think Alaska. I wanted the real experience.
Our schedule was as follows: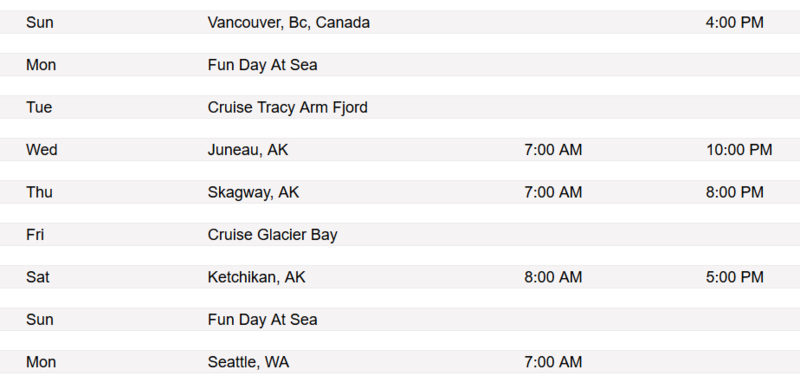 Since we have friends that live in Seattle, we thought this trip would be the perfect opportunity to visit them. The cruise was to be a Sunday through Monday cruise, and even though it started in Vancouver and ended in Seattle, it made more sense to take a couple days before the cruise so that we could spend time with them on a Friday and Saturday, rather than Monday and Tuesday. So I booked a early morning flight out of Boston to Seattle on the Friday before the cruise.
I always book flights with credit card rewards, and usually always book with Southwest. They are definitely my airline of choice. JetBlue is my second choice, and for this time around, I chose them because of the fact that they had a nonstop flight from Boston to Seattle.
This would be the longest flight that I have been on it quite awhile. The last 6+ hour flight I experienced was when I flew to Vegas years ago when I was still dating my husband. Flying is not my favorite thing to do, so at least with JetBlue we had the added plus of being able to watch movies during the flight, which definitely helps to pass the time. That's probably the only thing I don't like about Southwest: no in-seat movie screens. Oh well, at least this long flight would help get me ready for my first flight to Europe next year.
As we approached Seattle, the view of the white mountain tops was breathtaking: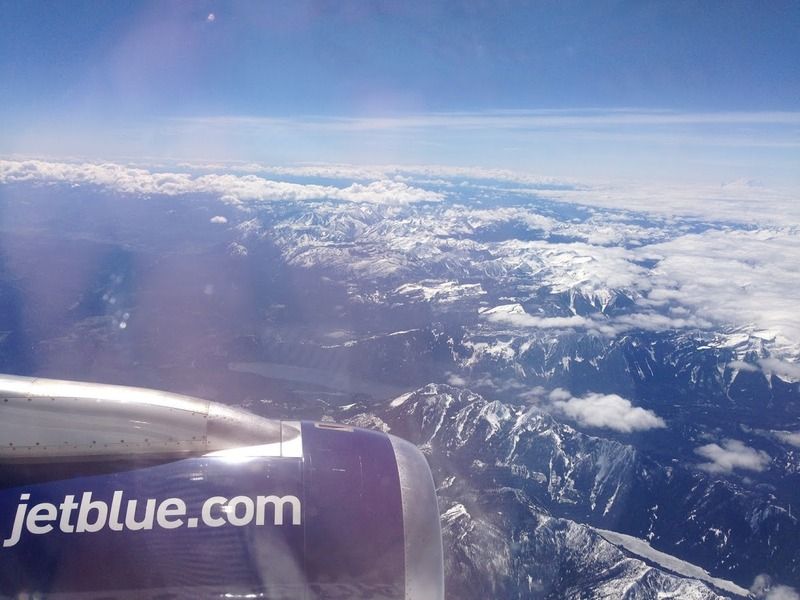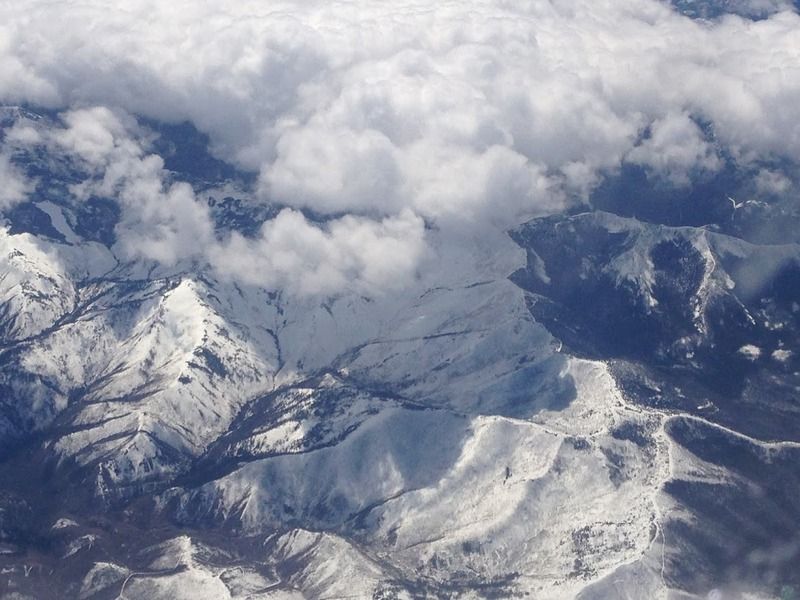 While you can obviously see the mountains from both sides of the plane, here's a little tip if flying in from the east: sit on the left side of the plane, and you can catch a glimpse of Mount Rainier. It wasn't easy taking a picture because the whiteness of the top of the volcano matched the whiteness of the clouds that day, but here's the best picture I was able to get.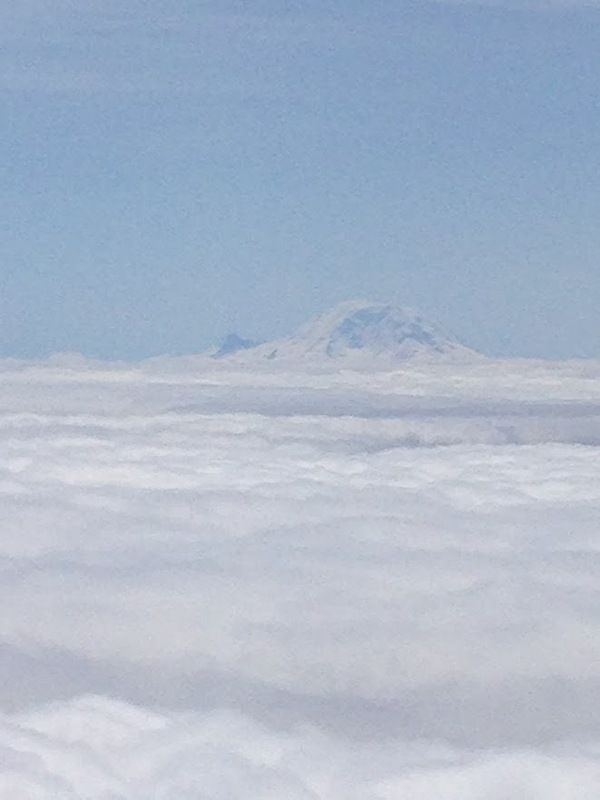 Expand Signature
Collapse Signature
~~~ Cruising Christine ~~~ Links to cruise reviews below


My past cruises:

#1:
Carnival Dream
/ 10-25-2015 / 7 days / New Orleans, Montego Bay, Grand Cayman, Cozumel ***Halloween Cruise*** Read my review
here
#2:
Carnival Conquest
/ 7-2-2016 / 5 days / Ft Lauderdale, Nassau, Half Moon Cay, Grand Turk ***4th of July Cruise***
#3:
Carnival Conquest
/ 7-7-2016 / 4 days / Ft Lauderdale, Nassau, Freeport ***Carnival LIVE w/ Trace Adkins*** Read my B2B review
here
#4:
Carnival Fascination
/ 11-6-16 / 7 days / San Juan, St Thomas, Barbados, St Lucia, St Kitts, St Maarten ***40th Birthday Cruise*** Read my review
here
#5:
Carnival Legend
/ 4-30-17 / 8 days / Vancouver, Tracy Arm, Juneau, Skagway, Glacier Bay, Ketchikan, Seattle ***Cinco de Mayo in The Last Frontier*** Read my review
here
#6:
Carnival Magic
/ 10-28-17 / 7 days / Port Canaveral, Cozumel, Belize, Roatan, Costa Maya ***2nd Halloween Cruise***
#7:
Carnival Horizon
/ 4-22-18 / 7 days / Barcelona, Messina, Naples, Rome, Livorno, Marseilles ***Husband's Early 50th Birthday Cruise***
My future cruises:
#8:
Carnival Imagination
/ 9-2-18 / 4 days / Long Beach, Catalina Island, Ensenada ***Labor Day Cruise***
#9:
Carnival Conquest
/ 2-24-19 / 6 days / Ft Lauderdale, Nassau, Half Moon Cay, Grand Turk, Amber Cove ***10th Anniversary Cruise***
#10:
Carnival Conquest
/ 3-2-19 / 8 days / Ft Lauderdale, Princess Cays, Grand Turk, Curacao, Aruba ***2nd B2B on Conquest***
#11:
Carnival Vista
/ 11-30-19 / 7 days / Galveston, Cozumel, Grand Cayman, Montego Bay ***After-Thanksgiving Cruise***
#12:
TBD
***Platinum Cruise***