Unrest in Haiti
Welcome to Cruise Critic! If you'd like to participate on our forums by joining in the conversation, please Register Now! Be sure to visit our FAMOUS Roll Call forums, where you can meet other cruisers sailing with you and share a tour or shore excursion and SAVE MONEY!
** Please post your recommendations ONLY in response to request...do not start a new thread. Thanks!
Posted April 7th, 2008, 07:14 PM
That's horrible; Haiti is such a beautiful place with such a sad life for those people. I wish there was a way to increase tourism there so they could boost their economy.
Expand Signature
Collapse Signature
MARINER OF THE SEAS 7-night Western Caribbean April 2006
SPLENDOUR OF THE SEAS 7-night Western Caribbean April 2005
SOVEREIGN OF THE SEAS 3-night Bahamas April 2004
SOVEREIGN OF THE SEAS 4-night Bahamas April 2003
84,307 Posts
Joined May 2001
Posted April 7th, 2008, 08:15 PM
This happened on the total OPPOSITE side of the island from Labadee.* Have no fears about your safety.Haiti needs a government that will help make the tourism potential of this beautiful island grow!* The Dominican Republic has done (and they share the landmass)--why can't Haiti????
5,429 Posts
Joined Jul 2005
Posted April 7th, 2008, 09:31 PM
I highly doubt RCI would bring a ship in there if it was unsafe. I know a few years back we missed Jamaica due to taxi drivers protesting a tax on fuel. I feel bad for the Haitians. That country could be so much more with the right government.
2,800 Posts
Joined Nov 2004
Posted April 7th, 2008, 09:51 PM
Like the poster said that port-au-prince and cayes are very far from labadee. ladadee is a 45 car ride from the closest city, only about 5 mile but really really bad roads ( not paved). so they really have to want something to go all the way out there plus they know if they mess out there the ship will stop coming and then they will have less money.
Expand Signature
Collapse Signature
Proud and drooling member of E.C.F.C.M.
NAVIGATOR 6/04, RHAPSODY 1/05, VOYAGER 3/06, RADIANCE 1/07, EXPLORER 11/07, EXPLORER 2/08, LIBERTY 10/08, MAJESTY 1/09, JEWEL 3/09, EXPLORER 11/11, LIBERTY 10/12, SUMMIT 10/13, SILHOUETTE 10/14, ADVENTURE B2B 10/15, NAVIGATOR 5/16, NCL SKY 1/17, INDEPENDENCE 1/17
RCCL Crown & Anchor
Diamond Member

<!-- / sig -->
28,190 Posts
Joined Oct 2004
Posted April 7th, 2008, 09:57 PM
It is sad but true...Hatti has always had problems, ever since Papa Doc (spelling)...and the fact that the Dominican Republic grabs Haitians and makes them practically slaves does help at all...also all the hurricanes and mud slide...that's why so many Haitians try to escape to the US....on the whole they are wonderful people.
4,249 Posts
Joined Jun 2006
Posted April 7th, 2008, 09:58 PM
We've already been to Labadee after some other kind of unrest back in 2004. RCI stopped going there for a while. We were one of the first sailings to go back. There were military helicopters flying overhead as we lay on the beach!!!
But I never felt unsafe, otherwise I would've stayed on the ship.
Expand Signature
Collapse Signature
Oasis of the Seas 6/26/10 Western
Explorer of the Seas 7/09/09 Eastern
Liberty of the Seas 6/28/08 Western
Explorer of the Seas 6/22/07 Eastern
Navigator of the Seas 6/17/06 Eastern
Voyager of the Seas 6/18/04 Western
Explorer of the Seas 6/22/02 Western
Pride of America 6/25/11 Hawaii
Adventure of the Seas 3/18/12 Southern
Explorer of the Seas 3/15/13 Eastern
Allure of the Seas 6/30/13 Western
Adventure of the Seas 3/23/14 Southern
Freedom of the Seas 3/8/15 Eastern
Oasis of the Seas 7/4/15 Western



768 Posts
Joined Aug 2007
Posted April 8th, 2008, 12:09 AM
Last edited by clearwaters; April 8th, 2008 at
12:13 AM
We had soooooo much fun in Labadee recently. I made my Labadee para-sailing pic my laptop wallpaper.
Obviously somebody in Haiti is NOT SHARING the opportunity and wealth. Even today.
I remember reading somewhere long ago that Duvalier looted the country before he was deposed
.
The literacy rate is very low. I believe some of Haiti's problems could be solved by (may as well get the money from foreign entities that just can't seem to stay out of Haiti's business) creating a very good, free public education system from age 4 to 18.
Just MHO.
3,094 Posts
Joined Jan 2005
Posted April 8th, 2008, 07:46 AM
Haiti is very vulnerable to food pricing as it is far and away the poorest country in the Western hemisphere. Haiti is not alone, there are and will be more food riots and protests around the world. The price of rice, wheat, corn etc. are through the roof. The poorer nations of the world are in huge trouble.

RevSmith, what is the basis for your accusation about the Dominican Republic? My understanding is the Dominican Republic is doing everything they can to keep the Haitians out of their country. Are you talking about a few unscrupulous business owners? The cycle is Haitians trying to get to the Dominican Republic, Dominican Republicans trying to get to Puerto Rico and so on. Also, the reason for the mudslides and severe flooding after a hurricane, for example, is the Haitians have deforested over 90% of the country. For most wood is the only source of fuel they have. Oil is too expensive and is the only way they can produce electricity. This deforestation has also severely damaged their agriculture industry.
300 Posts
Joined Sep 2006
Posted April 8th, 2008, 09:25 AM
Last edited by wdwhuckster; April 8th, 2008 at
09:29 AM
I would think you cant be sure aboout your saftey , just because its on the other side of island i think one shouldnt walk around with fear , but be aware that things can and do happen anywhere.. Desperate people do desperate things for Freedom . Be sure to tip those they do
'let in" to the Labadee area, The small amount of haggling may feed their children for a a day or two..

But i would think if RCCL thought there was any danger they would not risk the lives of their crew, their passengers , or their ship
2,392 Posts
Joined Mar 2004
Posted April 8th, 2008, 09:25 AM
I was reading on ************ where Labadoo isn't really an island that its baracaded by an electric fence to keep the poor people of Haiti out. I was really shocked by the article and since we are just in the planning stage was wondering if this article was true? ************ list all the cruising industry mishaps and publishes articles of the different ports. Anyone know about them?

Lew
Labadee is not an island and yes it is fenced off from the rest of Haiti. The locals are allowed in to sell their goods at the market area. They also do some shows with dancing and singing. It was interesting to watch. When you dock you can see local fishermen in their boats. You can also see shacks in the hills. Look on Google Earth and you can see the whole area. Labadee is so beautiful but its really sad to think the rest of Haiti is nothing like Labadee.
Expand Signature
Collapse Signature
Splendour of the Seas - 3/04
Sovereign of the Seas - 10/04
Mariner of the Seas - 10/05
Mariner of the Seas - 10/06
Carnival Conquest - 4/22/07
Carnival Valor - 8/12/07
Carnival Destiny - 5/04/08
Carnival Liberty - 8/29/09
Carnival Fantasy - 09/19/09
Carnival Spirit - 05/04/11
Carnival Magic - 05/05/13
Carnival Sunshine - 2/23/14
1,346 Posts
Joined Dec 2007
Posted April 9th, 2008, 12:56 AM
Last edited by Jungle Jane; April 9th, 2008 at
12:58 AM
In this pic you can see a native rowing away to God know's where. You can't tell from the pic but that guy struggled hard to get across the current and get to wherever he was going. I think about him when I bitch about my being stuck in traffic or having to go to the store or whatever...he's got one heck of a work commute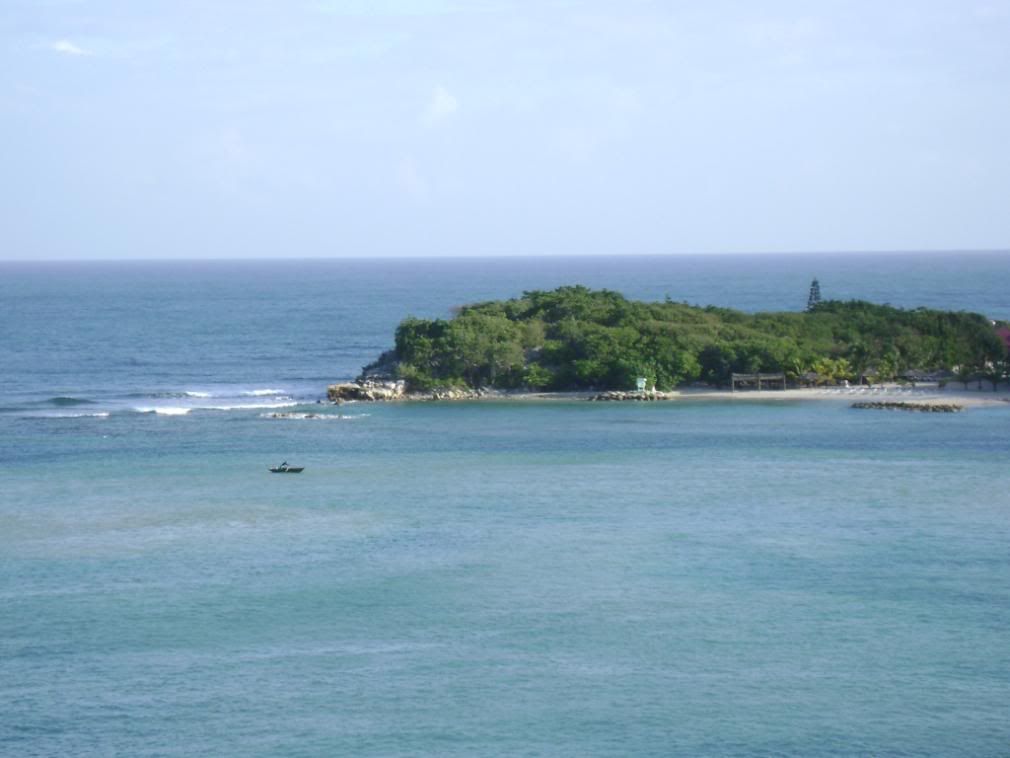 I loved Labadee and knew before I went there what condition Haiti is in. I did enjoy it, it was like Paradise, but it sickened me to think that beyond those fences were some of the poorest people. I tipped well and will never forget Prophete Benjamin, a very cool guy I met and chatted with a bit. The rest of the men working were rushing to go and make the next few dollars helping people with their chairs, but this guy really talked to me, and I will remember his eyes forever.
1,351 Posts
Joined Dec 2007
Posted April 10th, 2008, 02:34 PM
Haiti is a sad situation. Labadee is great though, and it felt 100% safe to me.
Expand Signature
Collapse Signature


Carnival Pride, June 2013, Eastern Caribbean/Bahamas
Celebrity Millennium, July 2009--Alaska
Mariner of the Seas, August 2008--Western Caribbean
Voyager of the Seas, March 2007--Eastern Caribbean
Sovereign of the Seas, July 2006--Bahamas
Adventure of the Seas, March 2006--Southern Caribbean
Majesty of the Seas, August 2004--Bahamas
Enchantment of the Seas, August 2003--Western Caribbean
1,482 Posts
Joined Apr 2003
Posted April 21st, 2008, 07:09 PM
One should feel very safe in Labadee. Port-au-Prince is about 125 miles to the south which is about a 10 hour bus ride. There is another large city about half way called Gonaieve which is where the unrest started a few years back. However, there is no reason for people to head north toward Labadee to cause trouble because all of the government officials are located far to the south. Go ahead and spend freely at the local market at Labadee because the people there can definately use the money.
Expand Signature
Collapse Signature
Harmony of the Seas - 01/07/17 St. Maarten, San Juan, Labadee "55th Birthday Cruise"
Freedom of the Seas - 11/15/15 Cococay, St Maarten, St. Thomas
Jewel of the Seas - 11/02/13 St. Croix, St. Maarten, Antigua, St. Lucia, Barbados
Allure of the Seas - 01/15/12 Labadee, Falmouth, & Cozumel
Freedom of the Seas - 04/03/11 Labadee, Falmouth, Grand Cayman & Cozumel
Monarch of the Seas - 12/10/10 "Two Bro's Cruise" Nassau, CocoCay
Freedom of the Seas - 11/02/08 San Juan, St. Thomas, St. Maarten
Majesty of the Seas - 05/26/08 Nassau, CocoCay, Key West
Serenade of the Seas - 01/13/2007 St. Thomas, St. Martin, Antigua, St. Lucia, & Barbados
Grandeur of the Seas - 04/08/2006 Grand Caymen & Cozumel
Splendour of the Seas - 01/02/2005 Costa Maya, Belize, & Cozumel
Explorer of the Seas - 05/10/2003 Labadee, Ocho Rios, Grand Cayman, & Cozumel