Posted April 11th, 2009, 09:42 PM
We booked this cruise over a year ago, based on a fabulous KIDS FREE deal that included Spring Break week. Was it too good to be true? Just how "Italian" and quirky would it be? We had over a year to plan for it, and surprisingly, despite my compulsive schedule/planning desire, I never once, in the 370 days of waiting for the cruise, planned a darn thing. This was going to b a fly-by-the-seat-of-our-pants cruise. I did join the Roll Call for this sailing, so instantly had a large group of friends on board.
But, back to the review…
Traveling on this cruise is myself, DH, DS (8) and DD (6). We have been on many cruises, on many cruiselines, and were looking forward to trying this unique cruiseline.
Living in Central Florida, we drove down the Port Everglades, spending 3+ hours in the car with my DD snoring away. We opted to park at United Parking, since it was HALF the price of port parking (OK—this is the one thing I did research.)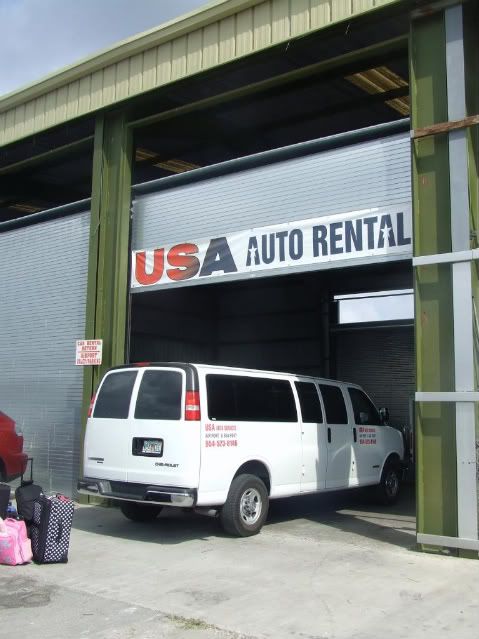 The United facility is located in a very industrial section of town, but only a few miles from the port. Oddly enough, their website directions even mention "It will appear that the road ends at the railroad tracks. Make a left and keep going." It's somewhat remote. The facility offers covered (for a premium) or non-covered parking for $56+ tax for the week. A courtesy shuttle is also offered to the port. We arrived, checked our car in, and were on our way to the port in about 20 minutes. The random strangers that we were riding with in the shuttle actually swung by the port first to drop off their luggage. Ohh---smart idea.
At the port, we are able to pull right up to the terminal, unload the luggage, and be processed on the ship very quickly. Less than 30 minutes total, and that even included the mandatory "Welcome Aboard" photo.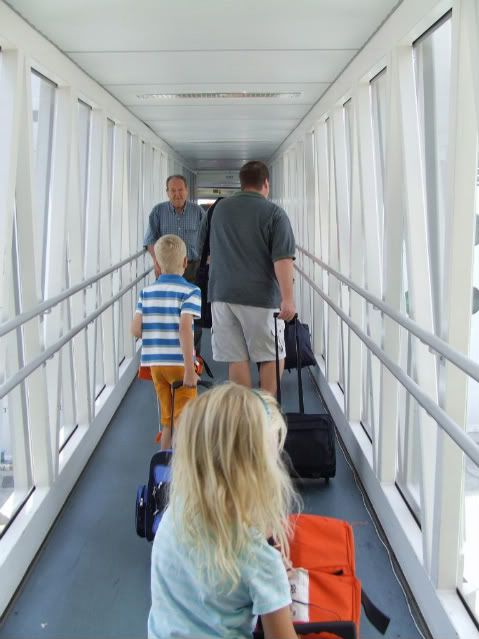 While we were going through the on-board journey, we encountered out first "quirky" moment of this Italian cruise line: we had to stop by a table to pick up the kids lifejackets. At first we were taken aback, but then remembered how many times we had been on other ships and had to ask the Room Steward multiple times for kid-sized lifejackets before receiving them. We've even been to the Muster Drill with the kids in the adult jackets and been scolded for not having the kids jackets, which, of course, is SO NOT OUR FAULT!! So, this little quirk was a good thing.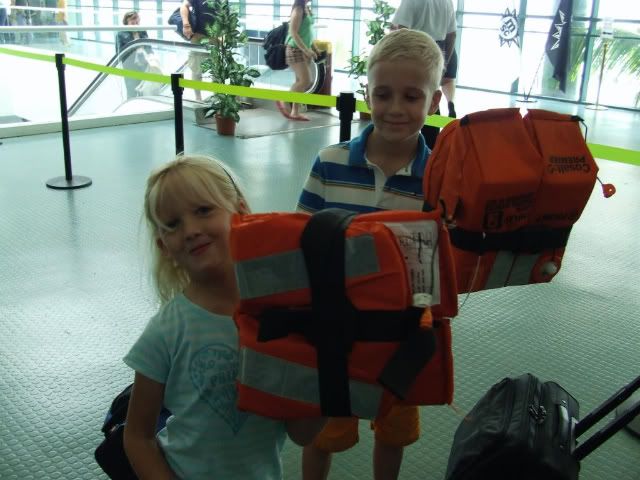 We also noticed that the x-ray machine bag screeners are affiliated with the port, not the cruise line, so they could care less what you carry-on in your bag, even if it's soda or alcohol. We had a 2 L bottle of Diet Mt Dew, and no one batted an eye. Just sayin', for those who need to know such things.
Also need to give a shout-out as to how nice those port people are. Everty single one of them wished us a "good sailing" or "nice cruise".
Once onboard we were directed up to Deck 13 for the buffet lunch. After having read (on this board) that the best location to avoid crowds was the aft section of the buffet, we quickly headed back there to find….it was closed. Hmm…that was odd. So, we fought the crowds in the non-aft section and enjoyed our first meal. And, it was quite good. Although some may disagree, it seemed very authentic Italian, having just been there in the past year. Good stuff: thinly sliced and fried pork, lots of interesting salads, etc…
The windows in the buffet are floor-to-ceiling, so it seemed like we were eating on the edge of a precipice.
Following lunch, we learned our cabin was ready. We quickly navigated our way one deck down to 12056, an interior quad cabin, and definitely the smallest cabin we had ever had. Ever. We really had to work hard to keep everything neat because the cabin was so small. There really wasn't any shelf space for clothing, so I double or triple hung things on hangers, some of which I had brought from home. We also used the space behind the TV to store things, and hung our beach bag from the corner of the mirror. The 3-door closet featured 2 sections for hanging clothing (check), and one section that was a set of 7 small drawers with safe on top. YIKES! We are used to much more space than that. We took the life jackets off the shelf and put them in our suitcases so that we could use the lifejacket shelf to store thing. And, thank goodness we had our over-the-door shoe holder. NOTE—we are not picky-cabin people, and can easily travel with the 4 of us in an interior, but this week we were really wishing we had booked a balcony.
On a funny note, we turned on the TV to find "WELCOME to the McFerrin Family." Who are the McFerrins? Not us!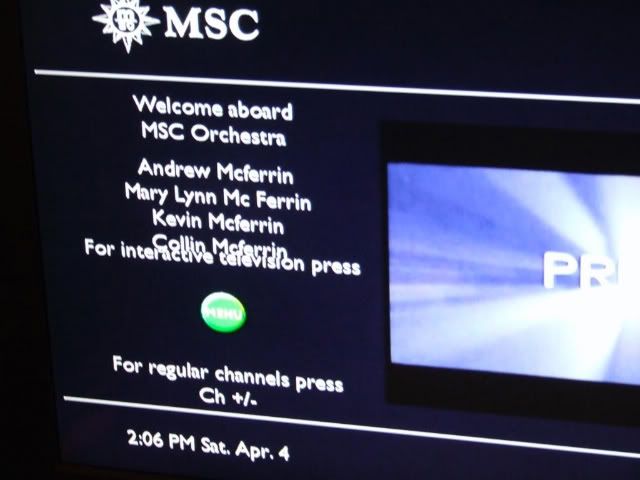 So, we jokingly wondered if we had been upgraded somewhere else (haha), or if there would be another family stopping by claiming the cabin as theirs. Fortunately, or unfortunately, neither happened, and later that evening our names had been magically corrected on the TV.
Expand Signature
Collapse Signature
NCL Starward
(1987),
Carla Costa
(1988),
Dawn Princess
(1989),
RCL Nordic Empress
(1990),
Regent Star
(1991),
Carnival Ecstasy
(1992),
Carnival Sensation
(1993),
Carnival Celebration
(1994),
Carnival Inspiration
(1994),
Celebrity Horizo
n (Nov 1994-HONEYMOON!),
DCL Wonder
(1999),
DCL Wonder
(Nov 2000),
DCL Magic
(Sept 2001),
DCL Magic
(Jan 2002),
DCL Magic
(Aug 2003),
DCL Wonder
(Feb 2004),
Norwegian Sea
(Oct 2004-"Texaribbean"),
DCL Magic
(Jan 2005),
Norwegian Star
(May 2005-ALASKA!),
Carnival Glory
(Sept 2005),
Costa Mediterranea
(March 2006),
Carnival Elation
(Sept 2006),
Carnival Legend
(Sept 2007),
Disney Wonder
(Sept 2007),
Costa Fortuna
(March/April 2008),
Norwegian Gem
(Western MED July 2008),
MSC Orchestra
(April 2009),
Carnival Freedom
8-day re-route (August 2009),
Norwegian Sky
(Oct 2009),
Disney Wonder
(Nov 2009),
Carnival Miracle
(April 2010),
NCL Dawn
(Oct 2010-10 days),
Carnival Valor
(Mar 2011),
Costa Atlantica
(Mar 2012-10 days),
Carnival Fascination
(Oct 2012),
Carnival Conquest
(Mar 2014),
MSC Divina
(Sept 2014)
Carnival Conquest
(March 2015),
Carnival Sunshine
(August 2015),
NCL Star
(Mar 2016).
Carnival Valor
(Oct 2016),
Carnival Vista
(March 2017),
Carnival Paradise/
Cuba (Oct 2017),
Carnival Magic
(Mar 2018)
NCL Gem Mediterranean review:
http://boards.cruisecritic.com/showt...69&highlight=/
MSC Orchestra review:
http://boards.cruisecritic.com/showthread.php?t=966161
Carnival Freedom 8-day Eastern review:
http://boards.cruisecritic.com/showt...076&highlight=