Posted October 23rd, 2012, 05:05 PM
Last edited by Eng23; October 23rd, 2012 at
05:06 PM
Hello. My name is Harold and I want to show you the
Allure
of the Seas and my experiences onboard. And there will be pictures, I promise! A little about me, I am a 40ish firefighter from Southeastern Virginia. This was my 7th cruise (All Royal Caribbean so far) and I have been cruising since 2009. I was travelling solo but did have a friend from Virginia that was also cruising this sailing. I was originally booked in a standard oceanview balcony but upgraded to a JS just before the cruise.
Our sailing had a very active CC Roll Call and I was able to meet many new friends and also sailed with some old friends.
Okay let's get down to business.
Allure
of the Seas 7 night Eastern itinerary. Sept. 30th-Oct. 7th 2012.
Ports: Nassau, St. Thomas USVI, and St. Maarten NA.
2 Days pre-cruise in Ft. Lauderdale.
Stayed at the Embassy Suites on 17th St. Ft. Lauderdale.
On Sept. 28th I left Norfolk, Va. very early in the A.M. and arrived in Ft. Lauderdale around 1pm. I met my friend who had arrived earlier on a different airline and we shared a taxi to the Embassy Suites. The taxi fare was $12 and the ride took about 8-10 minutes.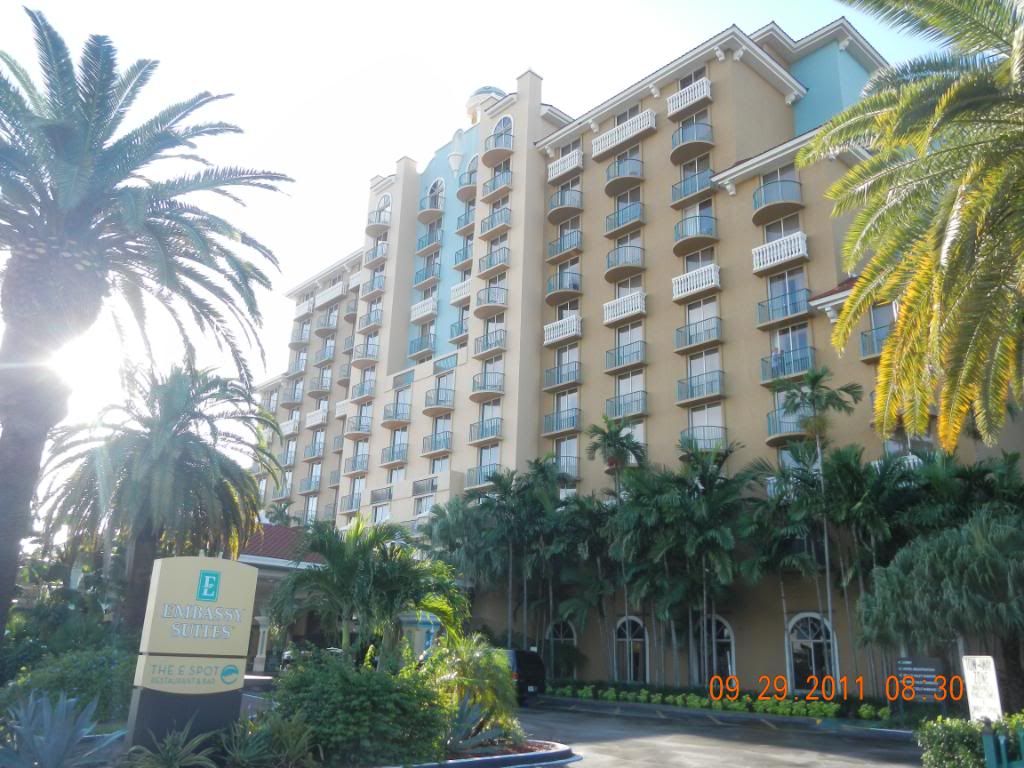 The hotel entrance. More to come.....
Expand Signature
Collapse Signature
Grandeur of the Seas Dec. 2009
Freedom of the Seas Sept. 2010
Majesty of the Seas Dec. 2010
Freedom of the Seas Oct. 2011
Majesty of the Seas Nov. 2011
Monarch of the Seas May 2012
Allure of the Seas Sept. 2012
Carnival Glory May 2013
Allure of the Seas Sept. 2013
Majesty of the Seas Sept. 2013
Carnival Pride March 2014
Allure of the Seas Sept. 2014
Carnival Breeze Sept. 2014
Carnival Splendor May 2015
Carnival Splendor October 2015
Majesty of the Seas Dec. 2015
Enchantment of the Seas Feb. 2016
Majesty of the Seas April 2016
Carnival Splendor October 2016
Empress of the Seas November 2016
Oasis of the Seas Jan. 2017
Carnival Vista March 2017
Carnival Sunshine June 2017
Freedom of the Seas Jan. 2018

Link to my Allure of the Seas review:
http://boards.cruisecritic.com/showt...ighlight=eng23