Posted May 7th, 2010, 07:31 PM
Last edited by Radio; May 7th, 2010 at
07:43 PM
Hello everyone !
It is with great pleasure, that I bring you "LIVE" from the Explorer of the Seas.
I made it up here to Elizabeth, NJ (Just a few minutes from Cape Liberty) around 1PM this afternoon.
I am staying at the Country Inn and Suites, which is between Newark International Airport, and Jersey Garden Mall. The hotel is very nice and the front desk staff are very friendly.
Those who are familiar with my "LIVE" posts should know that I will be posting daily reports, and comments. I will also be posting many photos of Explorer of the Seas, public rooms, and our 2 days in Beautiful Bermuda. (As long as I am able to maintain a valid wireless connection)
It appears that this sailing will be a little delayed. The reason for the delay has been reported here on Cruise Critic. Royal Caribbean called me, and suggested that Explorer will arrive around 3PM tomorrow.
The RCI rep who called told that we should not arrive to the Pier before 730PM, and we must arrive before 10PM. They suggested that we should be leaving the pier around Midnight.
Wow ! This all sounds extremely similar to my last sailing on Explorer of the Seas.
(That "LIVE" Post can be read
HERE
)
Back in November 2007, the Explorer was delayed due to Hurricane Noel. The ship arrived 7 hours late (3PM), and left 7 hours late (12AM).
Oh well. . .this should be a fun embarkation. . . . I was told by RCI that dining will be open tomorrow night at the Café Promenade, Windjammer, and there will be Open seating in the MDR.
I plan on arriving to Cape Liberty at around 3PM, to get some pics of Explorer pulling into port. I will come back to the hotel, and hang out until about 8PM. I will then head over to Cape Liberty. . .Park my car, and board Explorer of the Seas for a wonderful 5 Night Cruise to Bermuda !
This cruise should be a lot of fun . . . It seems that we have a fun crowd on our Explorer Roll Call. . . Sit back, relax, grab a cup of coffee and enjoy our cruise !
Radio
Explorer of the Seas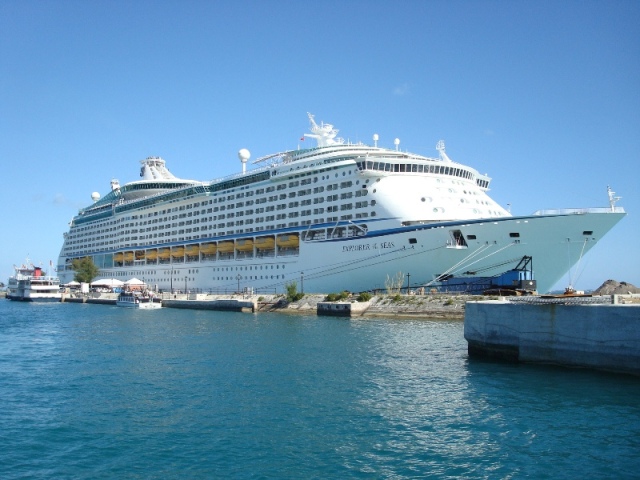 This image taken in Bermuda Nov 2007
.
Expand Signature
Collapse Signature