Posted June 18th, 2012, 11:24 AM
Radiance
of the seas 7 night northbound Hubbard Glacier cruise followed by a 5 night land tour
A trip of a lifetime
We have been lucky enough to cruise many times but this was our first visit to Alaska and what a wonderful trip it was!
When we arrived at Canada Place in Vancouver to board the ship we cleared US immigration which was much better than having to waste precious time on our cruise with all the formalities.
Ship:
The
Radiance
was updated last year with new dining venues and refurbished cabins.
We chose an aft balcony cabin on deck 8 which was great for viewing the wonderful scenery to come. The balcony had new furniture: 2 loungers and 2 chairs and a small table.
After being spoilt by Aquaclass dining in Blu on Celebrity and the wonderful food on Azamara we decided to opt for the Chefs table dining package on this cruise. At $120 per person for 5 meals in different speciality restaurants including the Chefs Table wine Pairing dinner which is $95 if booked on its own we thought the package was excellent value.
Our favourite dining venue was Giovanni's table which was definitely worth a 2nd visit.
We also loved the new addition of the Park café in the Solarium. There is no fee to eat there and they do great Panini's, wraps, made to order salads and the famous hot roast beef sandwich which was my husbands favourite. It was open all day from 6.30am and was an ideal spot for a nice warming cup of homemade soup after our Alaska adventures or a late afternoon coffee and cake.
All in all we really enjoyed our dining experience on the
Radiance
and would certainly take the same option next time we cruise on Royal Caribbean if it is offered.
The
Radiance
is an ideal ship for the scenic cruising of Alaska , plenty of viewing areas both inside and out, most of the dining venues and public lounges had wonderful views from large floor to ceiling windows.
We usually like to arrange our tours independently preferring a more personal tour than the cruise ships larger excursions. For this trip I purchased the Alaska toursaver book and saved over $470 using the 2 for 1 coupons for our tours and that's AFTER paying $99 for the book so it was well worth it.
Ports:
Our first port of call was Ketchikan where we had pre booked a Kayak tour with Southeast sea Kayaks with our toursaver book of course!
It was a very enjoyable couple of hours of gentle paddling around Ketchikan Creek and the Tongass narrows where we saw an eagles nest and just enjoyed the peaceful scenery.
Our next port was Icy Strait point where we took a whale watching tour with Captain Paul of Hoonah Travel adventures. There were just 6 of us on the boat including the captain so we were able to get very close to the whales. We saw a number of humpbacks feeding and breaching the water. A truly amazing day.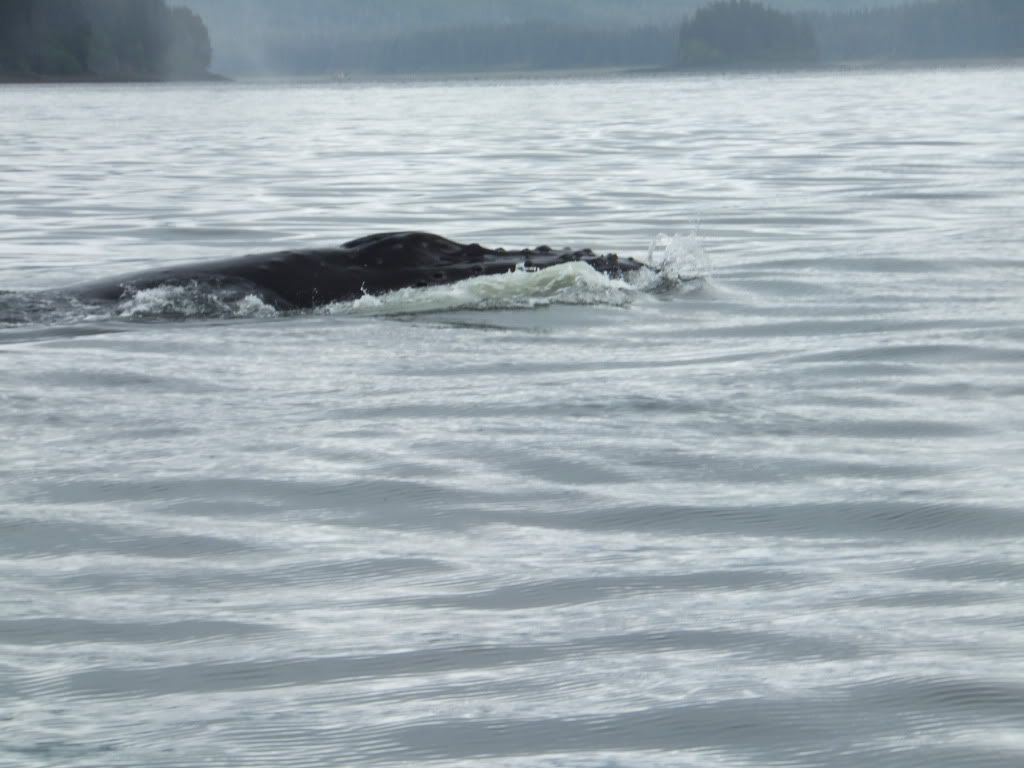 3rd port was Juneau where we took a helicopter tour with Era Helicopters.
This was one of the many highlights of our trip. We flew over spectacular ice formations and landed on the Taku glacier where we are able to walk on the glacier itself.
After this wonderful experience we enjoyed lunch at Tracy 's crab shack in Juneau and visited the Red Dog Saloon for a taste of the wild west. A fantastic day.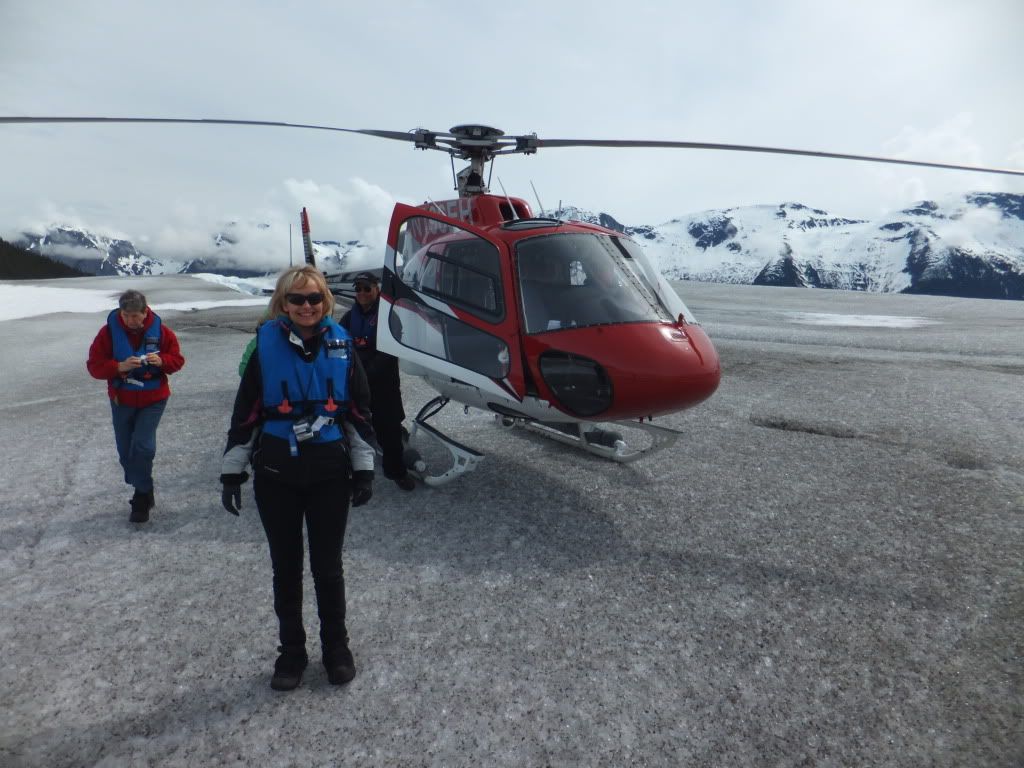 The next port was Skagway where we took a hike and float tour on the Chilkoot trail with Skagway float tours.
Our guide Bob was a highly experienced bush man, very knowledgeable about the Alaskan wilderness. We felt we were in very safe hands should we meet any bears along the way!!
After a 2 mile hike through the rainforest we got suited up for a float on a raft down the Taiya River . Bob did all the hard work; we just sat and marvelled at the scenery.
Hubbard Glacier scenic cruising:
Just when we didn't think it could get any better our ship sailed towards the awesome Hubbard Glacier. We were very fortunate to get very close to the glacier and witnessed huge chunks of ice crashing into the sea below with thunderous cracks. The Captain turned the ship 360 degrees so everyone gets a good view. We went back to our aft balcony and enjoyed amazing views as we sailed away from the glacier. What a memorable experience.
The cruise ended in Seward where our 5 night land tour adventure began.
We literally stepped off the ship and onto our waiting coach where our friendly tour manager Lindsay and driver Steve introduced themselves to us. They would accompany us for the duration of the tour. Royal Caribbean and Celebrity cruises have their own land based tour department with their own coaches and railcars. We were extremely impressed by the seamless organisation of the land tour.
As there were only 18 of us in our group it wasn't long before we were on our way to our first stop, the SeaLife centre just up the road in Seward, then it was onto a tour boat for a wildlife cruise with lunch included on a wonderful island.
If that wasn't enough excitement for one day we then boarded the fabulous Wilderness Express glass domed railcar for a spectacular ride to Aleyeska. We were lucky to see black bears from the window of our railcar. We also dined on the train (extra fee).
As if by magic our wonderful driver Steve was at the station to meet us and whisk us off to our hotel in Aleyeka where our luggage was waiting for us in our room.
We didn't even have to check in at any of the hotels on the tour. Our room keys were handed to us on the bus and our luggage was always in our room. Any luggage you didn't need on your tour was tagged and stored for you and returned on the last night.
After a comfortable nights sleep we took a ride on the Aleyeska tram and marvelled at the views of the snow covered mountains. Then it was back on the coach for a short drive to Anchorage stopping at the Wildlife conservation centre on the way where we saw grizzly bears, lynx and moose.
We visited the Anchorage museum and learnt a lot about Alaskan life, past and present.
Following a pleasant stay at the Anchorage Marriott, we then headed for a 2 night stay in Denali National Park .
On arrival we had a short guided walk on one of the trails followed by hot dogs by the river back at our hotel, the Mckinley Village Lodge.
The next day was free to explore the park. We opted for a tour on one of the Park shuttle busses.
We went 66 miles into the park on the Eielson shuttle and had very good sightings of grizzly bears, wolves, moose, dall sheep and even a lynx which is an extremely rare sight in the wild. The driver called us the "lucky bus" because we had such good wildlife sightings!
This grizzly walked right by our bus!!
When we reached the Eielson Visitor Centre two thirds of Mt Mckinley was visible. We ate our packed lunch there and enjoyed the views.
I must admit I was concerned about spending 8 hours on a bus but we were so engrossed in the scenery and the wildlife it just flew by. Plus there were rest stops every 90 mins or you had the option to get off one bus and join another later on if you wanted to hike.
Our final destination on our Alaskan adventure was Fairbanks where we went panning for gold at the El Dorado gold mine. We also saw the Alaska oil pipeline.
Ironically the weather in Fairbanks was the warmest of the entire trip. It was 75 degrees and warm enough to dine outside at our Hotel Pikes Lodge which had a lovely deck overlooking the Chena River , a perfect spot to end our tour on a high note.
The following morning we were transferred to the nearby airport and our luggage returned to us.
This really has been the trip of a lifetime and we were very glad we did the land tour after the cruise. I wouldn't hesitate to recommend Royal Caribbean or Celebrity (the land tour is exactly the same on either cruise line.) They are the only company to include a tour director on every tour, other companies charge extra for the service or just have a driver/guide. Having a dedicated tour director who is on hand to help with any questions and also share stories about Alaskan life was priceless.
The whole organisation was seamless from start to finish.
We will look back on this trip with fond memories for many years to come.
For more pictures click on this link:
https://picasaweb.google.com/1056210...N2lz5SP-_6gVg#