Posted December 2nd, 2013, 10:14 PM
A birthday "

Jewel

" of a different sort

Sometimes you hear that a diamonds are a girls best friend, but that doesn't explain why I spent years offering to pawn a 10th anniversary diamond in order to make another trip fit into the budget. It's not that DH was insensitive to my wants at the time; its just that we had a new baby and couldn't travel near our 10th anniversary. Luckily, we didn't need to pawn anything to cruise

Jewel

to celebrate our "big birthdays ending in a zero". DH and I are 29 days apart and we won't discuss who is older. Even though as childhood sweeties I spent most of my teens and 20's gloating about being older; DH is too much of a gentleman to do the same when we hit 30, and then 40 and then...well...he's just better man than me and a very good husband indeed!

So smack between our two birthdays we decided to sail

Jewel

of the

Seas

to the Southern Caribbean. We were very excited about this cruise since we first read the

review

by Bionicman97 on

Jewel

a couple of years ago.

http://boards.cruisecritic.com/showthread.php?t=1403828

His

photos

of the beautiful southern Caribbean islands were inspiring. We loved the idea of such a port intensive cruise and we were excited to return to sailing from San Juan, which we hadn't done in almost 20 years. Of course, things have changed since then and it was CKRobyn's wonderful thread about Adventure and the one she started about sailing from San Juan that really helped us with our planning.

http://boards.cruisecritic.com/showthread.php?t=691783

Thanks to Robyn and everyone who participated in those threads, I found them enormously helpful in planning. We actually cruised

Jewel

about 2 years ago (

review

linked in my signature), a 5 day from Tampa and while I loved the ship, especially the aft balcony we upgraded to after a price drop, I felt at the time

Jewel

was best suited for a port intensive cruise like the ones offered in SJ. So as soon as the Caribbean winter cruises came out I booked

Jewel

Nov 16, 2013, and was able to book the corner aft 8168.

Generally, when I

review

a cruise I like to go through the trip day by day, because those are the reviews I enjoy most (like virtual cruising!) it will take the better part of a week or more to get all the installments up. I like to respond to questions and hear from other folks experiences with similar or the same experiences. I should also warn you that my

review

will contain:

Lots of details:

People forget details, and by people, I mean me, and so I take lots of notes. Otherwise my reviews would sound like this:

We went on this really cool kayaking trip, it was on this big bay about an hour away, and cost like around $100, or maybe just $80. We had this great guide, be sure to ask for him, I forgot his name but it started with J and he has glasses.


I can't plan with advice like that! That kind of

review

helps absolutely no one! Hence, I include a lot of details and

photos

of ephemera, because that's what I use when reading reviews to plan my own cruises. I will post the Compasses for each day; they are helpful for planning, but I found for this cruise and ship they changed more than any other. I had a set from May

Jewel

Southern Caribbean cruise and the biggest difference was that the set I downloaded from CC had both a 5:30 and 8 PM Muster Drill (actually only the 8 PM Muster Drill is held now) and some shows that appeared to offer both and early and late show were changed to just one offering per night, usually at 7:45 PM between traditional seatings.

(This is me taking notes for my

review

: I use reading glasses because I'm not in my mid to late 40's)
Lots of big

photos

:

MY DH loves photography, its part of the fun of the cruise for him to take photographs, and I like to include as many of them as I can, since I love reviews that include lots of great

photos

! I can't bear when I can't make out the details in teeny weeny thumbnails, so I like to post big ones! I have no advice except I hope you have good internet speed. DH doesn't enjoy taking

photos

of food at dinner, so you won't see many of those in my reviews, and more importantly, with every ship using the same menus, really any

review

with food porn will look the same as anything we ate.

For those interested here is the equipment used:
Nikon D800 w/16-35 f/4 & 70-200 f/4 lenses – Used on board the ship, shooting islands from the ship, in San Juan and Dominica
Nikon 1 AW1 w/11-27 lenses – Used on Tortola and St Kitts as well as on all water excursions and some on Dominica
Nikon AW110 – Used only on Orient Beach

I apologize in advance for any bad

photos

, they are mine (Iphone 5). The ones you like; my husband took. Very occasionally I make him let me use a photo he took that falls below his lofty standards because its the only image that tells my story; even if it pains him for it to see the light of day. Lets just pretend these are also

photos

I took. It makes him feel better about it! So good photos- DH, bad photos- me... That's it in a nut shell.

Lots of attempts at humor:

Much of it bad, but none will be mean spirited or politically incorrect, and most times the butt of the joke is myself. If anything I say is offensive, it's not intended and I apologize in advance!

Lots of my own opinions:

Even when they are wrong (or maybe the reader would just have a different one, and that's OK!) DH and I are no longer in our mid late forties (which is how I intend to refer to my age forever more) We cruise once or twice a year, and take many other trips; both cruising and on land, but somehow we have managed to be on the planet long enough to become "diamond" members with RCL's Crown and Anchor Society. I'm still a little surprised that this group includes me now, aside from getting $10 bucks off my laundry and nice balcony discount, it just makes me feel old! I only put the spinning diamond on my signature because someone on our Roll Call asked me how to do it and so I did it so I could write instructions about it for her. But there it is...we've done this for a while and over the years we've got some advice to pass along, and I've learned I love to do that!! It's one of the reasons I prefer to sail with a good mix of new and "more experienced" cruisers...I adore meeting people who are still marveling about cruising and embracing the kitsch! I like cruising with more experienced cruisers and sharing travel tales, learning about ports and cruises I haven't had a chance to try yet (in my language these are just called "future trips") I'll be critical where I feel something could be improved, but I have low tolerance for complaining constantly because I feel blessed to travel and I can't help but feel joy and gratitude when I get to take any trip and experience something new! (Amen, and pass the hat;-)

So lets start cruising (virtually!) Our Itinerary: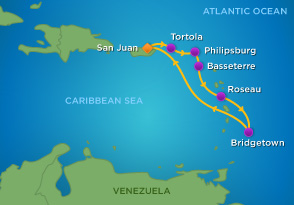 For those of you who don't speak "obscure ports" that's BVI, St Marteen, St Kitts, Dominica and Barbados!
Expand Signature
Collapse Signature