Posted June 4th, 2009, 04:59 PM
Last edited by Radio; June 4th, 2009 at
05:02 PM
Hello everyone. . . .
It is once again I am sailing with Norwegian Cruise Line. I have sailed 3 times previously with NCL in the past year. (The last was Norwegian Gem in March 2009)
This time I am sailing "on a one" of a kind ship for NCL. . . the Norwegian Spirit.
This Ship was built by Star Cruises (NCL's parent Company) in 1998, and transferred over to NCL in 2004. She has recently undergone an extensive refurbishment that upgraded many cabins and public spaces. I am looking forward to be able to experience these upgrades.
Those of you who have followed my "LIVE" reports with NCL, RCI, and HAL, and CCL already know that I will provide daily comments and trip reports from this cruise.
I will also try to post "LIVE" pics daily (as long as I am able to maintain a valid wireless connection)
I have read so many wonderful reviews of Norwegian Spirit, and I can't wait to board the ship tomorrow. I will be leaving from Black Falcon Cruise Terminal in South Boston. The Spirit is scheduled for a 7 Night Cruise including staying in Bermuda for 3 nights, and will return next Friday. (I was at the Black Falcon Terminal for a port of call in Nov 2007 on Explorer of the Seas)
I should be leaving the hotel late tomorrow morning. My hotel is just about 15 min south of the pier, and I hope to be onboard by 1130 or so.
Hopefully the weather will be good. . .the forecast is calling for rain next week while we are in Bermuda, but it seems that Bermuda often calls for rain. I am looking forward to staying in the dockyard for 3 nights, and I have read that there have been several improvements since my last trip to Bermuda (2008)
So sit back, and relax. . .this should be a fun cruise ! (I hope that my internet connection stays active). I will try to post several pics before sail away at 4PM.
Thanks for tuning in. . . .
Radio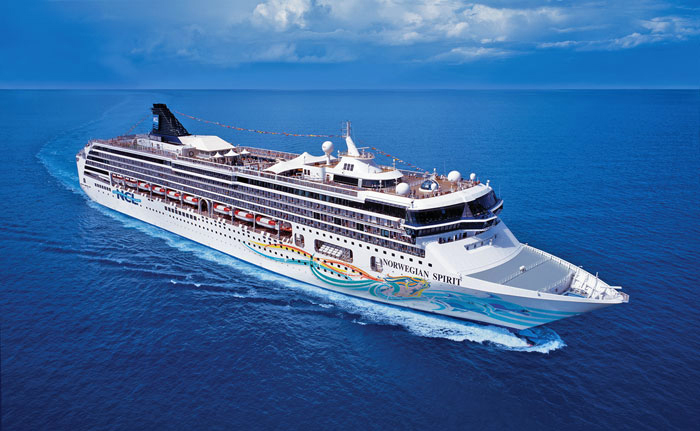 Image Courtesy of © 2009 NCL Corporation Ltd.
.
Expand Signature
Collapse Signature