Posted November 19th, 2014, 09:57 PM
Hello everyone. . . It makes me very happy to say that tomorrow I will be leaving for my pre cruise Hotel in New Jersey. On November 21, I will be ready to board the newest ship in the fleet . . .
Quantum of the Seas
.
It was February 2011 when Royal Caribbean first announced that they ordered a new class of ship (Sunshine Class) that would be ready for delivery in the fall of 2014. It is now fall 2014 and I will soon be boarding this magnificent vessel.
It is only a 2 night Pre Inaugural Cruise, and there won't be too much time to explore. I will try to get to as many places as possible for this short cruise.
There will be many images shared as well as my comments about this beautiful ship. These will include public areas, cabins and entertainment. Those who have followed my "LIVE" reports know that I don't spend much time on food images (there are many excellent reporters of such delights) I am hoping for a fast connection. I am looking forward to the O3b satellite network that should give me all of the speed and bandwidth to share all of these images at sea.
I booked this Cruise when RCI announced that Quantum was open for reservations. I am travelling solo and I heard that there were 28 Studio Cabins designed for single travelers. 12 of these are the Super Studio Ocean View Stateroom with Balcony (119 sq ft). A Studio Balcony ? . . . I had to try one. It is a little small but it might be cozy to "watch the news" for a few moments after a post . . . .
It has been a year since my last "LIVE" Post on a Royal Caribbean ship. In 2014, I cheated and went on a few other ships. Carnival Pride (Jan 2014), Carnival Splendor (Apr 2014), and Norwegian Breakaway (Oct 2014). It will be nice to get back to Royal Caribbean which I frequent most often.
This will really be a "preview" Cruise for me since I will be sailing a delightful 10 night Cruise in a few weeks (Jan 2015). I will have my "sea legs" by then and will enjoy the warmth of the Eastern Caribbean. Many have suggested that the design is similar to the hull design of Celebrity Solstice Class ships. I sailed Celebrity Silhouette back in 2012 and will look for any comparisons.
There is no Starbucks Kiosk on board like Oasis Class ships, but I have heard that Starbucks is still present as they sell the "We Proudly Serve" Starbucks in on the Royal Esplanade.
So sit back and relax as I will be excited to bring you this
"LIVE" from Quantum of the Seas
report . . . It should be a lot of fun !
Radio
Quantum of the Seas at Meyer Werft Shipyard in Papenburg, Germany
©Royal Caribbean International
H2O Zone on Quantum of the Seas
©Royal Caribbean International
Cape Liberty Cruise Port the day before arrival of Quantum of the Seas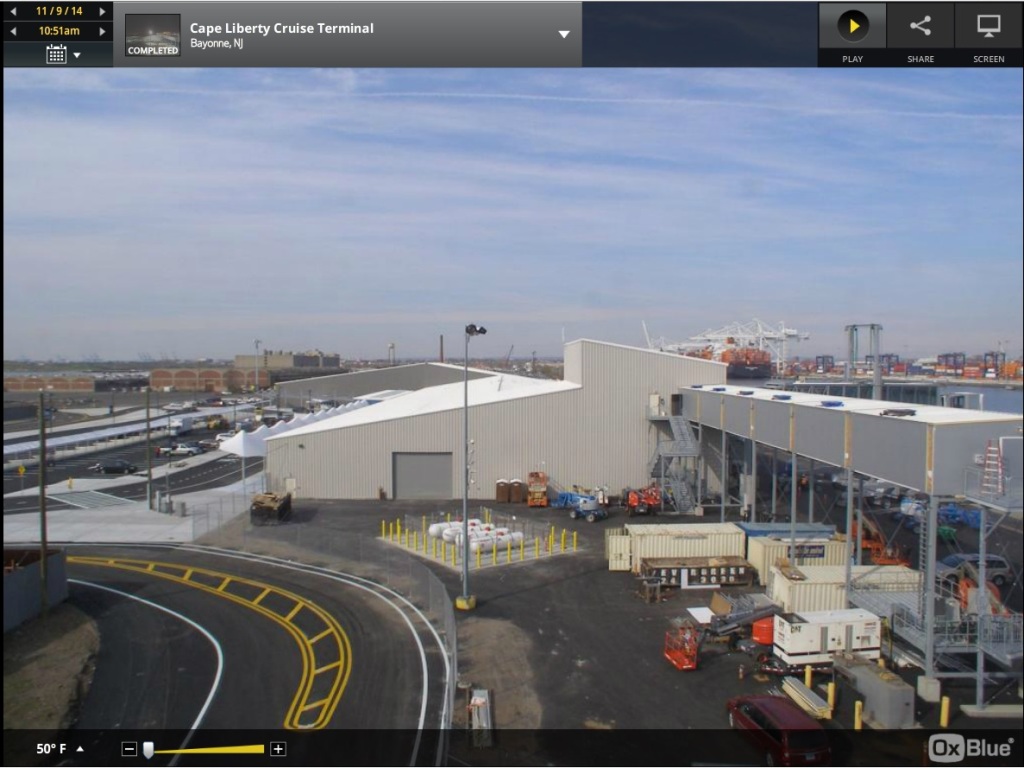 ©OxBlue
Quantum of the Seas cutaway
©Royal Caribbean International
Aerial view of Quantum of the Seas
©Royal Caribbean International
Quantum of the Seas during her Inaugural visit to Cape Liberty
©Royal Caribbean International
.
Expand Signature
Collapse Signature